Vegan Pistachio Meringue Cookies

Mattie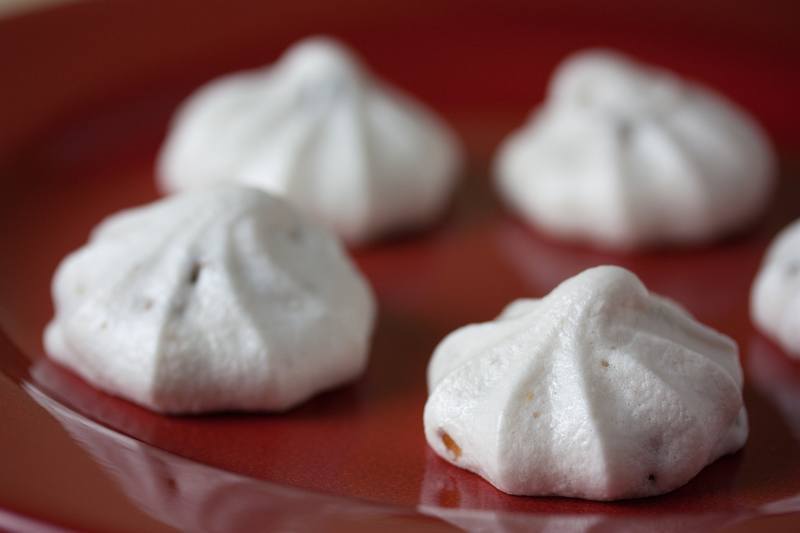 I set out to into the annals of food science to create a Vegan Meringue recipe. I ended up uncovering a treasure trove of information that can be applied to other vegan baking applications.
Meringue is a perfect example of how eggs act in traditional baking and how difficult it often is to replace them. When an egg is beaten extensively the proteins contained within it unravel and bind together like rebar in concrete, air bubbles are trapped and ingredients are easily able to coexist together regardless of moisture content. Traditional meringue involves beating an egg mixture until it has incorporated a large volume of air bubbles, strengthening this mixture so it holds it's shape, adding sweeteners and flavorings then piping and baking it so it slightly leavens and dries to a crisp. Perfectly baked meringue has a delicate crispness that dissolves in your mouth and leaves behind a slightly chewy but not gummy center. There's nothing earthy and natural about this meringue. Order your hard to find ingredients online, put on your extra nerdy glasses and let's make vegan meringue!
Stark Discoveries in Starch
How do you remove such a versatile ingredient such as an egg and replace it with something else when making meringue? After all, the majority of a traditional meringue is from the egg. No flax meal here; I knew that a certain ratio of starches, proteins and gums were the only way to go. I decided to start first with the starch.
Vegetable starches come in two main forms: root based such as arrowroot, tapioca and potato starch and grain based such as corn starch, wheat starch and rice starch. Root based starches have higher amounts of amylopectin which, when activated by heat, gel up into a thick, moist goop. Grain based starch has a higher amount of amylose which dries to a tough, rigid form after being activated by heat. Have you ever wondered why people often make wheat paste to glue flyers on outdoor surfaces or why books traditionally have been bound by wheat based glue? The proof is in the pudding! I performed tests with corn starch, wheat starch, tapioca starch and arrowroot starch where I placed 2 Tablespoons of each in a small sauce pan with 1 cup of water and activated the mixture until it was 250F (121C). I then transferred the mixture to a bowl, waited for each batch of starch to cool to room temperature and poked it with my finger to observe firmness. The high amount of amylose in the corn and wheat starches made them the clear winners for what I was going after: a dense, firm gel. No wonder corn starch is the go-to ingredient when breading or crusting things like tofu, tempeh or seitan. The higher amount of amylopectin in the arrowroot and tapioca starch made them too gelatinous to be of any use in a meringue.
Next I had to ensure the starch I was using was as flavor neutral as possible. Since I was planning on using a large amount of starch this was extremely important. I taste tested the corn starch and was surprised to get an intense burst of bitter soapy flavor. I then tasted the wheat starch and did not detect a large amount of off-flavor. Too bad wheat starch is a relatively exotic ingredient. I promptly ordered a large batch of it on the internet. Wheat starch has just secured a permanent spot in my kitchen for future baking adventures.
Building Structure in Vegan Meringue
Beating activated wheat starch didn't change the mixture's consistency at all. Beating unactivated wheat starch in water produced a basic sea foam consistency but failed to develop further; I needed to trap more air bubbles. Xanthan gum is an amazing polysaccharide produced by fermenting a bacteria, Xanthomonas campestris on corn sugar. This is the same bacteria that produces the slimy substance on the vegetables that are starting to go bad in your refrigerator. The difference is that xanthan gum is produced in an otherwise sterile environment so there's no risk of contamination or questionable black slime. Xanthan gum is extremely versatile because it enables ingredients to mix together well, hold onto air bubbles and it provides structure, making it great for foams. Very few vegan ingredients can do all of these things in one fell swoop. After beating a bit to the wheat starch mixture I was soon rewarded with a bowlful of fluffy foam.
I then beat in soy protein isolate to reinforce the structure of the foam. As mentioned above, protein in baking acts like rebar in concrete to bind and secure structure. Cream of tartar was then beaten in to encourage the proteins to further unravel and bind. When making meringue you want to look for what's called the bird's beak which refers to the shape of the foam when you take out one of the beaters and hold it horizontally. I knew I was going in the right direction when I pulled out the beaters to find the bird's beak staring me in the face! I flapped my wings with delight and let out a loud squawk that my neighbors hopefully didn't hear.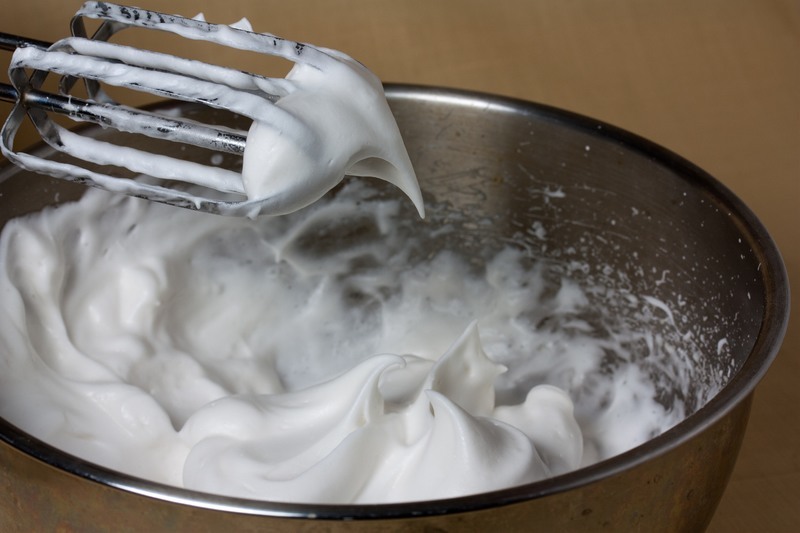 Meringue Methods
After beating this mixture until it had the optimal ratio of foam to structure I added the sugar and flavorings. This meringue is based on the French method where sugar is beaten in, opposed to the Italian method where simple syrup is beaten in. I got significantly better results with the French method because the simple syrup in the Italian method tended to weigh the foam down excessively.
I've also seen the French method done with confectioner's sugar but in testing I got identical results with granulated sugar so I opted for that route. Confectioner's sugar also contains potato starch which I wanted to avoid introducing into the equation.
Enhancing Flavor
Since traditional meringue is just sweetened dried egg foam it has a tendency to taste bland. Adding caramel sauce and toasted pistachios added much needed flavor depth without inhibiting the consistency of the meringue. After making countless batches using different ratios of ingredients, varying degrees of temperature and an array of different baking times I settled with the recipe below. This meringue is baked about twice as long as traditional meringue because the xanthan gum is so effective at holding onto moisture it needs more time to allow it to dry out. Higher baking temperatures and larger cookie sizes saw the introduction of unwanted large air bubbles in the meringue cookies.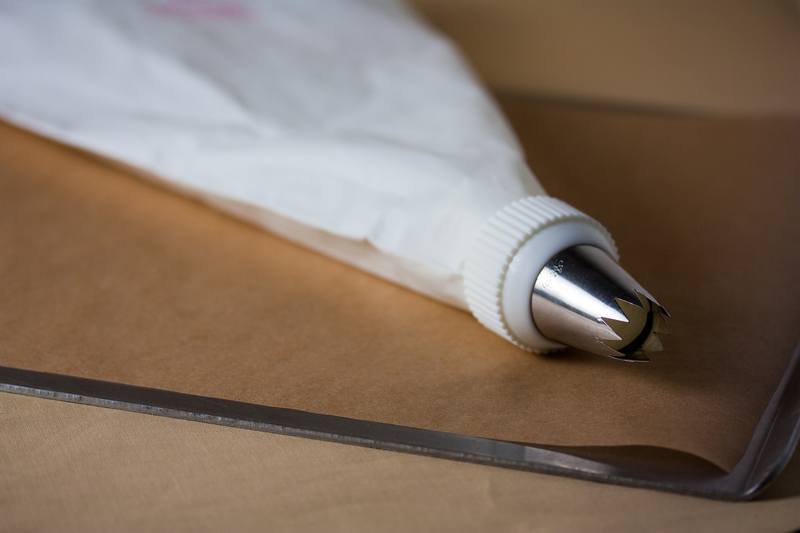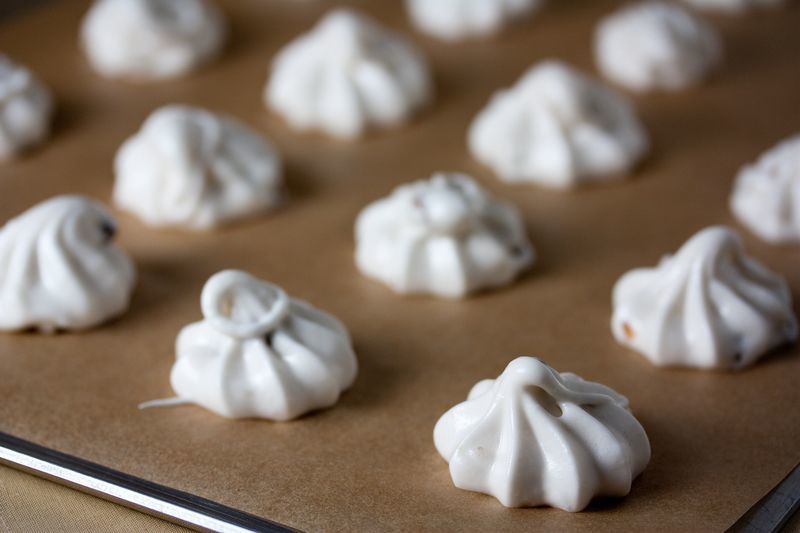 I attempted to use this recipe and method as a base for angel food cake but so far have been unsuccessful as of this writing, mainly due to the excessive moisture that the xanthan gum holds onto before needing to be baked out.
Find more
French-style
recipes on Veganbaking.net
Vegan Pistachio Meringue Cookie Recipe
¾ cup water
¼ cup wheat starch
1 teaspoon xanthan gum
2 Tablespoons soy protein isolate
¼ teaspoon cream of tartar
1 cup sugar
¾ teaspoon vanilla extract
2 Tablespoons
Vegan Golden Caramel Sauce
or
Easy Vegan Caramel Sauce
1/3 cup toasted pistachios chopped into ¼ inch pieces (chopped in half)
1) Toast the pistachios and prepare your baking sheets
Toast the pistachios. Preheat your oven to 200F (93C). Line two baking sheets with parchment paper.
Learn more about how to toast nuts
.
2) Beat the structure building ingredients
In a medium mixing bowl add the water, wheat starch, xanthan gum and beat for 1 minute. Add the soy protein isolate and beat for 2 more minutes. Add the cream of tartar and beat for 4 more minutes.
3) Beat in the flavor building ingredients
Carefully sprinkle half the sugar into the mixture and continue to beat until incorporated which should take about 30 seconds. Add the vanilla extract and caramel sauce. Reduce the speed to the lowest setting on your mixer and slowly add the remaining sugar. Mix until just incorporated. Now fold in the pistachios.
4) Pipe the vegan meringue onto the baking sheet then bake to perfection
I recommend piping them into 1 ½ inch rounds on a baking sheet using the biggest star tip you can find. I use an Ateco #829 which has a 17mm opening. If you're unable to pipe then use two spoons to arrange about 3 Tablespoons of meringue on the baking sheet about 1 inch apart. Bake for 3 hours and 30 minutes. Store the cooled in an open container at room temperature for up to three weeks. The meringues will dry out and become more crisp, losing their chewy centers the longer they sit around. This recipe makes about 30 Vegan Pistachio Meringue Cookies.
User reviews

Josephine
Pistachio meringue?? Count me in!
Was this review helpful to you?

Barb
French Macarons
I'm attempting to make vegan French macarons which are very finicky cookies. I need an egg white substitute for the recipe and I think that this will work. I was just wondering how many egg whites this recipe would use if this recipe weren't vegan so that I can figure out how much of the egg white substitute I need for my recipe. Thank you!
Was this review helpful to you?

Kshama21
Vegan Meringue - Hits and Misses!
Hi, Mattie,

Thanks for your helpful explanation of what's going on behind the scenes w/ meringues. Have you heard about the garbanzo bean juice substitute for egg whites? So many people are working together on various recipes trying to perfect the newest ingredient (bean juice) in traditional recipes. I shared this page in a FB post and thought that you may like to know about this latest find.

FYI: The name of the FB group is Vegan Meringue - Hits and Misses!

Keep up the great work!
Was this review helpful to you?

JuicyGreenGrass
Top 500 Reviewer
View all my reviews (1)
Vegan Meringues
I made these yesterday, and unfortunately they weren't great. I had to beat them about twice as long as the recipe said, and I never got the "bird's beak", more of a thick marshmallowy glop. But they piped well. After baking, they certainly looked right, but after four hours in the oven, the buttons were still spongey.

When I bit into one it certainly had that powdery meringue crunch, along with a distinct floury texture. It wasn't overpowering... But it was there and it was pretty off-putting. Egg meringues are very light and melt-in-your mouth fragile. These are a lot stronger/tougher.

I've since found a similar recipe that skips out on the starch, so I'll try that next.
Was this review helpful to you?

opal
Proteins
Hey! Thanks for going through all the trouble so we can all have Vegan Meringue!
I just want to know if I can use hemp or pumpkin protein instead of soy.
Was this review helpful to you?

zoheret15
View all my reviews (1)
Meringue
If I leave out the caramel will it still be meringue or is that a necessary ingredient to the meringue. I'm wanting to just use the meringue for lemon meringue pie. Thank you kindly


Was this review helpful to you?

jyotijay
Top 500 Reviewer
View all my reviews (1)
Vegan Pavlova
I have been searching high and low for just such a recipe! I used this one to make a vegan pavlova, simply by preparing as normal and lumping it into one big circle to be baked. It worked well, and my husband (who adores pavlova) approved. Thank you! I love that I can make this now.
Was this review helpful to you?

Soraya
Wow great job! I have been looking for this. Im gonna use it for a hazelnut mocha meringue cake. Can't wait to try:) Thanks! Best wishes from Holland
Was this review helpful to you?

Johanna.Dascal
View all my reviews (1)
Royal Icing
Hi!! I would like to know it this meringue could be used as a base to veganize a royal icing recipe that calls for meringue powder, could it be used without baking it?
For example as it is here http://sweetsugarbelle.com/2011/04/royal-icing-101-or-all-roads-lead-to-rome/

Was this review helpful to you?

Rob
Tweaking this for Passover
Many recipes for Passover are heavily dependent on egg whites for binding and leavening. This recipe is a real Godsend for Passover cooks who are vegan. Unfortunately, some of these ingredients are off-limits for Passover use. Having just discovered the recipe, I haven't been able to experiment yet, but the following substitutions could make the recipe useful for Passover.

For the starch: Sago starch, which comes from the heart of a palm tree, is high amylose and can't be considered kitniyot, for those who still observe that custom. The problem is that tapioca, which is low amylose, can be sold labeled as sago because the form (little pearls) and uses are pretty much identical. I've been able to find real palm sago on Amazon from a couple of sellers. It's used in Hindu fast dishes, so these are Indian brands. Search for "sabudana" which is its name in Hindi, although it can refer to tapioca as well so it's critical to read labels and descriptions carefully. If you get some, just process in a coffee/spice mill into a powder.

Some rice starch is reasonably high in amylose. Basically the starch/flour made from long-grain varieties. It's easy to find online or in Asian groceries but unfortunately doesn't say the kind of rice it's from. You'll have to experiment but usually plain rice starch seems to come from long-grain. Don't buy any described as sweet, sticky or glutinous. They're from low amylose short-grain rice.

There are other starches that might work, but these two should have little or no taste to affect your recipe.

For the protein: There are now several vegan proteins besides soy that might work well. Three that aren't kitniyot are quinoa, sacha inchi (from an Amazonian nut) and hemp (which tastes nutty but is greenish in color). For those not concerned about kitniyot rice protein is also available. Again, you can find these on Amazon as well as at health stores.

When you find ingredients that work well for you it would be a good idea to mix a larger amount of the dry ingredients to have a ready supply of vegan meringue powder.

Finally, the commercial Ener-G and Orgran egg replacers supposedly can be beaten and used for meringue. The ingredients in Ener-G are kosher for Passover. And for recipes that call for egg yolk there's the new Vegg product to experiment with!
Was this review helpful to you?

Prema
How to use meringue recipe to make macaroons
Hi,
I wanted to know, how can I substitute your meringue recipe to make macaroons .
I see that in egg based recipe they add almond flour and sugar.
Will adding almond flour, change the amount of protein added.
Thanks,

Was this review helpful to you?
Good but too long to bake
After searching high and low for these ingredients, I finally made them today. I love how these came out after 3 and half hours later. It is a bit too long to bake them.
Was this review helpful to you?

Grahma2
View all my reviews (1)
Alternate sugar
I have just begun vegan baking and have a wonderful praline meringue recipe that uses brown sugar. How do you think the cooking time, or liquid should be altered to adjust for the moisture in the brown sugar?
Was this review helpful to you?

kirstles13
View all my reviews (1)
Meringue
Hey Mattie

Can't wait to try this one, I have all the ingredients and will be trialling later today :)
I'm going to experiment with different flavours so wondered if you could give us a run down of the ones you tried - would be v useful to know what were perhaps disasters!
Also, thanks for all your hard work with the site and experimenting with these pretty hard things to make vegan :) Your brownie recipe is my fave recipe of all time x
Was this review helpful to you?

Sylvie
Starch ?
Hi, wonderful blog ! congratulations

Please, could you explain me the advantages of adding starch?
I have previously made vegan-meringues with soya protein (water, xanthan, lemon juice and sugar). They were perfectly OK -dried foam, fluffy, crusty- but they vanished so quickly in the mouth.
I am thinking of adding some almond powder next time, so... starch instead ?

About "soufflé" (cf. Rob in february), there might be a question of coagulation ?
With meringues it is more a question of drying than cooking - in egg cooking, the mixture becomes a bit consistant as egg coagulates (about 60°C for egg-white and 65°C for yellow) and my poor attempts of soufflé or "financier"have failed!
Do someone has yet compared egg-white and others protein cooking behaviours?

Happy cooking and good meringues!


Was this review helpful to you?

Mansi
can we have the vegan version of macarons?
Hi

This is amazing! I always thought that meringues can't be made without eggs. I don't know how good these are. but atleast there is an options for vegan like me.

Now can the same success be repeated with colorfully enticing macarons?

Was this review helpful to you?
Pavlova and French macaroons?
Would this recipe work for a pavlova and for French macaroons?
Was this review helpful to you?

VikingKev
View all my reviews (1)
meringue for pie?
If I wanted to use this recipe for meringue to top a pie, would I leave out the sugar and other flavorings and bake it like that? If so, how long would you suggest baking it on top of the pie til it sets like a true meringue?
Was this review helpful to you?

Rob
Other Gums?
Have you had an opportunity to try this with rice starch? And have you been able to experiment with any other gums that might be less hydrophilic than xanthan? It would be exciting to come up with a batch that could be used to make a soufflé, either sweet or savory, but you couldn't cook a soufflé for 3 hours! Of course, the interior of soufflé is moist, so perhaps this base would work with one. In any case, thanks for the work you've done so far -- it's really brilliant!

Lena, I think this might work for a pavlova, but you might have to dry the meringue for a much longer time since it's larger. It the small meringues take 3 hours, a pavlova-sized one might be an overnight project! Alternatively, you might think about making mini-pavlovas -- they should dry faster.


Was this review helpful to you?

Lena
Thank you for this excellent explanation and recipe. Do you think this recipe could be used to make pavlova?
Was this review helpful to you?

Sean
Lemon Meringue Pie!
I've made banana creme pie and lemon meringue pie with this as the topping, and it's perfect! It's somewhere between marshmallow fluff and egg meringue, and it toasts beautifully on top. Chemistry for the win!
Was this review helpful to you?

Hilary
Vegan Macarons and Cornstarch Instead of Wheat Sta
Mattie —

I stumbled upon this recipe while looking for a way to bake holiday macarons for my vegan and gluten-free relatives. First off, thank you for an amazing base! This really is a versatile recipe, and while the batter is slightly gummier than traditional meringue, it cooks up to be almost indistinguishable. Since I was going for gluten free in addition to vegan, I substituted the same amount of cornstarch for the wheat starch, and it worked like a charm. As you mentioned, there is a bit of bitterness to the cornstarch (not a lot, really), so I made sure to use a strong flavor in my macaron batter to overpower this — namely, chocolate peppermint. Based on your notes about temperature, I cooked the macarons at 200°F, one sheet at a time for an hour each, rotating the sheet after 30 minutes. I then made vegan ganache and piped it into the centers. Voilà! Vegan macarons. As a macaron purist, I lament the fact that they don't have the "foot" that a traditional macaron has, but the flavors and textures are spot on. Thanks again!
Was this review helpful to you?

Dawn Sullivan
How do you think the unbaked meringue would hold up in a Tom & Jerry batter? I would like to come up with a vegan Tom & Jerry so I can enjoy the same traditions with my family. Thanks for all the research and development on this!!!
Was this review helpful to you?

nina
homemade wheat starch
wheatstarch is a by-product of making homemade gluten [seitan] from regular flour. before vital wheat gluten was widely available, the way to make seitan was to make a dough with just water and flour [no yeast or anything else], knead it to activate the gluten, then re-knead it in a bowl of water. the wheat starch would dissolve into the water, and you would be left with a lump of ropy high protein homemade uncooked gluten-- and wheat starch settled at the bottom of the bowl of water. it would be tricky to dehydrate, but since your recipe mixes it with water, you could just use it still as the damp sludge from the bottom of the bowl, probably should put it through a strainer at some point. plus you also have a batch of uncooked seitan to make into dinner. see http://www.ellenskitchen.com/faqs/rawglut.html for details.
Was this review helpful to you?

Vix
This is probably my favourite blog post ever! Can't wait to try your recipe. IF and only if, I can find wheat starch in the UK...
Promise to report back if I do.
Was this review helpful to you?

Maija Haavisto
Still slight problems
I've now made this recipe twice with cream of tartar and following the instructions exactly. However, I still feel my technique of adding the sugar (I try to do it the way you instruct) must be pushing too much air out of the foam.

With the cream of tartar the meringues don't flatten as much as without it, but they are very hard to pipe (since the xanthan makes the mixture so sticky, it's hard to "cut"), they do end up fairly flat and the surface completely loses the wavy piped pattern in the oven. And they still take longer to bake (yes, I have an oven thermometer), perhaps because they're less airy and the water doesn't evaporate as effectively?

They're good but I'm still hoping to make meringues that look like meringues. :->
Was this review helpful to you?

Daniela
soy protein isolate
thanks for the reply and the link to the soy protein isolate.
I am assuming it's not the same as soy flour, right? What else can it be used for?
And what did you mean about the nougat? Are you experimenting with that too?
I used to love torrone, it Italy, but I stopped eating long time ago...
It would be interesting to try making it a better way...
Thanks,
Daniela
Was this review helpful to you?

Andrea
You are just a genius. I don't even care for, or miss, meringue. But the chemistry lesson alone is worth studying. Some of us were talking recently about how to make the right substitutions in a given recipe. This is great information for veganizing in general. Thank you!
Was this review helpful to you?

Daniela
Congratulations!
I am impressed! One of the fortresses of egg based recipes just fell! I am looking forward to more vegan version of egg based recipes!
Few questions though: what is soy protein isolate and where do we get it. And where do we get wheat starch?
Do you have some specific sources online?
Thanks,
Daniela
Was this review helpful to you?

Tipsy Reader
Translates to Macaron?
Has anyone tried to use this as a base for a vegan macaron (not to be confused with coconut macaroons)? I'll report back when I try it. Works great for the meringue cookie, thanks for posting the recipe!
Was this review helpful to you?
View all user reviews