Vegan Vanilla and Almond Crescents

HildaJorgensen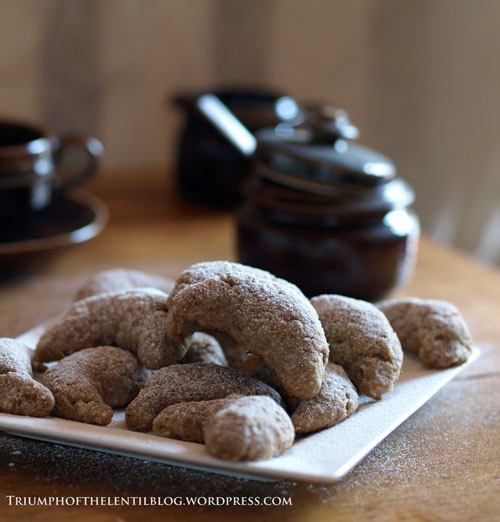 These Vegan Vanilla and Almond Crescents are an incredibly delicious biscuit with just the right amount of sweetness and lots of rich flavours from the almonds and vanilla. My choice of coconut oil for this (and most of my cooking) is the more refined kind, which is refined by filtering it through clay to remove the coconut taste and smell. This gives a 'buttery' flavour and texture to the baked good with all the goodness of coconut oil, but without being overwhelmed by coconut flavours.
Soy-free, Wheat-free, Gluten-free option, under 45 minutes. Kitchen time 15 minutes, baking time 12 to 15 minutes.
Find more
Easy recipes
on Veganbaking.net
Vegan Vanilla and Almond Crescent Recipe
1 cup almonds, ground
3/4 cup unrefined sugar
2 1/3 cups barley flour (or wholemeal spelt, wholewheat pastry or gluten-free)
a pinch of salt
3/4 cup coconut oil, melted (or a mixture of melted coconut oil and olive oil)
1/4 cup water
2 to 3 teaspoons vanilla extract
optional powdered vegan sugar, for coating
Preheat the oven to 350F (175C). Line or grease two baking sheets.
For best results, grind the almonds and sugar together in a food processor. In a mixing bowl, combine the almonds, sugar, flour and salt. Stir through the coconut oil, water and vanilla extract to form a thick dough.
Take tablespoons of the dough and shape into logs that have thinner ends and a thicker centre. Curl into crescent moon shapes and place on the baking trays.
Bake for 12 to 15 minutes, until lightly browned. Sprinkle with powdered vegan sugar if you want.
User reviews

jyoungz875
Top 1000 Reviewer
View all my reviews (1)
These are... wow
Just loved these the first time I made them! Made my home smell soooo good! I enjoy finding these new little recipes to share with my family!
Was this review helpful to you?

patty
i used almond meal (stored in freezer after making almond milk) and an equal mixture of coconut oil and margarine (total: 2/3 c) and the crescents came out great. i also added some raisins and rolled them in sugar/cinnamon mixture. awesome! will definitely be making more in the near future!
Was this review helpful to you?

rabeah
Surprisingly delicious
I made half the quantity and used wholewheat all purpose. I also added some cardamom powder I ground before and hated to waste it. My almonds were roasted so I upped the flavor with a tsp of almond essence. I used cinnamon/sugar/pistachio powder (left over) instead of sugar. They are good without it and differently good with it. Fresh brewed coffee goes great with it. Thanks for posting this vegan recipe will be my go to for simple treats.
Was this review helpful to you?

Trisha
Trisha
"Incredibly delicious" is going a bit far. Being unleavened and using wholemeal flour, they are rather stodgy and heavy, OK for winter food I guess (I live in the tropics).
BTW, what is "vegan sugar"? My vegan husband has never heard of it. Thought ALL sugar is plant based??

Was this review helpful to you?

C
Was this review helpful to you?

C
P.s. - sorry for the odd spacing in that last review, I'm using my phone and it does that sometimes.
Was this review helpful to you?

C
Nice
Cool! I'm going to a f r i e n d's p a r t y a n d I'm g oi ng t o m ak e t h e s e f o r h er b ec ause s h e's a v e g a n. E a s y r e c i p e, t h an ks!
Was this review helpful to you?