Vegan Vanilla and Almond Crescents

HildaJorgensen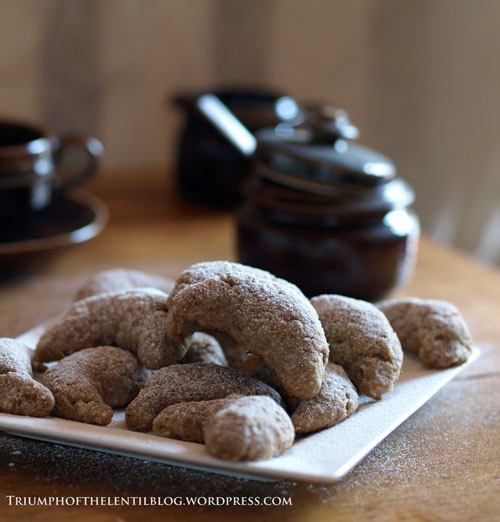 These Vegan Vanilla and Almond Crescents are an incredibly delicious biscuit with just the right amount of sweetness and lots of rich flavours from the almonds and vanilla. My choice of coconut oil for this (and most of my cooking) is the more refined kind, which is refined by filtering it through clay to remove the coconut taste and smell. This gives a 'buttery' flavour and texture to the baked good with all the goodness of coconut oil, but without being overwhelmed by coconut flavours.
Soy-free, Wheat-free, Gluten-free option, under 45 minutes. Kitchen time 15 minutes, baking time 12 to 15 minutes.
Find more
Easy recipes
on Veganbaking.net
Vegan Vanilla and Almond Crescent Recipe
1 cup almonds, ground
3/4 cup unrefined sugar
2 1/3 cups barley flour (or wholemeal spelt, wholewheat pastry or gluten-free)
a pinch of salt
3/4 cup coconut oil, melted (or a mixture of melted coconut oil and olive oil)
1/4 cup water
2 to 3 teaspoons vanilla extract
optional powdered vegan sugar, for coating
Preheat the oven to 350F (175C). Line or grease two baking sheets.
For best results, grind the almonds and sugar together in a food processor. In a mixing bowl, combine the almonds, sugar, flour and salt. Stir through the coconut oil, water and vanilla extract to form a thick dough.
Take tablespoons of the dough and shape into logs that have thinner ends and a thicker centre. Curl into crescent moon shapes and place on the baking trays.
Bake for 12 to 15 minutes, until lightly browned. Sprinkle with powdered vegan sugar if you want.