Vegan Condensed Soy, Rice, Nut or Coconut Non-Dairy Milk

Mattie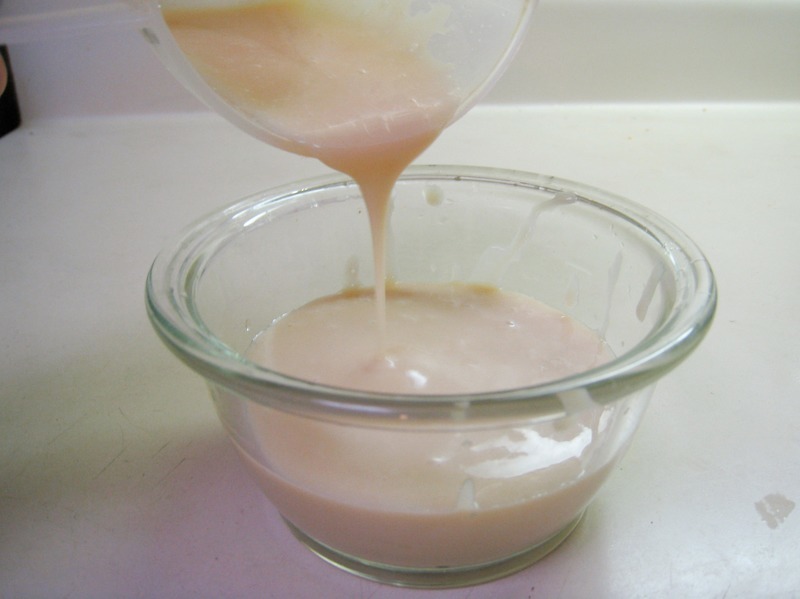 Almost any vegan non-dairy milk can be condensed with this recipe such as soy, rice, nut or coconut. Making vegan condensed non-dairy milk involves adding sugar and reducing it to about half its original volume. This can take several hours and can be inconvenient if you need it for a recipe. In this case be sure to make this beforehand and store it in the fridge so you have it handy on bake day. The effort is well worth it, especially if you're making
Chocolate Coconut Magic Bars
or Dulce de Leche.
The science of vegan condensed milk
Condensing any milk results in exposing it to heat so the water evaporates off and the sugars slightly caramelize. If the milk contains protein as with soy milk, the proteins will toast slightly which will result in additional depth of flavor. This is why I recommend using soy milk for best results. Many non-dairy milks such as almond, oat, rice and flax don't contain enough solids to contribute to rich, velvety texture and smooth flavor. If you prefer to use a nut milk, I recommend making it yourself and making sure it's extra thick.
Find more
Easy recipes
on Veganbaking.net
Vegan Condensed Soy, Rice, Nut or Coconut Non-Dairy Milk Recipe
2 ¾ cups (650 mL) non-dairy milk
½ cup (52 grams) sugar
1/8 teaspoon (.75 grams) salt
½ teaspoon (1.5 mL) vanilla extract
1) Reduce the non-dairy milk mixture over heat
Place the non-dairy milk, sugar and salt in a saucepan and cook over a medium-low heat, while whisking frequently. Do this until the volume is reduced to 1 cup which should take about a couple hours. Don't let the mixture boil aggressively; a very mild simmer is ok. Keep in mind that you'll have to reduce heat as the mixture gets reduced so you don't burn it. Have a measuring cup handy so you can measure the mixture as you go along. When 1 cup of mixture remains, whisk in the vanilla extract.
2) Cool the vegan condensed milk
Transfer the condensed non-dairy milk to a container, cover and place it in the refrigerator for several hours until it cools to at least room temperature. This will ensure that your condensed milk is the proper thickness for most uses.
Alternatively, you can use a slow cooker to condense the non-dairy milk. Just set it to high, leave the top off and cook for about 7 hours. Don't worry if you reduce the mixture a little too far. Just place it in a food processor with enough water to bring it back up to 1 cup and process it to combine. Store in a covered container in the refrigerator for up to 2 weeks. This recipe makes about 1 cup (237 mL) of Vegan Condensed Soy, Rice, Nut or Coconut Non-Dairy Milk.
User reviews

Quincy
I'm going to try this with the pound cake I just made!
Was this review helpful to you?

Alicia
Wow! Worth trying at all.
Was this review helpful to you?

This email address is being protected from spambots. You need JavaScript enabled to view it.
Top 1000 Reviewer
View all my reviews (1)
grainy ?
i made this with home made soy milk and it came out with grainy texture , maybe my homemade soy milk was too thick to begin with, ideas?
Was this review helpful to you?

Daniel
wrong measurement
1/2 tsp = 2.5 ml
(not 1.5 ml)
Was this review helpful to you?

Janna
Hi, I'm interested to know if you know what the rough weight is of the finished cup of vegan condensed milk at the end? Trying to work out how much I'd need to make to equal a standard 397g can on normal condensed milk. Many thanks.
Was this review helpful to you?

Kellybean
Top 500 Reviewer
View all my reviews (1)
Perfect!
So, I've been searching for a recipe to make my own coffee creamer without dairy and I found this. I changed it slightly so that it would be a little less sweet, but still thicker than plain milk. I actually used vanilla soy milk and just reduced the sugar amount, then I only cooked it down for about one hour. The texture and flavor are perfect for coffee creamer! Thanks for the recipe :)
Was this review helpful to you?

Nicfor
View all my reviews (1)
Condensed milk using coconut milk
I made condensed milk using 2 cans of organic full fat milk and agave nectar. It took 2 1/2 hrs to cook down but the oil seperated from the milk. I let cool down in a glass jar and the oil rose to the top of the milk. So i poires the oil out and put the jar in the fridge. Did this happen to anyone else? Did i overcook it?
Was this review helpful to you?

Kim Rountree
AMAZING
I used this for pumpkin pie and it was perfect! Used the leftover to make dulce de leche by cooking it down just a bit longer. This is my go to!
Was this review helpful to you?

Taylah
Amazing
Worked super well for me, I used it to make cookies!
1 1/4 cup condensed milk (I used your recipe with coconut milk)
1 cup sugar
5 cups SR FLOUR (choose whichever type you like!

I made about 100 cookies ❤️❤️
Was this review helpful to you?
Worked well for me
I made this using Vitasoy Soy Milky Lite and it worked really well. It did take two hours of standing at the stove top and it seemed a bit thin when I poured it into my container. But, after a couple of hours in the fridge it was perfectly thick. Must add though, take it off the heat before you add the vanilla extract. Mine almost bubbled over when I added it at the end.

Will be using this recipe again =)
Was this review helpful to you?
hmmm
I tried this recipe with rice milk and I used the crockpot to reduce it down to about 1 cup and even added 3/4 cup of sugar instead of just 1/2 cup and I put it in the fridge but after getting up this morning it still wasn't all that thick. I did put it in the glass jar while it was still warm so I wonder if that had something to do with it. Next time I'll try it with coconut milk like another user did who reported success with it.
Was this review helpful to you?

Kristen
Made with Almond Milk
I just made my first batch of this using Silk unsweetened Almond Milk. It turned out great! Can't wait to drizzle over my lemon bars which are baking and some fresh fruit!
Was this review helpful to you?

michelle
Attempts
Out of the various attempts I've made with trying to make a 'condensed' milk from vegan sources, taste and texture wise, I've had the best luck with Coconut milk (and I do not mean the stuff out of the boxes from the grocery store's health-food aisle - I mean the imported stuff from a can.) - I'm Vietnamese, and I *desperately* miss having my cà phê sữa đá in the morning or on hot afternoons after work. Thankfully, I grew up eating a lot of coconut, so the flavor of coconut in my coffee or some baked goods isn't entirely off-putting to me (although, the former took some getting used to).

I've had the best luck with the following recipe:

1 can (400 ml/14 oz) unsweetened, full fat coconut milk (Chaokoh, Mae Ploy, Aroy-D... do not buy the Coco Lopez syrup cans - it's labeled as "cream of coconut', but it's actually a sweetened syrup for making piña coladas.
1/4 cup palm sugar chunks - aka coconut sugar or jaggery. It's made from coconut palms, and comes in a brick or discs that have to be shaved, crushed, or grated before use.
1/8th tsp salt


Shake the can of coconut milk before opening and empty the can into a small (non-stick) sauce pan or saucier. Cook over low heat for 1-2 minutes and add the jaggery pieces or sugar, stirring continuously until the sugar pieces dissolve. Increase heat to medium-high, and bring to a rolling boil, stirring continuously for 2 minutes. Turn off burner after 2 minutes, but continue to stir until sauce stops cooking (no longer bubbles).

The coconut milk should be roughly half of it's original volume, and should be slightly thinner than the dairy version of condensed milk. it should still be highly viscous and should be kinda gloopy, rather than syrupy.

*notes* - don't boil for longer than 3 minutes, or oil will begin to 'crack' or separate from the milk.

This is actually the same recipe used to make the coconut 'topping' for mango and coconut sticky rice in Thai cooking... I discovered that it made good condensed milk by accident, when I accidentally added the syrup I had made for sticky rice and mango to a recipe I was making for a work pot-luck for my coworkers, rather than the canned sweetened condensed milk that I'd purchased for it. (My daughter had already opened the can and emptied the contents into a separate container after making herself some coffee).

Anyway, that's my two cents.
Was this review helpful to you?

heather
One more tip
The key is to make this in advance and let it cool in the fridge overnight. It isn't super thick when it's done cooking, but it thickens nicely after it's cooled. I'm thankful for a non-dairy version of sweetened condensed! I can have layer bars yet again!
Was this review helpful to you?

heather
Works good with coconut milk (in a milk container)
I first made this a couple of months ago with So Delicious brand Coconut Milk (the kind in the red milk container carton in the refrigerator section of the store). It turned out nice and thick, and perfect for layer bars! Last night I tried to make this again, but with Blue Diamond Unsweetened Almond Milk. It did not work out as well as the first batch did, the texture isn't quite like true sweetened condensed milk is, it's a bit more separated and chunky after sitting in the fridge overnight. Plus, heating the almond milk up tends to create a very strong almond flavor and aroma, so be warned. I'm throwing that batch out right now, and am starting over with coconut milk this time. Last time the coconut milk turned out exactly how I remember the regular sweetened condensed milk to taste. Thought I'd share my experience.
Was this review helpful to you?

ToLoveandToWork
Top 500 Reviewer
View all my reviews (2)
Not what I wanted but can serve other purposes
So I made the condensed milk, and of course it was nowhere near what I talked about in my other message. I didn't really expect it to be but had hoped. On to the next challenge.
Was this review helpful to you?

ToLoveandToWork
Top 500 Reviewer
View all my reviews (2)
Wow! We Russians eat condensed milk out of the can with tea and on bread and it's a treat loved by everybody. It's not the same as the American stuff I've see on shelves but never tasted, as it has more ingredients and is more for eating than for cooking. Do I miss it... I'm going to make this and see if it can be a satisfactory replacement.
Was this review helpful to you?

Julianne
Would it be possible to quicken it up by cooking it in the microwave somehow instead? Has anyone tried this?
Was this review helpful to you?

siblings
View all my reviews (1)
Great tasting
I used a slow cooker to make this. I used 1 litre of soya milk and it took 13 hrs to reduce it down to just under half litre. It didn't thicken very much though and is about twice the viscosity that it was when I started. Any ideas why this might be ? I can only think that it was not getting enough heat. I had the heat setting on high. Thanks for the recipe, I am looking forward to making vegan bounty.
Was this review helpful to you?

Vanessa
thermomix!
I'm lucky enough to own a thermomix and did this in my thermomix! It was super easy as all I had to do was pop it all in and walk off! For other thermomix owners out there I did it on spend 4 for almost 2 hours at 100 degrees celcius. I also put a teaspoon of vanilla bean paste and it was perfect! Thank you so much for a great recipe.
Was this review helpful to you?

Dana
Can I use stevia to make this?
Was this review helpful to you?

Lachlan
Ice-cream
Although I haven't tried it, I've rated this recipe a 5, because I've long been looking for a recipe like this! A lot of non-dairy condensed milk recipes are soy, and I try to avoid soy the best I can. Before finding out I was lactose intolerant, I would make the most amazing ice-cream. It required whipped cream and condensed milk. I've tried making a simple non-dairy ice-cream for a while now with no luck. But I might try replicating my dairy recipe, using coconut whipped cream, and a coconut condensed milk, or almond condensed milk. I'll try it sometime soon and will let you know how I went. Thank you
Was this review helpful to you?

marcela
How many hrs. does it take to cook this????
Was this review helpful to you?

Nanakupo
Great recipe. I used it to make home made hot fudge (just melt cocoa nibs and your choice of peanut or almond butter into the condensed soy milk). So delicious. I made it for a 6 year old boy who has severe milk allergies. He really loved his first taste of "safe" fudge. Thanks for the great recipe!
Was this review helpful to you?

dani
condensed milk
i couldn't quite get the consistency of regular condensed milk. just wondering if i would need to let it cook longer to get it to thicken? other then that the taste is fantastic. i substituted regular soy milk with vanilla soy milk
Was this review helpful to you?

laurelvb
#1 Reviewer
View all my reviews (16)
Condensed Milk Options
I was just wondering if one might achieve the same effects by placing the ingredients in a crockpot overnight or is it really necessary to cook it over the stove? I am so looking forward to all those recipes calling for condensed milk that I'd do this even if does require all that time. Thanks for the recipe AND the inspiration.
Was this review helpful to you?

Laura
Vegan Condensed milk
I've been vegan for close to 25 years and miss all things caramel.

Can't wait to try this! Rated it 5 stars for now - hopefully I won't have to adjust after I try it!

Thank you!
Was this review helpful to you?

veganbear
Top 500 Reviewer
View all my reviews (1)
Pure Alchemy
This recipe is pure alchemy. I've missed Condensed Milk and making Banoffee Pie but now I can star making it again. I did make double the amount and I think next time I will make it in two parts as it took a long time to make. I used dark brown sugar so it was a lot darker than normal Condensed Milk but it tasted so good I couldn't stop eating it.
Was this review helpful to you?

control46
Top 1000 Reviewer
View all my reviews (1)
Re: Condensed Soy, Rice, Nut, Coconut or Grain Mil
will definitely have to try this
Was this review helpful to you?