Vegan Apple Cheddar Galette

Mattie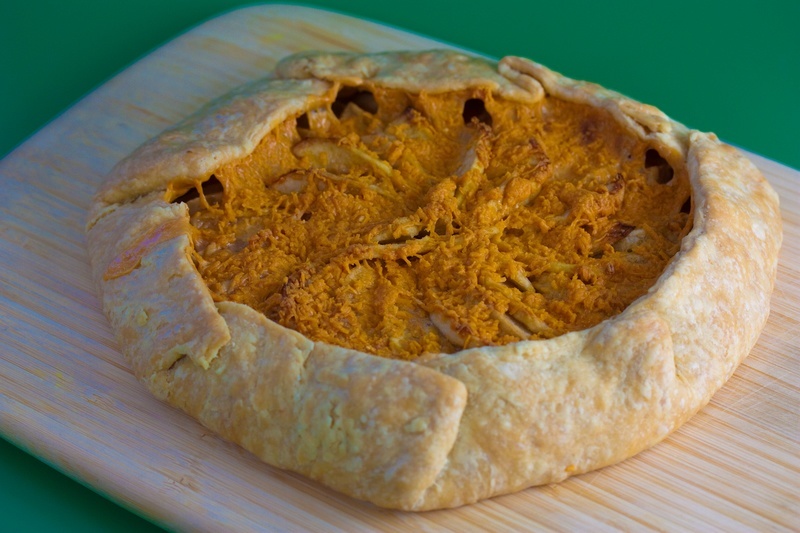 Apples with vegan cheddar cheese are a match made in heaven due to the contrasting flavors of sharp cheddar and tart apples in this Vegan Apple Cheddar Galette recipe. Be sure to use a sharp vegan cheddar cheese like
Daiya
or
Cheezly Mature White Cheddar
for best results. I used Daiya cheddar for this particular galette.
Find more
Apple recipes
on Veganbaking.net
Vegan Apple Cheddar Galette Recipe
1
Pie Crust
recipe for a 9 inch pie
1 ½ pounds of apples (3 or 4).
Recommended apples for baking
are Granny Smith, Braeburn, Pink Lady or a mixture of all three
¼ cup sugar
1 ½ teaspoons lemon zest
1 cup vegan cheddar cheese, shredded
1) Prepare your crust
Prepare your pie crust dough. While it's sitting in the refrigerator in plastic wrap, prepare your apples.
2) Prepare your apples
Preheat your oven to 400F (204C). Prepare your apples by peeling, coring and slicing them into ¼ inch thickness. Place them in a bowl and mix in sugar and lemon zest until well incorporated.
3) Assemble your vegan galette dough
On a clean lightly floured surface, roll your pie dough to 14 inches round. Use a pair of scissors or a pizza roller to cut your dough into a perfect circle. Transfer your dough to a pizza pan by folding it in half, then folding it in half again, transferring it to the pan then unfolding it into place. Sprinkle a half cup of vegan cheddar on the pie dough 9 inches in diameter.
4) Assemble the apples on the galette dough
Arrange the apple slices on top of the bed of cheese concentrically outward so that they're overlapping slightly like fallen dominoes. This will allow you to get maximum apple in the smallest amount of space.
5) Top the apples with more vegan cheese
Sprinkle the other ½ cup of vegan cheddar cheese on top of the apples.
6) Fold the dough over the edges
Fold the outer edges of dough over the apples as you go around the perimeter.
7) Bake your vegan galette to perfection
Bake at 400F (204C) for 15 minutes then reduce heat to 350F (177C) and bake an additional 45 minutes. Remove from oven, allow to cool slightly and enjoy. Serve warm. This recipe makes 1 Vegan Apple Cheddar Galette.