Vegan Pumpkin Pie

Mattie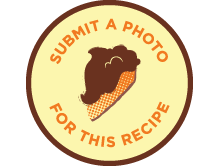 This Vegan Pumpkin Pie recipe features the pumpkin boosting flavors of cashew butter and barley malt syrup. Cinnamon, ginger, nutmeg and cloves further enhance flavors better than eggs ever could in this vegan pie.
Flaky Pie Crust
is recommended.
Vegan Pumpkin Pie Recipe
9 inch pie crust (pre-baked if you're using a homemade pie crust)

2 cups pumpkin purée
¾ cup raw cashew butter
2/3 cup sugar
¼ cup barley malt syrup
2 Tablespoons arrowroot powder or tapioca starch
½ teaspoon salt
½ teaspoon cinnamon
½ teaspoon ginger
¼ teaspoon nutmeg
¼ teaspoon cloves
Blend the ingredients, transfer them to the pie crust and bake to perfection
Preheat your oven to 350F (177C). Add all ingredients to a food processor or blender and process until smooth. Pour the filling into the pie crust and bake for 45 minutes. To store, cover the pie with plastic wrap and keep it in the refrigerator for up to 1 week. This recipe makes one 9 inch Vegan Pumpkin Pie.


User reviews

Stefanie
Love this pie!
Hi! I just wanted to give this recipe some love because I've been making this for the past 3 years and I think it's awesome. I would definitely recommend using raw cashew butter for a less nutty flavor (I make it myself in the food processor to save money.) This pie has a rich, complex flavor that I think is better than traditional non-vegan pumpkin pie. Give it a try, you won't be disappointed!
Was this review helpful to you?

Jennifer
Was okay, but....
The pie set fine, it was very easy to make, a bit pricey though (cashew butter $7, barley malt another $7). However, the cashew butter overpowers the entire taste of the pie. My non-veg eaters thought it "tastes like peanut butter... thought we were having pumpkin pie". Yep, they didn't even think it was pumpkin pie, and it didn't even taste like cashews to them. Won't be using this recipe again.
Was this review helpful to you?

Elena['p;
awesome recipe
the recipe looks and probably tastes very good but I have a question: to make the pumpkin puree, do you have to cook the pumpkin first or do you use raw pumpkin?
Was this review helpful to you?