Sticky Vegan Cinnamon Rolls

Mattie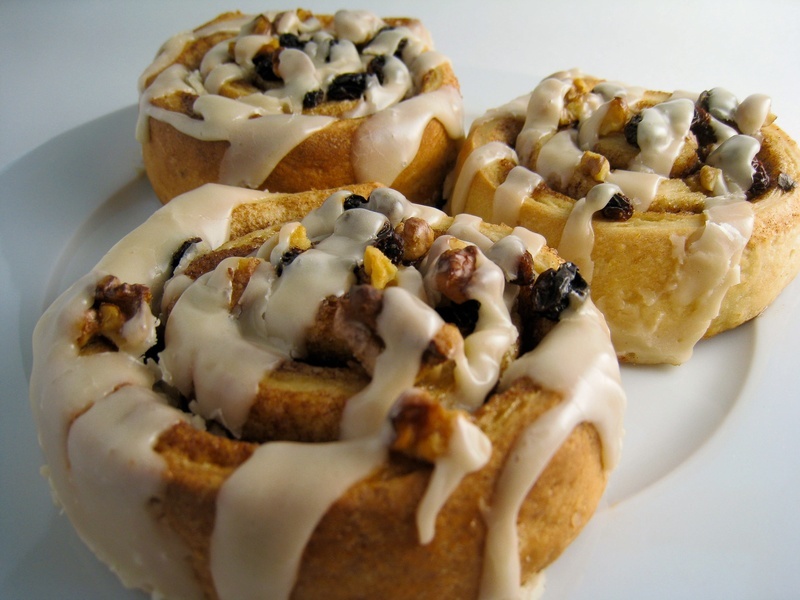 This Sticky Vegan Cinnamon Roll recipe features brown sugar, maple syrup and just the right amount of cinnamon, making them moist and chewy. And if that's not enough, these vegan cinnamon rolls are topped with walnuts, raisins then drizzled with icing to make them an irresistible treat any time of day.
Find more
Cinnamon recipes
on Veganbaking.net
Sticky Vegan Cinnamon Roll Recipe
For the dough
3 Tablespoons water
1 Tablespoon
golden flax meal
1 cup + 2 Tablespoons warm water
2 ½ teaspoons active dry yeast
4 ½ cups all-purpose flour
½ cup sugar
⅓ cup (71 grams)
Regular Vegan Butter
or stick margarine, melted
1 teaspoon salt
For the filling
¾ cup + 2 Tablespoons brown sugar
¼ cup Regular Vegan Butter or stick margarine, softened
2 Tablespoons maple syrup
2 ½ teaspoons cinnamon
¼ cup walnuts chopped
¼ cup raisins
For the icing
Vegan Vanilla Icing
1) Whisk together the water and flax meal
In a small mixing bowl, whisk together the 3 Tablespoons water and the flax meal. Set aside.
2) Activate the yeast
In another small mixing bowl, whisk together the warm water and the yeast. Allow the mixture to sit for about 10 minutes so the yeast activates.
3) Prepare your flour
Add the flour to a medium mixing bowl.
4) Whisk together the flavor builders
In another medium mixing bowl add the sugar, Vegan Butter, salt and whisk until well incorporated.
5) Mix the dough
Add the flax meal mixture from Step 1 and the yeast mixture from Step 2 to the bowl containing the sugar and Vegan Butter mixture. Whisk until well combined. Add these wet ingredients to the bowl containing the flour and stir until the dough comes together into a sticky ball.
6) Knead the vegan cinnamon roll dough
Lightly dust a clean surface with flour and knead the mixture for 5 to 10 minutes. The dough should be firm and smooth, not sticky. Place the dough back into the mixing bowl, cover and place in a warm place like on top of the stove for 1 hour. After 1 hour has passed, knead the dough for about 30 seconds and let it rest for 10 more minutes.
7) Whisk together the filling ingredients
In a small bowl, whisk together the brown sugar, Vegan Butter, maple syrup and cinnamon. Set aside.
8) Spread the filling onto the dough
Roll the dough into a flat 16 x 20 inch rectangle. Spread the Vegan Butter, sugar and cinnamon mixture evenly on top using a dough scraper or spatula.
9) Roll up the dough
Carefully roll up the dough lengthwise so it's 16 inches long. Cut it into 1 ½ inch sections with a sharp knife.
10) Form the vegan cinnamon rolls and allow them to proof
Preheat the oven to 400F (204C). Place the rolls close together, cut side up in a lightly greased 9x13 glass or ceramic baking dish. This will ensure that the rolls don't unravel during baking. Sprinkle the walnuts and raisins over them. Cover with plastic wrap and let the buns rise for one more hour.
11) Prepare the icing
Prepare the Vanilla Icing and set aside.
12) Bake your vegan cinnamon rolls to perfection
Bake until the cinnamon rolls are just starting to turn golden, about 15 minutes, rotating the dish halfway through the baking duration. Pour the icing on the warm rolls before serving. You may want to heat the icing up a little so it can easily be poured.
This recipe makes about 12 Sticky Vegan Cinnamon Rolls.
User reviews

Cassandra D. Everhart
It has been years that things are pleasurable for their side.
Was this review helpful to you?

Sai
Yummy!
Tasted excellent and very crispy, made it for New Year and my friends absolutely loved them! :D
I had a bit of trouble with the cups measurement for choosing the quantity of flour for the dough, but ended up considering a cup=120 grams. Raisins were roasted a bit more and would suggest baking the walnuts and raisins separately, in order to control the baking time and later place them over the rolls and drizzle with the Vanilla icing.


Was this review helpful to you?

rainideigh
Top 1000 Reviewer
View all my reviews (1)
curious
i am not quite sure i understand step 10...if i preheat my oven to 400 with the rolls in a glass baking dish and cover them with plastic wrap, i am assuming i am suppose to keep them on the stove to rise as opposed to putting them in the hot oven where the plastic wrap will melt to the dough and ruin them. is this correct?
Was this review helpful to you?

Hannah
Great!
Pre made these on Christmas Eve and kept in fridge uncooked till the morning. They rose beautifully in the oven and had rave reviews from my vegan sisters, thanks bunches! Plus my meat/potatoes hubby gobbled them up too! Best breakfast ever!
Questtype.com
Was this review helpful to you?

planthealth
Top 1000 Reviewer
View all my reviews (1)
BEST EVER
BEST cin rolls I have EVER made, vegan or not. I combined steps 5 & 6 and after mixing vegan margarine with the other ingredients as listed, I put the flour in my bread machine, then the margarine/yeast etc mixture, then let the bread machine do the work. After it rose I continued with the recipe as written. PERFECT!!! Sharing this recipe with everyone!! Thanks!
Was this review helpful to you?

Lillian
Hooked !!!
Just made this delicious cinnamon buns and were a hit; my kids really loved them. Thank you for the recipe.

Was this review helpful to you?

Naomi
Disappointed
Just made these following step by step the recipe but the dough had a strange consistency, I couldn't even roll it.. I just ended up throwing everything into the baking dish with the filling (+ there wasn't enough of it) and I'll see how it will turn out when baked (I'm not expecting something crazy about it anyway because the dough didn't even rise so..)
I was expecting a lot from this recipe (I did the vegan butter this morning and it turned out very well) and I would have rather keeped the butter for something else..
It was not worth the effort and time
Was this review helpful to you?

Kimberly
Top 1000 Reviewer
View all my reviews (1)
Not Great
I was looking for an alternate for my "go to" roll recipe and wanting a softer dough than the one I currently use, but with all due respect, I was not impressed by this one. The dough was VERY dense, difficult to work with, and had an odd flavor to it. While I liked the idea of coconut oil in the icing, it too was a challenge to work with and became very hard and "crumbly" when cooled, causing it to fall off in chunks while eating the rolls. Even though I added the tapioca starch to the filling, it still seeped out everywhere and burned, leaving the rolls nearly void of any filling at all. The rolls themselves were not baked through (even after nearly 30 min. of baking), though the tops were beginning to burn. :(

And yes, I followed everything to the letter.
Was this review helpful to you?
Sticky Cinnamon Rolls
Excellent!!! Thank you so much for an amazing vegan cinnamon roll recipe! It made our Christmas morning complete!
Was this review helpful to you?

DemandaBeth
Top 1000 Reviewer
View all my reviews (1)
About to make...
Hi there! So excited to try this recipe- I will be making these for my 20-years-vegan boyfriend on Christmas morning. Is it possible to make the dough ahead of time and have it in the fridge overnight to save having to get up at 6am? If so, at what point do I stop and put the dough in the refrigerator? Thanks!!
Was this review helpful to you?

veggie_dolphin
Top 50 Reviewer
View all my reviews (2)
holy mother of all that is cinnamon bun
THESE ARE DIVINE.
Just like non-vegan cinnamon sticky buns, but... way, way better. No one could tell they were vegan!

Instead of yeast: (cause I didn't have it) I used equal parts of baking soda and lemon juice to equal the amount of yeast needed.
(if you're gonna do it this way, make sure to add it in LAST to get the best results; plus using this method you don't need to leave the dough to rise, so yay to wayy less prep time!) and added the water that was supposed to go with the yeast.
Was this review helpful to you?

SnickerDoodle13
Top 500 Reviewer
View all my reviews (1)
Fabulous
I make breakfast once a month for my club and these are always a huge hit. I have tried other cinnamon rolls but these have such a great taste they are requested often.
Was this review helpful to you?

Shryee
Sticky cinnamon rolls
Mattie, thank you again for another fabulous recipe. This is the fourth recipe of yours I've tried. Of course they are delicious. Scarfed down two warm with the icing. So worth the effort. Thank you
Was this review helpful to you?

Sneha
LOVED LOVED LOVED LOVED IT!! :D
I used your AWESOME recipe for the most part as a guide (minor tweaks here and there) to make the most AMAZING cinnamon rolls ever. It was my four year olds first time eating sticky rolls (hes vegan since birth, and I haven't ever found ready-made cinnamon rolls before), and he absolutely LOVED them too!! :)

Thank you SOOOOOOO much for the recipe. If my tweaked recipe ever goes up on a blog (thats been a WIP for a while now), I will be sure to link back to you as my inspiration.

Vegan
Was this review helpful to you?

marick22
Top 500 Reviewer
View all my reviews (1)
Mmmm!
I followed your instructions to a tee and, voila, the outcome was just perfect! This is coming from the unluckiest baker in Canada, where everything always burns or tastes like crap. I served them to my dad this morning, and he said you couldn't get better chelsea buns from a bakery (and he's not one to sugar coat a compliment). These were truly perfect, in every way. Even my boyfriend, the devout non-vegan, loved them. There's no difference to non-vegan rolls.

And the flax meal... my gosh, what a great egg alternative. Thank you! A bit expensive, but you don't really need that much of it, so I'm happy.

Your website/blog (whichever) is awesome! I only discovered it yesterday, but I know I am going to come back again and again. Thank you!!
Was this review helpful to you?
something went wrong?!
Hello there.
After reading a lot about Flax seeds and Vegan butter i decided to do these yummy looking treats with Flax meal and homemade vegan butter (based on your recipe).
i did everything exactly as you said but ended up with an extra firm dough which didn't "rise" at all.. is this ok? should i keep on backing or will it turn out hard as a rock?


thank you
Was this review helpful to you?

Malcolm Hill
THAT WAS SOOOOOO GOOD!!!!!!!!!!!!
That right there took about 3 hours but it sure was worth it! I think that the taste is better than any cinnamon rolls!
Was this review helpful to you?

GreenTrees
Top 500 Reviewer
View all my reviews (1)
Thank you, worth the wait!!!
Thank you for this fantastic recipe!

I subbed 1.5 c of whole wheat flour, 2 tsp instant yeast, and skipped the raisins. Next time I will increase the cinnamon in the filling, too. I used the exact rise times although maybe with instant yeast I could have shortened them.

The rolls didn't seem done at 15 minutes and even at a little over 20 minutes when I took them out, I didn't see much browning (maybe because ww flour was more brown to begin with), but they are definitely done - next time I will take them out at 18 minutes. The walnuts on top got a lovely toasty flavor. My filling also ran out and covered the bottom of my dish, but the rolls still taste great! I just bookmark recipes I like, so if you find that tapioca or something keeps the filling from running out, I'll use your updated recipe.

My husband kept asking when they would be done - and I really hoped after what was a long time on a recipe for me that they would be worth it... and they really are!!!!!

Thanks again Mattie!

Was this review helpful to you?

corremorrocoyo
Top 500 Reviewer
View all my reviews (1)
Perfect results
I'm relatively new to vegan cooking and although I have some baking experience, I had never baked rolls from scratch before. I was bold enough to use a group of non-vegan friends as guinea pigs, but these didn't disappoint... The result lacks nothing short of the regular kind, and definitely beats the commercially produced ones.
I followed every step of the very clear instructions, except that I refrigerated the rolls overnight after putting them together in the dish. Next morning I just left them get up to room temp for about 40 minutes before I popped them in the oven for perfect results. There would be a few things to keep in mind for the next time: I could have gone with only half the delicious vegan icing. I will make sure to sprinkle my working surface with flour before rolling out the dough, for ease of handling, and probably will roll the dough thicker for the same reason. Great job!
Was this review helpful to you?

Miyuki
Had to add milk
The dough was unworkably tough, had to add coconut milk late and it didn't rise very much. They taste great though.
Was this review helpful to you?

Amanda
Making These Again ASAP
Once again, these recipes do not disappoint. They were chewy, sweet, warm, puffy, LARGE, amazing. My entire family of non-vegans made the batch disappear before the end of the day that they were made. I can't wait to make these again- and neither can they.

I do have a question, though. During the initial steps of combining the butter, sugar, and salt with the flax meal and non-dairy milk, something strange happened. When I combined all of these mixed ingredients with the activated yeast and water, I think the butter solidified, leaving strange "clumps or strings" of a white buttery substance. How can I prevent this? At the end of the day it did not affect the rolls, but I can't figure out what I'm doing wrong.
Thanks so much!
Was this review helpful to you?

Jenny P
THE BEST
These are honestly the best. THE BEST. My family demands that I make them weekly (this may become a problem!)
Was this review helpful to you?

Susiecycles
Fabulous - Were Peferred over the "regular" ones
Thanks for the recipe. I have never made any kind of cinnamon rolls before, but it's a family tradition for Christmas and since I went vegan... I thought I'd give these a shot. My brother had his wife make a regular recipe and these were preferred over the "regular" ones (he didn't sample mine). My mother-in-law let me know today that when I make them again, she'll help me eat them and that was after tasting it when it was 2 days old! I did not use your icing recipe, but the cinammon rolls came out perfect and my neighbor just asked for the link to the recipe.
Was this review helpful to you?

VancouverMom
Hmmm... not sure
I'm leaving it to prove now and so far, I'm not convinced. The dough is very heavy and hard to work with. My poor KitchenAid was groaning. I really prefer a much lighter dough, but perhaps I need to follow some of the advice here (egg replacer, adding ingredients in different order).
Was this review helpful to you?

Lori Wheeler
So disappointed, didn't turn out very good :( Once they were baked it was like they didn't cook all the way thru, so I put them in for a few more minutes. I'm thinking the yeast didn't active properly. I haven't made anything with yeast for many years but I thought you had to first mix the yeast with warm water and then add to the flour? Thoughts?
Was this review helpful to you?

Rachel
AMAZING
These were fantastic! I made a substitute of the equivalent of 2 eggs worth of egg replacer. I made the dough in my bread machine for the first rise, wet ingredients first, then flour, then yeast on top. Came out perfect! I also omitted the nuts and raisins as we're just not big fans. In the filling, I added a tablespoon of tapioca flour after reading other reviews that the filling leaks out a lot, and I used half the maple syrup. The filling was hard to spread but it seemed to help things stay inside! Lovely flavour, next time I will be adding even more cinnamon though. This is a keeper, my family had no idea it was vegan and I'm making these for our Christmas morning treat this year! THANK YOU!
Was this review helpful to you?

Angela
Wonderful! I just brought these to a potluck and they were a hit! I made them half whole wheat and made a different icing recipe due to ingredients I had on hand. I also made the dough in my bread machine. I've already emailed someone a link to the recipe and I will definitely make these again!
Was this review helpful to you?

Grace
Wow! This is my first time making cinnamon buns and this is superb! I didn't have flax meal so I used an egg replacer. Turned out great! So moist and chewy! Delicious!
Was this review helpful to you?

Rayna
Sticky Cinnamon Rolls
Amazing.. Best I've ever had even on day 2. My husband and son are not vegan like myself of my daughter and LOVED them. It's a great recipe and I've had no problems what so ever during baking.
Mattie, thank you so much. I've now tried 4 of your recipes and they all have been great!
Was this review helpful to you?

andreanewengland
Top 100 Reviewer
View all my reviews (2)
Slightly disappointed
These sure looked magnificent, but I was disappointed in a couple of aspects. The dough is excellent. When I made the filling, there was nowhere near enough to cover the rectangle. (I was following your instructions precisely, so I measured the dough to 16x20) My solution was to bulk it up with more 'butter.' I also added more cinnamon, 2.5 tsp seemed light. I carefully covered the surface, though I recommend using a rubber scraper or an offset spatula rather than spoon. Anyhooo. I baked them in a metal pan lined with a silicone sheet. I usually stay away from glass as it's a poor conductor of heat, and I wasn't worried about even cooking because I was using the convection setting in my oven. They came out looking incredible. I used a reduced amount of coconut oil in the frosting (I was low having just made some vegan butter :) ) and was glad of that because I prefer a less viscous result from using just the milk.
The thing was, when we dug into them, there was virtually no filling inside. It had either been absorbed somehow or leached out. There were in fact puddles of caramel on the silicone sheet. That said, my husband thought they were delicious, and they were really good. Next time I think I would actually cut back on the butter in the filling. Do you think that might keep the filling from sliding out?
Thanks!
Was this review helpful to you?
View all user reviews