Flaky Vegan Apple Turnovers

Mattie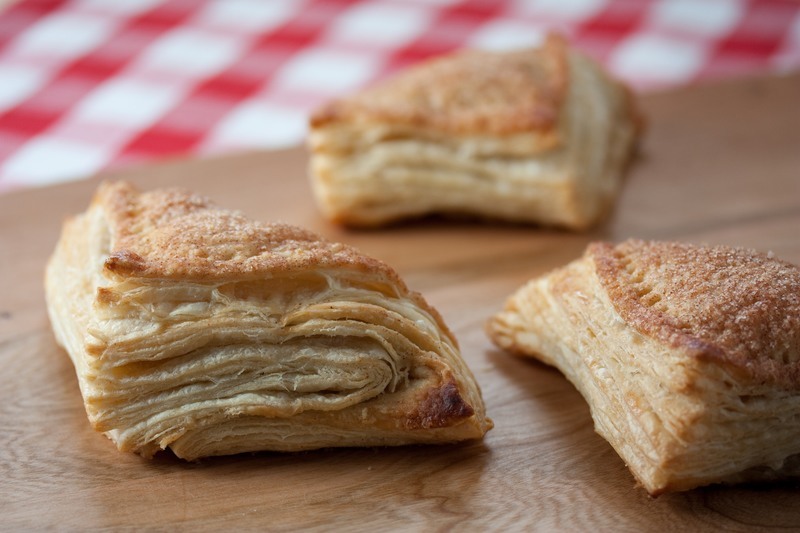 Apple Turnovers are perhaps one of the rare baked treats that suit the season any time of year. Perhaps the sweet, gooey apple paired with buttery, flaky puff pastry being one of the ultimate flavor combinations is why. This vegan treat would hit the spot on a cold winter morning, a hot summer day, or as a midnight snack. Put leftovers in the toaster oven for a few minutes to make them taste like they just came out of the oven. For the ultimate dessert, top it with some
Vegan Vanilla Ice Cream
and
Vegan Caramel Sauce
.
Find more
Apple recipes
on Veganbaking.net
Flaky Vegan Apple Turnover Recipe
1 recipe of
Vegan Puff Pastry
or store bought puff pastry
For the Apple Filling
4 Granny Smith apples
or other apples suitable for baking
1 ½ cups sugar
1 teaspoon lemon juice
½ teaspoon cinnamon
½ teaspoon nutmeg
½ teaspoon salt
For the Cinnamon Sugar
¼ cup sugar
1 teaspoon cinnamon
Or use
Vegan Caramel Powder
1) Roll the dough
Line 2 baking sheets with parchment paper. Roll the dough on a liberally floured surface to a 20 x 15 inch rectangle. Use a pizza cutter to trim the edges so they're straight. Discard the extra dough.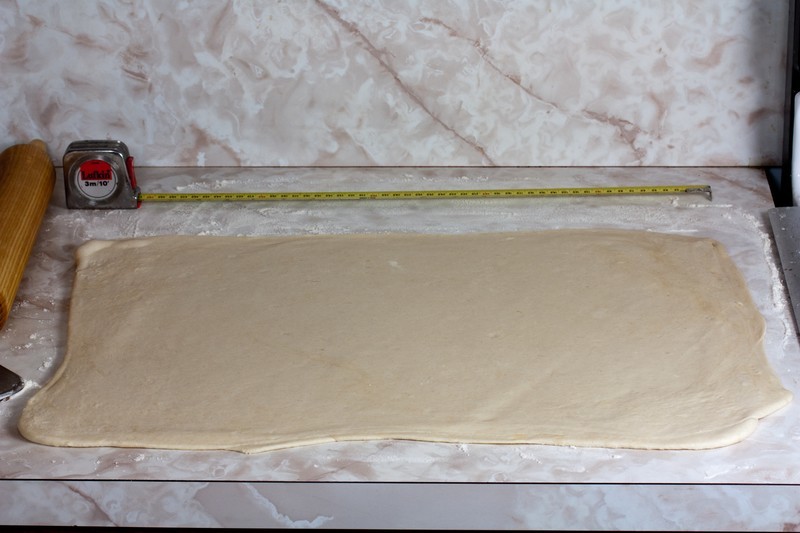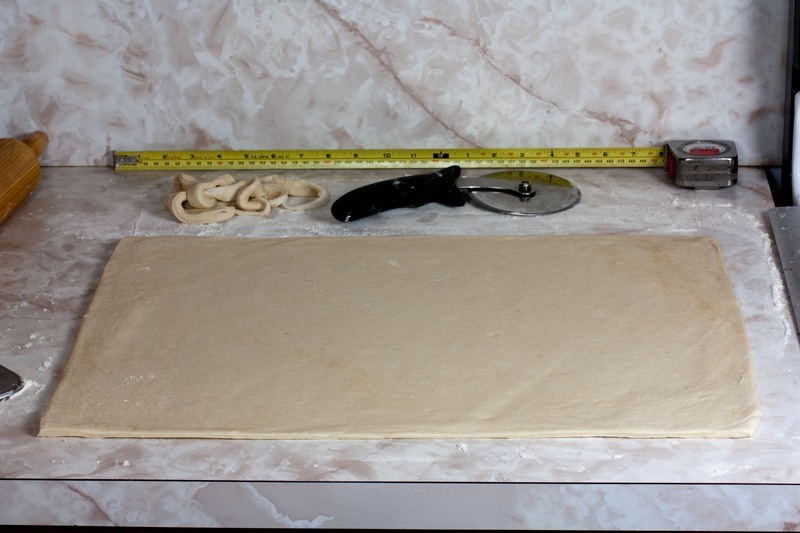 2) Cut the vegan puff pastry to size
Make subtle marking cuts at 5 inch intervals with a ruler throughout the rectangle so it's sectioned off into 12 squares. Cut the dough into 12 squares via the marking cuts you've made.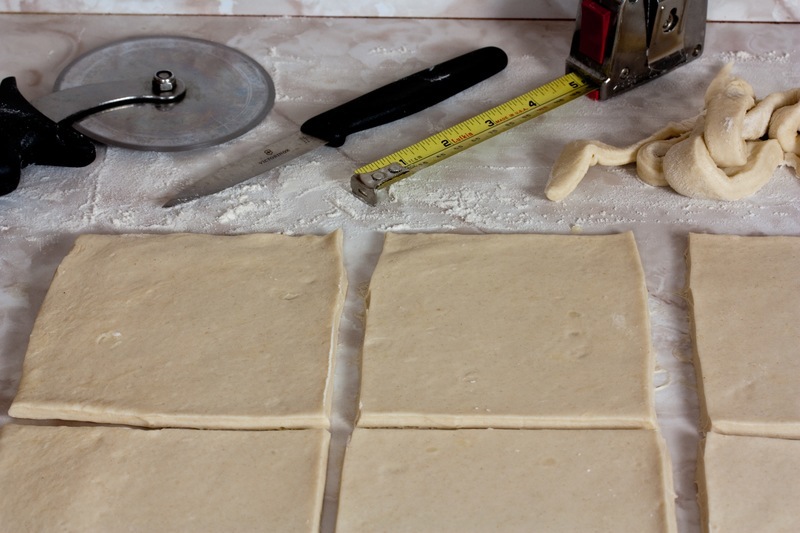 3) Transfer the puff pastry pieces to your baking sheet
Place 6 squares on each baking sheet, taking care to lay the dough on the side that was previously facing up. Flipping the dough on it's other side ensures that the best side of the dough is on the outside and the turnovers look as good as possible. Place the baking sheets in the refrigerator while you're making the filling.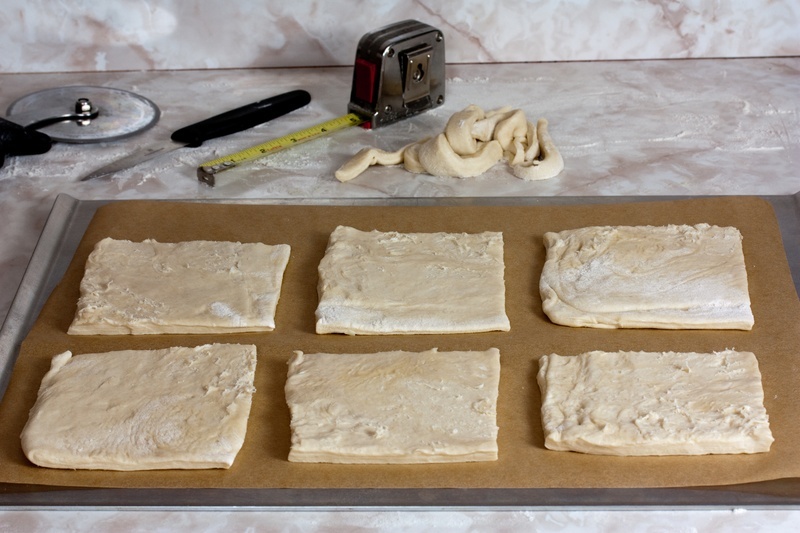 4) Make the turnover filling
Peel and core the apples. Shred them with a food processor large shred attachment or by using the large holes of a box cheese grater. Add the apple to a medium mixing bowl and add the sugar, lemon juice, cinnamon, nutmeg and salt. Toss until well combined.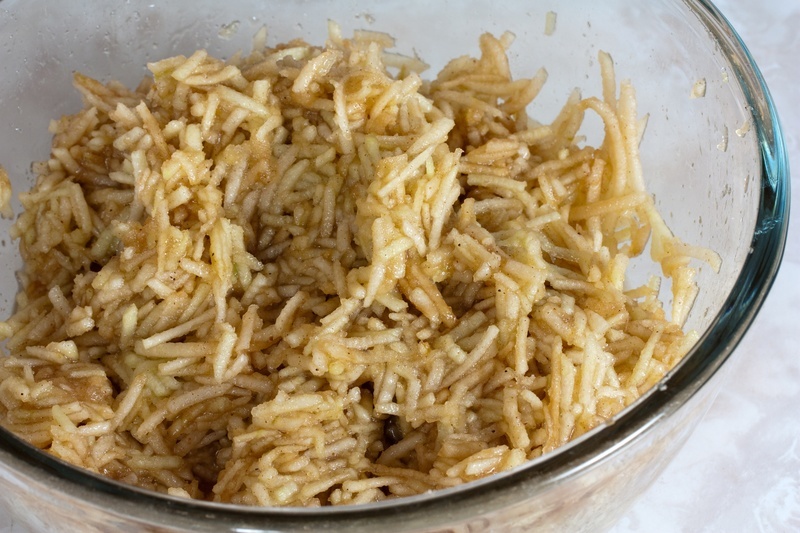 5) Press the juices out of the filling
Place a colander in a large metal bowl. Place the shredded apple in the colander and press down on the apple with the open palm of your hand to extract as much liquid as possible. Press down a few more times. The leftover juice can be stored for future use and used for anything from mix drinks to sweetening oatmeal. It's crucial that these juices are extracted from the apple to ensure that leakage is kept to a minimum during baking.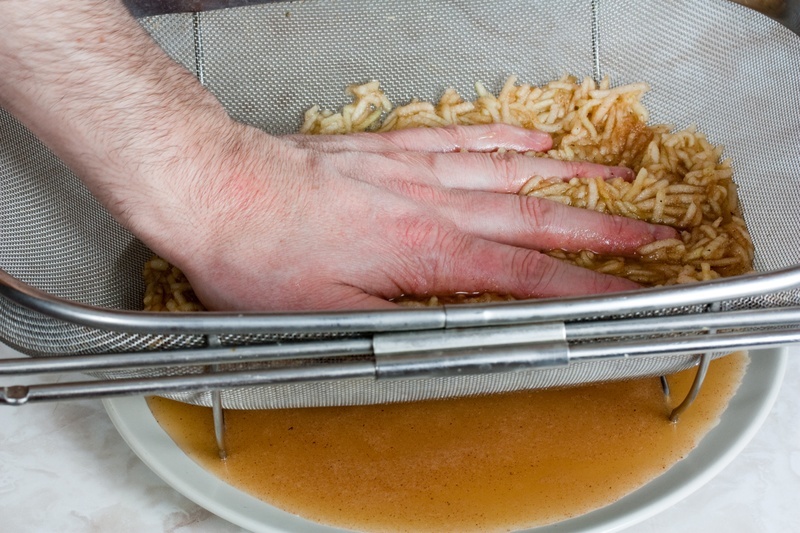 6) Fill and fold the turnovers
Preheat your oven to 375F (191C). Remove one of the baking sheets from the refrigerator. Place 2 Tablespoons of filling in the middle of one of the apple squares. Moisten two adjacent edges with your finger dipped in water or the leftover apple juice. Fold the top portion over the filling, forming a triangle-shaped turnover. Ensure that the top layer of dough overlaps the bottom one by a few millimeters. Using the edge of a fork, crimp your way around the perimeter of the joined dough to seal. Repeat with the rest of the dough squares, including the next baking sheet in the refrigerator.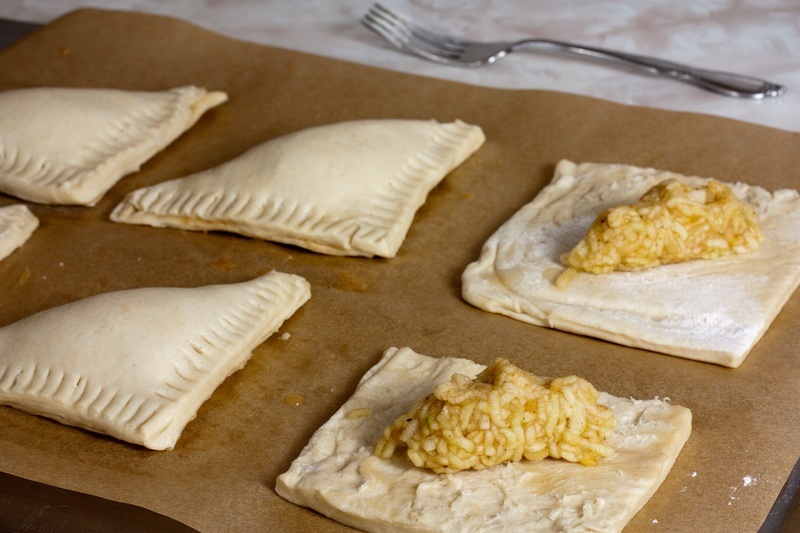 7) Make the cinnamon sugar
In a small bowl, whisk together the sugar and cinnamon, if using.
8) Bake your vegan apple turnovers to perfection
Carefully brush or spray the turnovers with water. Sprinkle the cinnamon sugar or caramel powder over them until they're well coated. Bake them for 30 to 35 minutes or until they're golden, making sure to rotate the baking sheets 180 degrees halfway throughout the baking duration. Use a spatula to transfer them to a cooling rack. Serve warm. The turnovers will keep in an air tight container at room temperature for about 1 week. This recipe makes 12 Flaky Vegan Apple Turnovers.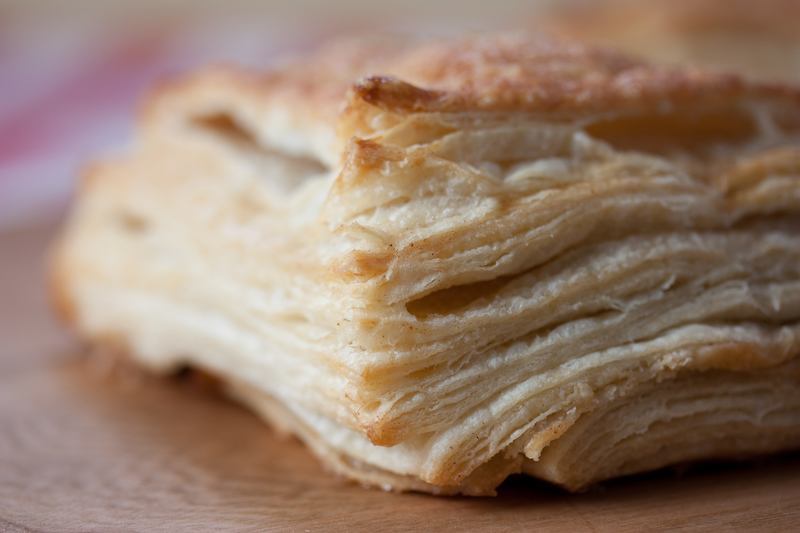 User reviews

fund a flip
Thank you for sharing this amazing recipe!
Was this review helpful to you?

Drew Miller
Delicious
I'll be making these for Thanksgiving!!
Was this review helpful to you?

DJ Lafayette
This Recipe Is Amazing
This recipe is amazing. I will definitely pass it on!
Was this review helpful to you?

Helene Johanson
Flaky goodness - and here's an addition!
It's a great recipe, thanks Vegan Baking. If you want to give it a twist, add some kimchi in the puff pastry recipe. I highly encourage anyone who's into kimchi to try it, if you are feeling adventurous ?

I recommend using kimchi with little-to-no garlic in it (and definitely no chili peppers!). It really seals the deal on the 5 star rating. Go for it.

Kind regards,
Helene
Was this review helpful to you?

Tejados Burgos
Yummyyyyy
Have to tall you, did this for my coworkers at reparación de tejados urgente en burgos and they absolutely loved it!!! Thanks so much for sharing this!!

Was this review helpful to you?

LandscapingSolihull
Top 1000 Reviewer
View all my reviews (1)
Tastes Great!
The recipe tastes amazing! Yum
Was this review helpful to you?

Tabitha
The layers when this comes out of the oven look so crisp. Yum.
Was this review helpful to you?

Stan Smith
Was this review helpful to you?
Just finished making these and they came out perfect!! I added fresh ginger, golden and thompson raisins to the filling and topped it with you vanilla icing. I have made regular danish dough and puff pastry and this is by far my favorite. I look forward to making more of your wonderful recipes!
Was this review helpful to you?

Pamela
This Layout sucks!
I just want to print instructions, or copy recipe...
not a million pictures!!!!!!!!!!!!!!!!!
Was this review helpful to you?

Theresa
Tasted great, with difficulties
I have never made dough like before so I am not sure how it compares. I followed the recipe exact, and left the dough in the fridge for a day after the first set of folds. I came back to roll out and fold over again, but the dough was too elastic and I really struggled. I had to use flour liberally so that the dough wouldn't stick to my rolling pin or the counter. I also didn't get the splitting, layered look after I baked the turnovers. I wonder what I did wrong, I will try again. However, I shared with about 7 different people and they all loved it (but they are all college students and college students tend to have lower standards- anything from scratch impresses them). Oh, I should also mention that I used a cherry filling instead (apple-picking trip canceled due to weather). keep the vegan baked goods recipes coming!!
Was this review helpful to you?

wanda
these are amazing!!!
i haven't had apple turnovers since i was a kid & these are even better than my memory of them. super delicious & not even that hard to make (although the puff pastry dough is time consuming - it's well worth it).

in response to the other review - i used the recipe pretty much as is, although i reduced the sugar in the filling to 1 cup. (i will probably use honey and/or raisins next time). i grated 6 fuji apples & squeezed them almost dry & it was the perfect amount for 12 turnovers. i baked them at 375 & it took just about 35-40min. they were perfect!

thanks so much! can't wait to try the vegan butter recipes!
Was this review helpful to you?

Evolotus
Lower heat, shorter baking
I am trying these for the first time (with store-bought dough). Because of a certain large-scale rescue of beagles from an animal research laboratory closing down in Spain, I was unable to bring baked goods to my in-laws for Thanksgiving. I really caught a load of guilt for the absence of apple pie.

Tomorrow we are celebrating Hanukkah with the family, so to make up for it, I am bringing these apple turnovers. I adjusted the recipe a bit so it is closer to my traditional apple pie filling, using brown sugar, and much less of it, vs white. I've also added 3/4 tablespoon of cornstarch to the filling as well as some of your magic vegan butter.

My advice on this recipe is drop the heat to 350 and see how it goes. I did 375 and when I rotated the sheet after 15 minutes, they were already looking close to done. I dropped the heat and baked another 5. They look great.

I am curious about the actual measure of apple shreds this calls for, not just the number of apples. I used Fujis and they are small compared to the grocery store Granny Smiths. I still ended up with extra filling.
Was this review helpful to you?

Hay
Incredible!
I tried these and thought I'd died and gone to heaven. Can't thank you enough!
Was this review helpful to you?