Vegan Apple Strudel

Mattie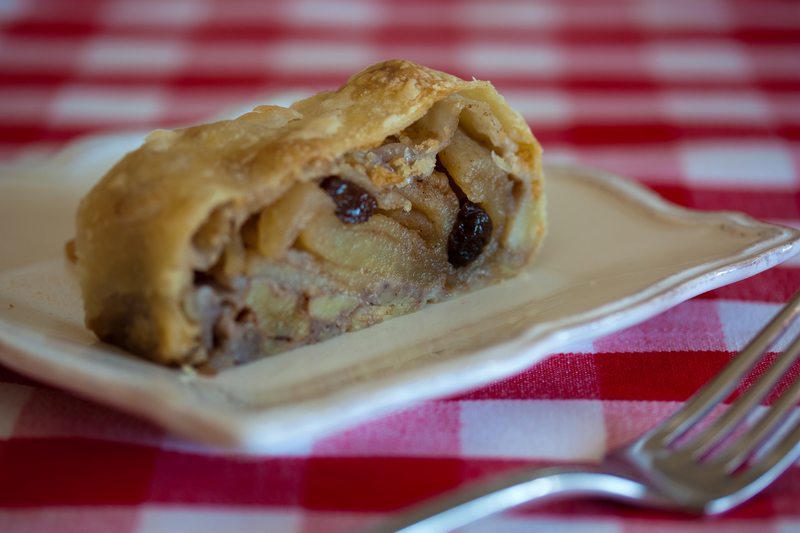 Strudel is one of those treats that everyone loves. If I met someone who was anti-strudel I'd back away if I were you. Strudel has origins in Austria and Hungary dating back to the late seventeenth century. Traditional Austrian strudel is not made with phyllo dough or puff pastry but with a thin dough with a high gluten content that gives it elasticity. Traditionally, strudel can be filled with cherries, apples, spinach, sauerkraut or cheese. This Vegan Apple Strudel recipe features apples picked fresh from an apple orchard in Pennsylvania and is enhanced with rum, raisins, cinnamon, nutmeg and allspice.
Find more
Apple recipes
on Veganbaking.net
Vegan Apple Strudel Recipe
For the strudel dough
1 1/3 cups bread flour
¼ teaspoon salt
½ cup water
1 Tablespoon vegetable oil
½ teaspoon apple cider vinegar
For the strudel filling
3 Tablespoons rum
3 tablespoons raisins
1 ½ pounds
apples that are best for baking
, such as granny smith or braeburn, peeled, cored and sliced to 1/8 inch thick.
1/3 cup + 1 Tablespoon sugar
½ teaspoon ground cinnamon
¼ teaspoon nutmeg
¼ teaspoon allspice
1 ½ cups fresh bread crumbs
3 Tablespoons (40 grams)
Regular Vegan Butter
or non-hydrogenated stick margarine, melted
about 1/3 cup Regular Vegan Butter or stick margarine, melted (for brushing)
½ cup chopped walnuts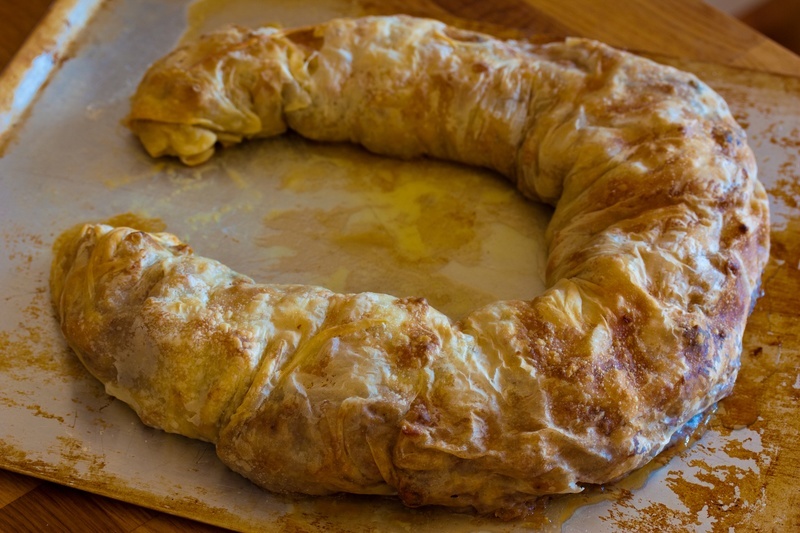 1) Prepare the strudel dough
Make the strudel dough by combining the bread flour and salt in a medium mixing bowl. It's crucial that you use bread dough because it has a higher amount of gluten which will allow the dough to be stretched out paper thin. In a small mixing bowl, whisk together the water, canola oil and apple cider vinegar. Now mix this mixture into the flour and salt, using a spoon until just incorporated.
2) Knead and allow the dough to rise
Transfer the mixture onto a clean lightly floured surface and knead it for 5 minutes. Lightly coat it with canola oil, place it back in the bowl, cover it with a plastic bag and let it rise for 1 ½ hours.
3) Soak the raisins in rum
While the dough is rising, prepare your filling by placing the raisins and the rum into a small bowl and microwaving it for about 15 seconds. This will allow the raisins to soak up as much of the rum as possible. Set aside.
4) Prepare the strudel filling
Peel and slice your apples then weigh them to 2 pounds. Place them into a large mixing bowl and stir in the sugar, cinnamon, nutmeg, allspice and the rum and raisins until well incorporated.
5) Prepare the breadcrumbs
To make fresh breadcrumbs, process bread in a food processor until it has the consistency of rough sand. On a large skillet, heat the 3 Tablespoons of Vegan Butter until hot then add the breadcrumbs and saute until golden, about 3 minutes.
6) Roll and stretch out the strudel dough
Preheat your oven to 400F (204C). Now we're ready to roll out our strudel dough. Remove any jewelry you have on your hands. Place your dough ball on a tablecloth or something similar that's at least 2 x 3 feet. This is crucial because later we're going to use it to roll up the strudel. Due to the thickness of the dough, it's not possible to roll it up without something underneath it. Roll out your dough as much as you can with a rolling pin. Now pick up the dough and placing it on the back of your hand, carefully stretch it. You'll want to support the dough on the back of your hand in different areas of the dough as you stretch it out slowly and consistently.
Once you feel that you can no longer safely stretch out the dough this way due to the risk of tearing it, transfer it to the tablecloth and gently lift up the dough and stretch it into place. Since we used bread flour, this dough will stretch to remarkable limits. As a rule of thumb, you should be able to stretch the dough enough to where it's transparent enough to read a newspaper through it. If you tear the dough and make a small hole, don't worry. It's going to get wrapped up anyway.
7) Transfer the filling to the dough
Coat the dough with 3 Tablespoons melted Vegan Butter. You can use your fingers but if you use a pastry brush, be careful to not tear the dough. Now sprinkle the breadcrumbs onto the dough. Sprinkle the chopped walnuts onto the dough about 3 inches from each short edge of the dough in a 6 inch strip that goes lengthwise across. This strip will be across the upper part of the dough which will allow us to wrap the whole thing up. Spread the apples over the walnuts. If there are extra juices in the bottom of the bowl, use roughly up to ¼ cup of it by pouring it over the apples in the strudel. Using more of the juices will cause the strudel to leak excessively in the oven.
8) Roll up the strudel
Fold the short end of the dough over the filling and tuck it under the apples if possible. Lift the tablecloth at the short edge of the dough so the strudel rolls onto itself. Carefully continue this roll until the entire strudel is rolled up. Transfer the strudel over to a large baking sheet by lifting parts of it with a floured spatula and 'scooting' it over slowly. You may want to dust some flour on the tablecloth and baking sheet in order to make the strudel slide over as easily as possible.
9) Bake your vegan strudel to perfection
Now form the strudel into a horseshoe shape and brush the top of it with melted Vegan Butter. Bake for about 30 minutes or until golden brown with the rack on the upper third of the oven. You may want to put another baking sheet on the rack underneath the strudel to catch any juices that may drip down. Cut the strudel with a serrated knife and serve warm. This recipe makes 1 Vegan Apple Strudel.
User reviews

newfiekidd92
Top 500 Reviewer
View all my reviews (1)
Great recipe
I wanted to make an apple strudel for my boyfriend and his parents this Christmas. They aren't vegan, but I wanted a healthier, more animal friendly recipe. There ended up being a lot more apples than I needed for two strudels, so I made a third strudel for my grandparents and an apple pie for my parents, so it worked out good. I personally chose not to include the rum and raisins, but it was still delicious and just what I was hoping for!
Was this review helpful to you?

Amy
Good, despite burning rubber
Matty, this recipe is wonderful, but I found that some of the measurements were a little off. I used about nine apples (picked from a Philadelphia tree)--originally seven, but then I noticed that I was to weigh the apples AFTER peeling and coring. Even with snacking on them throughout the process (I made the filling first), nine apples were a lot. The dough, enhanced with vital wheat gluten, stretched nicely, but more to a 1'8"x1'10" proportion. Three tablespoons of melted margerine for 1 1/2c of toasted bread crumbs was a bit much, thus I used the leftover margerine from brushing the dough (about 1 1/2 Tbsp) with maybe another Tbsp to fry the bread crumbs. It only took one Tbsp to brush the top of the strudel, which was too fat from too many apples to shape into a horseshoe. Unfortunately, while I was baking the strudel our oven caught on fire and the strudel was covered in burned-rubber soot, but my husband decided to eat it anyway. He says it was amazingly good, even covered in carcinogens.
Was this review helpful to you?

Kristina
Excellent Recipe!
Mattie, thank you for your recipe!

It was first time I was making a strudel myself and, thanks to your useful advices, it turn out great. All of your tips were very helpful and I managed to roll strudel out very well. My husband is American and he liked it very much. He said it was the best strudel he ever ate, although he tried it in Austria and Hungary. So now I will stick with this recipe. Though it seems like a huge project at first glance, but rewards and satisfaction will be there once you make it.

I didn't have bread flour, instead I used whole wheat flour. In order to get right elasticity from the dough, I replaced 1 Tb of flour to 1 Tb of vital wheat gluten (mixed it all very thoroughly). The result was fine: the dough was stretching to impressive limits almost without tearing. I also didn't have rum and walnuts, so I used rum extract, which we almost didn't taste. If you don't have, it is good without walnuts as well.

Was this review helpful to you?