Vegan Apple Cider Doughnuts

Mattie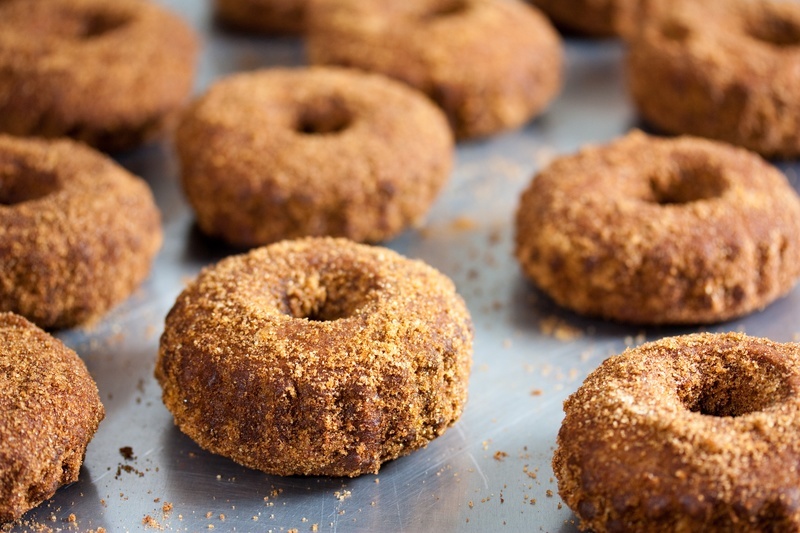 "What's an apple cider doughnut?", I asked at my recipe club meeting. I think my friends were as surprised as I was that I didn't know of it's existence, let alone any vegan versions. Come to find out, I've learned that many other West Coast (USA) natives are unaware of this cake doughnut that's infused with a hint of apples. This is because apple cider doughnuts are mainly a Northeast (USA) phenomenon. In colonial times, doughnuts were served during the Fall months in the Northeast when exotic dough recipes for beignets, imported from France and Holland, started to evolve and the seasonal butchering provided enough fat to fry things. Combine this with the apple harvest being at its peak in the Fall and you have a food collision course in the making.
Most apple cider doughnuts are a little light on flavor to put it bluntly. This is because apples tend to be notoriously bland when baked in cakes. In this vegan Apple Cider Doughnut recipe I utilize both apple cider and apple butter to pump up the apple flavor to delectable levels. The doughnuts also feature cinnamon, nutmeg and coconut oil that further bring apple to the forefront. Peanut oil is used due to it's tendency to provide a rich flavor for the dough. Peanut oil is recommended but f you can't find it, canola oil will suffice.
Find more
Apple recipes
on Veganbaking.net
Vegan Apple Cider Doughnuts Recipe
For the dough
3 ½ cups all-purpose flour
1 ½ teaspoons baking powder
1 ½ teaspoon baking soda
½ teaspoon cinnamon
½ teaspoon nutmeg
1 cup + 2 Tablespoons sugar
½ cup + 2 Tablespoons apple butter
½ cup + 2 Tablespoons apple cider
3 Tablespoons unrefined coconut oil
½ teaspoon salt
peanut oil for frying
For the Glaze Topping
1 cup confectioners sugar
2 Tablespoons apple cider vinegar
For the Cinnamon Sugar
1 cup sugar
4 ½ teaspoons cinnamon
For the Caramel Cinnamon Sugar
1 cup
Vegan Caramel Powder
4 ½ teaspoons cinnamon
1) Whisk together the dry ingredients
In medium mixing bowl whisk together the all-purpose flour, baking powder, baking soda, cinnamon and nutmeg.
2) Whisk together the flavor building ingredients
In a medium saucepan whisk together the sugar, apple butter, apple cider, coconut oil and salt. Place over medium heat and whisk until room temperature. This is so the cold apple cider and apple butter won't re-solidify the coconut oil.
3) Mix the dough
Add the wet ingredients to the dry ingredients and mix until the ingredients just come together. You may have to use your hands to mix. Due to the varying water content of apple butter, the thickness of the dough may vary and may need to be adjusted with a tiny bit of flour or apple cider. You want to look for a dough that is wet enough to the point of where you can easily lift and place a cut doughnut on a slotted spatula without the dough coming apart, sticking to the spatula or distorting significantly.
4) Cut the dough into doughnuts
Transfer the dough to a liberally floured surface and flatten to ½ inch with your hands. Use a 3 ½ inch doughnut cutter or similar tool to cut doughnut shapes from the dough and transfer them to a lightly floured baking sheet. Coat the doughnut cutter in flour between cuttings for best results. Take the doughnut holes, re-flatten and cut into doughnuts to use up all of the dough.
5) Prepare your frying oil
Fill an 8 quart stockpot with 3 inches of peanut oil. It's important to fill it 3 inches high because the amount of oil will hold heat and keep the temperature from dropping too low when the doughnuts are dropped in. Bring the oil to 375F (191C).
6) Fry the vegan apple cider doughnuts to perfection
Line a couple baking sheets with a few layers of paper towels. Carefully place the doughnuts into the hot oil, 3 to 5 at a time and cook until golden brown, about 50 seconds per side. If you're making doughnut holes, fry 6 to 12 at a time, about 50 seconds per side. A slotted spatula or skimmer works well to lower the doughnuts in, flip them and take them out when they're ready. After cookings, transfer the cooked doughnuts to the baking sheet. Continue to cook the remaining doughnuts, returning the fat to 375F (191C) between fryings.
7) Coat the doughnuts with your preferred topping
While the doughnuts are cooling, prepare your topping, if using. If you're using the Glaze Topping, whisk together the confectioners sugar and apple cider vinegar in a small bowl until smooth. If you're using the Cinnamon Sugar topping or Caramel Cinnamon Sugar topping, whisk the ingredients together in a bowl until combined. Coat the doughnuts in the topping and serve. They're best eaten as soon as they've cooled but they will keep in an airtight container at room temperature for up to 3 days. This recipe makes about 14 Vegan Apple Cider Doughnuts.