Vegan Bourbon Baked Apples

Mattie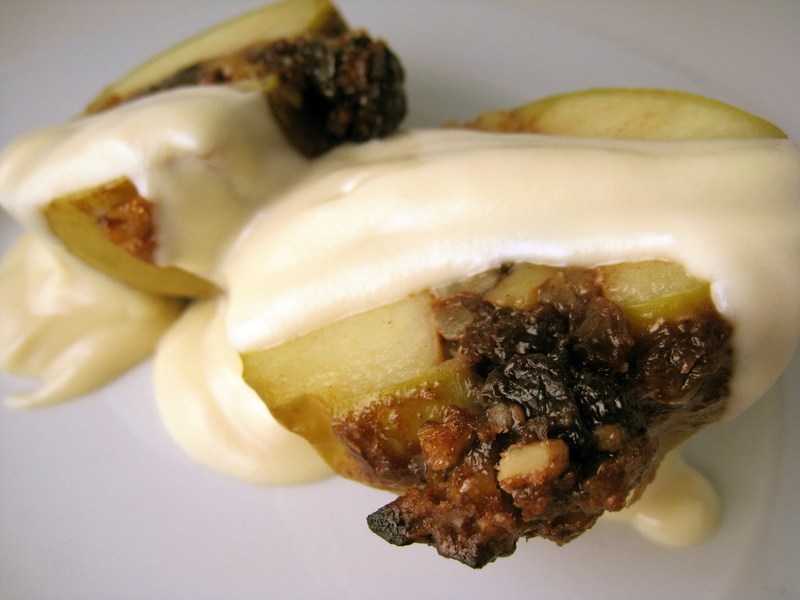 This Vegan Bourbon Baked Apple recipe is a great way to get that ridiculously good apple flavor without resorting to the time intensive sport of pie making. It's kind of like an apple pie but without all the crust drama. The core of the apple is removed and replaced with a delectable mixture of pecans or walnuts, raisins, maple syrup, cinnamon and nutmeg. The whole deal is then doused with bourbon and baked to perfection. I won't tell if you drink some of the bourbon to make sure it's
okay
.
Find more
Apple recipes
on Veganbaking.net
Vegan Bourbon Baked Apple Recipe
4 large tart, green apples or other
suitable apple varieties for baking
¼ cup chopped pecans or walnuts
¼ cup chopped raisins
3 Tablespoons brown sugar
2 Tablespoons maple syrup
4 teaspoons
Regular Vegan Butter
or margarine
1 teaspoon cinnamon
¼ teaspoon nutmeg
½ cup water
1/3 cup bourbon
1) Prepare your apples
Preheat oven to 375F (190C). Wash the apples. Using a paring knife, remove the cores of the apples almost, but not completely to the bottom. If you have an apple corer you can cut the core out all the way through but be sure to cut off the bottom ½ inch of the core and put it back in the bottom of the apples. Be sure to dig out any seeds. The holes should be about ¾ inch to one inch wide.
2) Whisk together the flavor building ingredients and stuff the apples
In a small bowl whisk together the pecans or walnuts, raisins, brown sugar, maple syrup, Vegan Butter, cinnamon and nutmeg. Place the apples in a 8 x 8 inch square baking dish. Stuff each apple with this mixture.
3) Bake the apples to perfection
Add the water and bourbon to the baking dish. Bake for about 35 minutes, until tender when poked with a fork, but not mushy. Remove from the oven and baste the apples several times with the pan juices. Serve warm with vanilla non-dairy ice cream or vanilla yogurt. This recipe makes 4 Vegan Bourbon Baked Apples.