Vegan Cashew Egg Nog

Mattie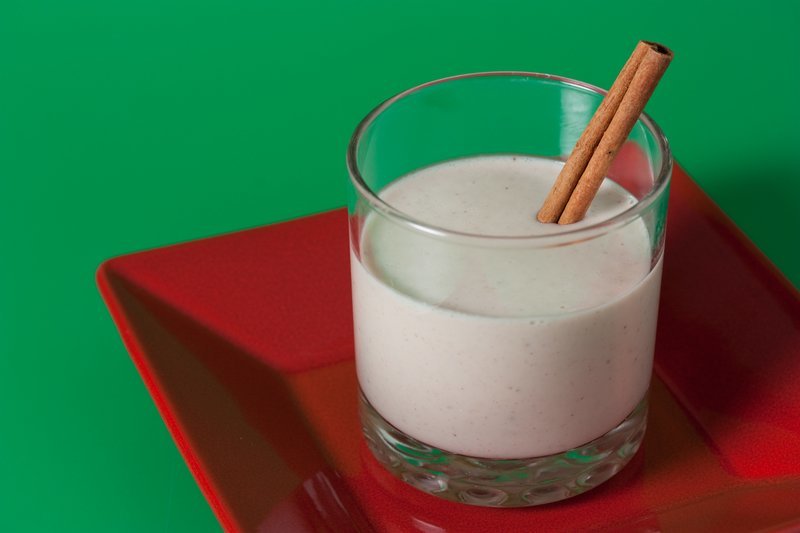 This Vegan Cashew Egg Nog recipe is super easy to make and doesn't actually contain eggs. It's just a great 'nog to put a splash of bourbon or rum into. It's even good on it's own. Using the arrowroot powder or tapioca flour is important to achieve the creamy texture and emulsify the fats with the rest of the liquids. Perfect for a lazy evening next to a
crackling fire
space heater. Legend has it that egg nog originated in England where it consisted of a mix of milk, eggs and either brandy, Madeira or sherry. It wasn't until it was brought over the the United States that it started to get mixed with bourbon, a reaction to other liquor's scarcity during the American Revolutionary War.
Find more
Holiday recipes
on Veganbaking.net
Vegan Cashew Egg Nog Recipe
2 1/3 cups water
¾ cup raw, unsalted cashews, rinsed
½ cup sugar
¼ teaspoon arrowroot powder or tapioca flour
2 Tablespoons
canola oil, light olive oil or rice bran oil
1 Tablespoon apple cider vinegar
¾ teaspoon nutmeg
¼ teaspoon cinnamon
1 teaspoon vanilla extract
1) Simmer the cashews
In a medium saucepan, add the water, cashews, sugar and arrowroot powder or tapioca flour. Bring the mixture to a boil and simmer covered for 15 minutes, stirring occasionally.
2) Blend the cashews with the flavor ingredients
Transfer the mixture to a blender and add the canola oil, apple cider vinegar, nutmeg, cinnamon and vanilla extract. Blend on the whip setting for 1 ½ minutes. Place a towel on top of the blender and hold it down so you're shielded from any hot liquid that may splash up when you start the blender.
3) Cool the vegan egg nog in the refrigerator
Transfer the Egg Nog to a covered container and let it cool in the refrigerator for about 2 hours. It will keep in the refrigerator for up to one week. This recipe makes about 3 cups of Vegan Cashew Egg Nog.