Heavenly Vegan Hot Chocolate - A Hot Cocoa that's smooth and silky

Mattie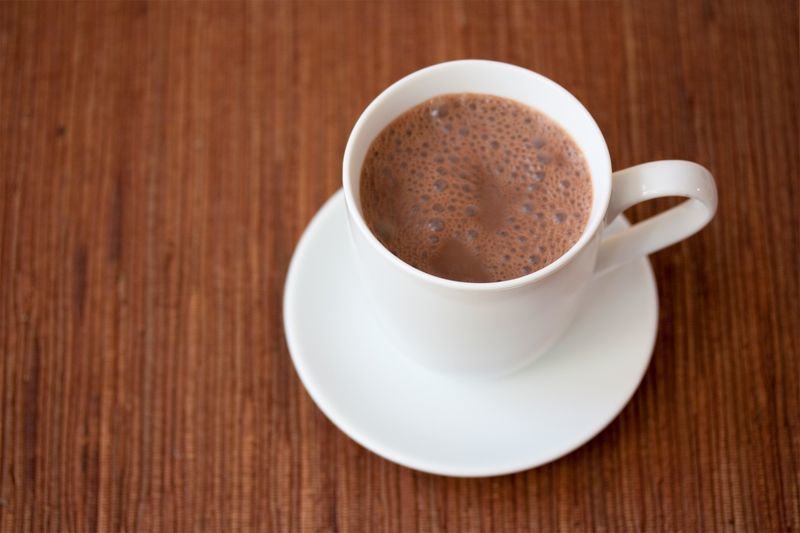 This Heavenly Vegan Hot Chocolate recipe is great when it's cold outside and you need a nice warm friend. Two different types of chocolate really amplify the cocoa notes which are further enhanced by coconut sugar, a bit of espresso powder and a touch of cayenne. Coconut sugar lends an additional layer of complex richness but if you don't have it, granulated white or turbinado sugar works too. It's then simmered to allow everything to meld together. Feel free to customize it by adding a splash of coffee, mint extract, Kahlua or enjoy it on its own.
Find more
Chocolate recipes
on Veganbaking.net
Heavenly Vegan Hot Chocolate Recipe
3 cups non-dairy milk
1 oz semi-sweet chocolate
6 Tablespoons coconut sugar or granulated white sugar
3 Tablespoons cocoa powder (sifted)
½ teaspoon instant espresso powder
1/8 teapoon salt
1 pinch cayenne powder
½ teaspoon vanilla extract
In a medium saucepan, whisk together the non-dairy milk, semi-sweet chocolate, coconut sugar, cocoa powder, instant espresso powder, salt and cayenne powder. It's important that the cocoa powder is sifted so it doesn't clump after adding. Place over medium heat and bring to a simmer for about one minute while whisking occasionally. Remove from heat and whisk in the vanilla extract.
This recipe makes 3 cups of Heavenly Vegan Hot Chocolate.