Vegan Chocolate Covered Date Bonbons

Mattie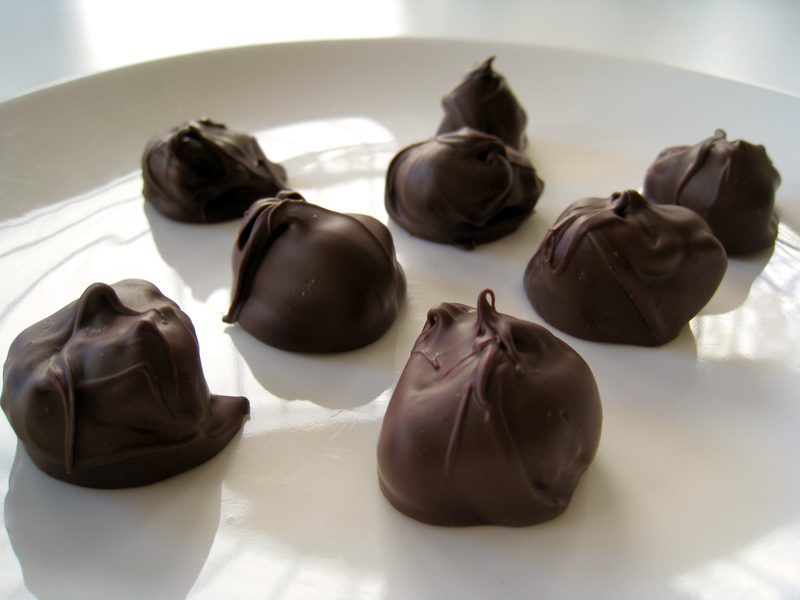 Most people won't be able to guess that these Vegan Chocolate Covered Date Bonbons are just chocolate covered dates if you don't tell them. One thing that they will know is that they're amazing. You can tell them that you spent 13 hours making the filling in this vegan bonbon recipe and just leave it at that.
Find more
Chocolate recipes
on Veganbaking.net
Vegan Chocolate Covered Date Bonbon Recipe
20 Medjool dates, pitted and chopped in half
2 ½ cups semi-sweet chocolate chips
1) Prepare your cookie sheet
Line a cookie sheet with wax paper and set aside.
2) Cut the dates in half and remove the pits
Roll the date on a cutting board with the sharp end of a semi-sharp knife on top, cutting around it's circumference. The date will now be joined by its pit in the center. Pull the date away from the pit to separate it, remove the pit and set the date halves aside. Discard the pit. Squash the date halves so there's no empty area where the pit was. Do this for the remaining dates.
3) Coat the dates in melted chocolate
Place the chocolate chips in a
double boiler
or small saucepan and stir constantly on occasional low heat until the chocolate chips are melted. Don't be afraid to turn the heat off if you feel that the chocolate is getting too hot. Once the chocolate is melted, use a toothpick or similar pointed object to puncture the date and dip it into the melted chocolate. You can use the mixing spoon to help cover the chocolate over the date. When the date is well covered, lift it out if the melted chocolate and place it on the wax paper. Remove the toothpick from the date with another toothpick. Do this for the remaining dates and allow them to cool in the refrigerator for at least a couple hours. You are not allowed to eat any left over chocolate. Kidding. Store in a covered container in a cool, dark place for up to 6 months. This recipe makes about 40 Vegan Chocolate Covered Date Bonbons.
Learn how to temper chocolate
.