Vegan Pumpkin Bourbon Bread Pudding

Mattie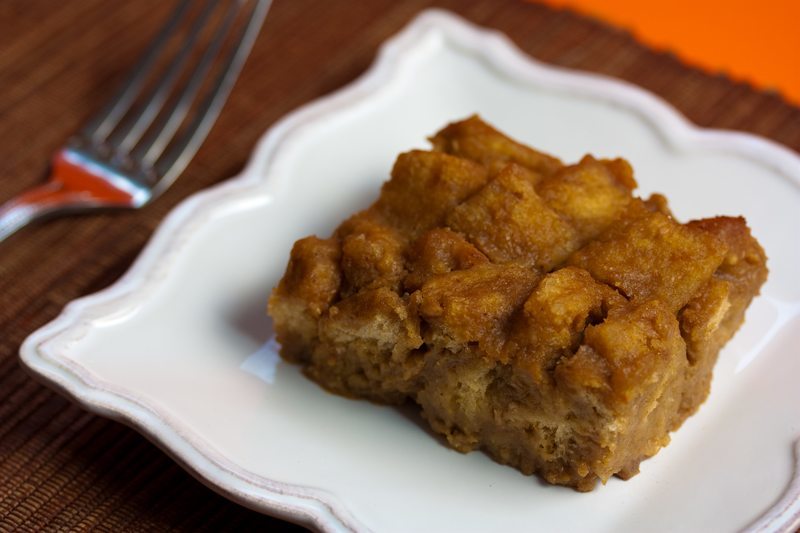 Bread pudding is probably the most comfortable comfort food. What other type of food has a moist pudding-like texture paired with a soft cake-like feel? Take some barley malt syrup, cinnamon, nutmeg, ginger and cloves. Now add some pumpkin and bourbon to the mix and you have this Vegan Pumpkin Bourbon Bread Pudding recipe to warm your soul. In one bite all your worries are forgotten for a few minutes. Preparing this bread pudding is really easy, provided you already have
pumpkin purée
. For the base, you can use any bread that is light in color and neutral in flavor.
Find more
Pumpkin recipes
on Veganbaking.net
Vegan Pumpkin Bourbon Bread Pudding Recipe
½ cup non-dairy milk, warm
2 Tablespoons
golden flax meal
½ teaspoon apple cider vinegar
1 cup pumpkin purée
½ cup + 2 Tablespoons non-dairy milk
½ cup sugar
2 Tablespoons barley malt syrup
1 teaspoon ground cinnamon
¾ teaspoon nutmeg
¾ teaspoon salt
½ teaspoon ground ginger
¼ teaspoon cloves
3 Tablespoons bourbon (optional)
5 cups stale white artisan bread, 1 inch cubed*
½ cup + 2 Tablespoons
Regular Vegan Butter
or margarine, melted
1) Prepare the non-dairy milk mixture
Preheat oven to 350F (177C). In a small bowl, whisk together the ½ cup warm non-dairy milk, golden flax meal and apple cider vinegar. Let it sit for at least 5 minutes so the mixture thickens slightly.
2) Whisk together the flavor building ingredients
In a medium mixing bowl, whisk together the pumpkin purée, ½ cup + 2 Tablespoons non-dairy milk, sugar, barley malt syrup, cinnamon, nutmeg, salt, ginger, cloves and bourbon if desired. Whisk in the non-dairy milk flax mixture from Step 1.
3) Prepare the bread cubes
In another medium mixing bowl, toss the bread cubes with the melted Vegan Butter so they're well coated.
4) Prepare the vegan bread pudding mixture and bake to perfection
Add the wet ingredients from Step 2 to the bowl containing the bread cubes and stir until just incorporated. Transfer this mixture to an 8 x 8 inch square baking dish and bake for 25 to 30 minutes.
*Don't have stale artisan bread at the moment? Preheat your oven to 350F (177C). Get a loaf of good quality near-white bread and slice 7 to 9 slices into cubes to make enough for 5 cups. Divide the bread cubes in half and place them on two cookie sheets. Bake them in the oven for 15 minutes so they dry out, then use them in the recipe.
This recipe makes one 8 x 8 inch baking dish of Vegan Pumpkin Bourbon Bread Pudding.