Vegan Sweet Corn Tomatillo Pudding | Gluten-free

Mattie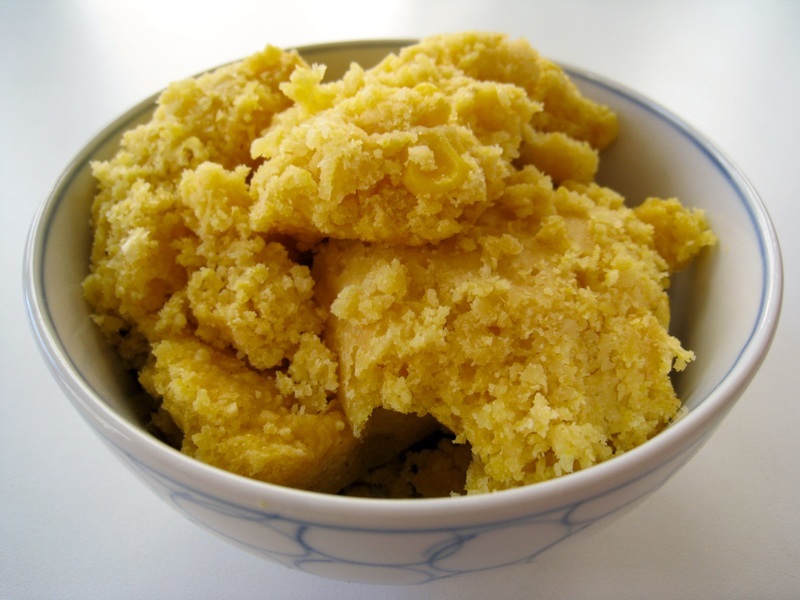 This Vegan Sweet Corn Tomatillo Pudding recipe features savory buttery flavor enhancers such as non-dairy milk, brown rice syrup, corn kernels, lime juice, just the right ratio of corn flour to corn meal and chopped tomatillos for a welcoming spicy finish. The result is a gluten-free vegan bread pudding that elevates corn to newfound status in the bread pudding world. You'll never need to go to another corporate American Tex Mex restaurant again to get it.
Find more
Gluten-free recipes
on Veganbaking.net
Vegan Sweet Corn Tomatillo Pudding Recipe
2 cups corn kernels
½ cup non-dairy milk
½ cup sugar
3 Tablespoons
Regular Vegan Butter
or margarine
2 Tablespoons nutritional yeast flakes
2 Tablespoons brown rice syrup
2 teaspoons arrowroot powder or tapioca starch
1 ½ teaspoons salt
1 teaspoon lime juice
¾ cup corn flour
¾ cup cornmeal
½ teaspoon non-aluminum baking powder
1 cup corn kernels
½ cup diced tomatillo
1) Process the flavor building ingredients
Preheat your oven to 250F (121C). Lightly grease an 8 x 8 inch baking dish and set aside. If you are using frozen corn kernels, measure frozen before using, thaw under heat then drain excess water. In a food processor or blender, add 2 cups of the corn kernels, non-dairy milk, sugar, Vegan Butter, nutritional yeast flakes, brown rice syrup, arrowroot powder or tapioca starch, salt and lime juice. Process for about 2 minutes. Set aside.
2) Whisk together the dry ingredients
In another large mixing bowl, whisk together the corn flour, corn meal and baking powder.
3) Mix the batter and add the corn kernels and tomatillos
Add the wet ingredients to the bowl containing the dry ingredients and mix until well incorporated. Stir in the remaining 1 cup of corn kernels and ½ cup of chopped tomatillos.
4) Transfer to the baking dish and cover
Pour the mixture into a baking dish and cover tightly with aluminum foil. Poke several holes in the aluminum foil to allow steam to escape.
5) Prepare a water bath and bake the pudding to perfection
Place the baking dish inside a larger baking dish such as a 9 x 13 inch size and fill it with water until the water level is 1 inch up the outside of the 8 x 8 inch baking dish. This is to ensure that the mixture stays moist and heats evenly. Bake for 1 ½ hours. Scoop out portions of the pudding and serve hot.
This recipe makes one 8 x 8 inch baking dish of Vegan Sweet Corn Tomatillo Pudding.