Vegan Egg Replacer Powder

Mattie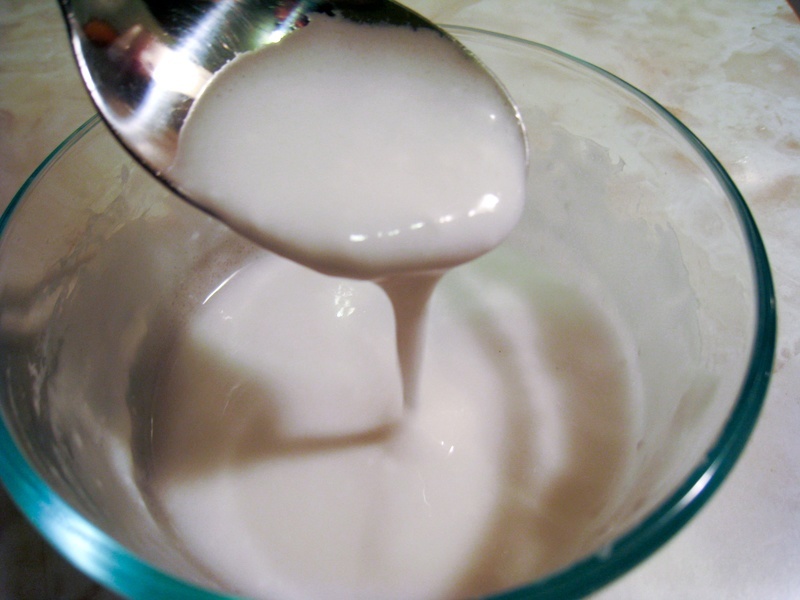 Omitting the almighty egg in recipes can lead to serious baking disasters. It's rumored that the Romans put eggs in their concrete to improve its strength. Vegan Egg Replacer Powder is a very effective egg substitute that's great for replacing eggs in most vegan baking recipes where heat is involved. It's an important piece of weaponry in your vegan baking arsenal. When I ran my baking company, Enchanted Oven Baking Co, I used this egg substitute recipe extensively with my cookies to make them soft, dense and chewy.
This binding powder consists of a blend of starch, vegetable gum and a leavener. Arrowroot is used as the starch because it performs well and is one of the most tasteless starches. Baking powder is used to mimic the slight leavening properties that an egg would contribute. Guar or Xanthan gum improves emulsification of fats and oils much like an egg would. Use Vegan Egg Replacer Powder as a more affordable direct replacement for
Ener-G Egg Replacer
.
This recipe is for a large batch of Vegan Egg Replacer Powder that can be used for many recipes.
Vegan Egg Replacer Powder Recipe
2 ½ cups arrowroot powder or tapioca starch
½ cup non-aluminum baking powder
1 Tablespoon guar gum powder or xanthan gum powder
1) Whisk together the dry ingredients
Whisk together the arrowroot powder or tapioca starch, baking powder and guar gum or xanthan gum powder in a large mixing bowl. Transfer this mixture to a glass jar and shake vigorously so it's thoroughly mixed. Label the jar accordingly.
2) Whisk in water to substitute for one egg
To substitute for one egg, add 1 ½ teaspoons of Vegan Egg Replacer Powder to 3 Tablespoons of water and whisk into a slurry with a small whisk for fork.
User reviews

vajiya3892
#1 Reviewer
View all my reviews (57)
Was this review helpful to you?

DINO
xanthum gum
hello every 1 XANTHUM GUM powder in UK is also known as CMC POWDER available in most cake shops who sell all cake making ingredients like sugar paste etc etc CMC powder or gum which is edible resin of plants like acacia tree
( i think) its acacia tree any way if you go to indian grocery stores u can buy the actual resin its know as
edible gum (GAUND OR GOOND)ITS KNOWN as edible gaur gum u have to gring it in mortar and pastel first to break them up in small pieces then grind them in grinder grind very fine and sift with very fine sieve to get fine powder dthats what i do and use it hope it helps u all in U K
DINO
Was this review helpful to you?

Vegan Traveler
Top 500 Reviewer
View all my reviews (1)
Thank you
I was just looking for egg replacer in my pantry and couldn't find it. Then your recipe showed up in my search. I had all the ingredients. Thanks!
Was this review helpful to you?

Gilly
Going to try this
Hi Mattie, I realise I'm posting this a long time after you popped this on the website...but I have a question for you since you seem to be a bit of an eggspert if you'll pardon the pun!
I really want to make Basler Brunsli biscuits (cookies) which I used to make when I used eggs. If you are not familiar they are made from whipped egg whites to which you add: grated chocolate, cocoa powder, sugar and ground almonds and a wee bit o' kirsch if you happen to have it lolling around the house. They aren't really puffy like macaroons and originally I was going to try flax seed replacer to hold it all together then I realised it needed to be whipped a bit. Then I thought about organ egg replacer which you can kind of whip then I wondered if this egg replacer would work "I love to go a wondering!" etc. So do you have any thoughts about what would be a good replacement. I'll probably just have to experiment but I thought with your wide experience you might have a suggestion. Thanks in advance!
Gilly
Was this review helpful to you?

Evie
Hi I loved this recipe for using in my cakes...oddly though it was a disaster with my sunbutter cookies (they are a flourless cookie.) Maybe less water in such recipes? Any recommendations? Thanks!
Was this review helpful to you?
(Updated: November 29, 2013)

varunous
Top 1000 Reviewer
View all my reviews (1)
question
hi Mattie,

thanks for this recepie. I am trying to create a good eggless sponge for a bakery. would this powder work as a good substitute for egg. I am planning to replace egg with some skimmed milk powder, guar gum, GMS and some liquid glucose. I will appriciate if you have any tested ratio of additives you can provide me or a recepie or give any suggestions. Thanks in advance
Was this review helpful to you?

paulachappell
Top 500 Reviewer
View all my reviews (1)
I just got all the ingredients to make this, haven't tried it yet. I do have a question, since this contains baking powder do you adjust the amount of baking powder called for in recipes?
Was this review helpful to you?

Julianne
Excellent!
I had a bit of a false start with this recipe after I tried a recipe for baked donuts and they came out looking like mini footballs, but I think the donut recipe was at fault, because since then I've used this egg replacer powder in all sorts of cakes, cookies and brownies and it's worked well every time.
Was this review helpful to you?

Sam
Xanthan Gum in our country is so pricey. I heard that apple sauce is also an egg replacer, is it any good?
Was this review helpful to you?

Carolyn
Still the best egg replacer I'v tried
This hasn't been replaced yet (pun intended)! I was using another recipe for egg replacer powder for several years (and it worked for my purposes) before I tried yours a year or so ago. I'm sticking with your recipe, Mattie.

I also cut the recipe in half. Then I can shake and store it in a 1 pound reclaimed glass peanut butter jar which fits on the pantry door shelf very nicely, thank you!
Was this review helpful to you?

Lindsay
This is great!
I wish I had found this recipe this morning before I bought Ener-g at the store! I am experimenting with vegetarian/vegan cooking & baking and one of the first things I thought I could easily do is get rid of all the eggs I've been using. I am bookmarking this to try in the future. Thanks!
Was this review helpful to you?

Pat
Thank you!
I've searched a long time for a recipe like this. Thank you! It worked great.
Was this review helpful to you?

Jen
Aluminum in baking powder
Thanks for this! I am new to veganism and looking forward to learning more about how to cook this way. I want to make this powder, but my baking soda (Clabber Girl) contains aluminum. Will this make a difference in efficacy?
Was this review helpful to you?

Fat Fudge
Does this keep indefinitely?
Was this review helpful to you?

Julianne
Buying xanthan gum
I don't know about in the US, but in the UK you can find xanthan gum in the "free from" aisle of major supermarkets (probably in Holland & Barrett as well, though I was able to just get mine from Tesco). Hope this helps!
Was this review helpful to you?

Sam Wibatt
Question
Hi! I would like to try this egg replacer, but so far I haven't found any xanthan or guar gum to use in it (at least not in smaller-than-industrial quantities.) Is it possible to substitute agar agar?

Thanks!
Was this review helpful to you?

Evz
Great stuff-- thanks!
Can't thank you enough for this recipe-- I've been using it for a little over a year now, and it definitely works better than the commercial egg replacer powders... bakes like a dream, and works great in vegan bean-burgers, falafel, etc... I usually cut the recipe in half, & it fills a standard Bell jar & lasts just about forever. Love it! Good work! :-)
Was this review helpful to you?