Vegan Pumpkin Gingerbread Cookies

Mattie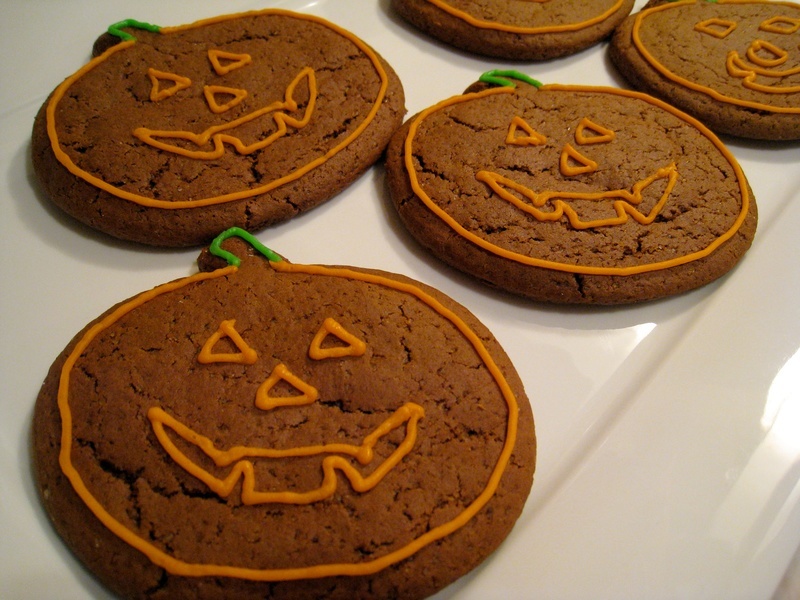 Pumpkin purée gives this Vegan Pumpkin Gingerbread Cookie recipe extra Halloween street cred. These cookies also pack a combination of barley malt syrup and molasses enhanced with ginger, nutmeg, cloves and just the right amount of vanilla extract for a scary good flavor.
Find more
Gingerbread recipes
on Veganbaking.net
Vegan Pumpkin Gingerbread Cookie Recipe
3 cups all-purpose flour
1 teaspoon baking soda
2/3 cup sugar
¼ cup + 1 Tablespoon (67 grams)
Regular Vegan Butter
or stick margarine, softened
¼ cup + 1 Tablespoon pumpkin purée
½ cup molasses
¼ cup barley malt syrup
1 ½ teaspoons ginger powder
1 teaspoon salt
1 teaspoon vanilla extract
¾ teaspoon cinnamon
¾ teaspoon nutmeg
¼ teaspoon cloves
1) Whisk together the dry ingredients
Preheat oven to 350F (177C). In a medium size bowl whisk together the all-purpose flour and baking soda. Set aside.
2) Whisk together the wet ingredients
In another medium size bowl mix together the sugar, Vegan Butter, pumpkin purée, molasses, barley malt syrup, ginger powder, salt, vanilla extract, cinnamon, nutmeg and cloves.
3) Mix the vegan gingerbread dough
Pour half of the flour into the bowl containing the wet ingredients and mix with a spoon until well incorporated. Pour the other half of the flour and mix with with a spoon until well incorporated. It's normal for the dough to feel really thick at this point and you may have to mix with your hands.
4) Roll the dough and cut the cookies
Lightly dust a silicone baking mat or pastry cloth with flour. Form the dough into a ball and roll into a 1/3 inch thick flat disc. Use a cookie cutter to cut the dough into shape and put the cookies on a lightly oiled or parchment paper covered cookie sheet. Be sure to dust your baking mat or pastry cloth and rolling pin with flour every time you regather the dough into a ball and roll it out again. Lightly dusting a spatula and sliding it under the dough after you cut it with the cutter will help you lift the cookie and transfer it to the cookie sheet.
5) Bake the vegan gingerbread cookies to perfection
Bake for 17 minutes. If using two cookie sheets, switch the sheets on the oven racks halfway through the baking time to ensure that the cookies are evenly cooked.
Depending on the size of your cookie cutter, this recipe makes about 15 Vegan Pumpkin Gingerbread Cookies.