Vegan Power Puffs

Renoodle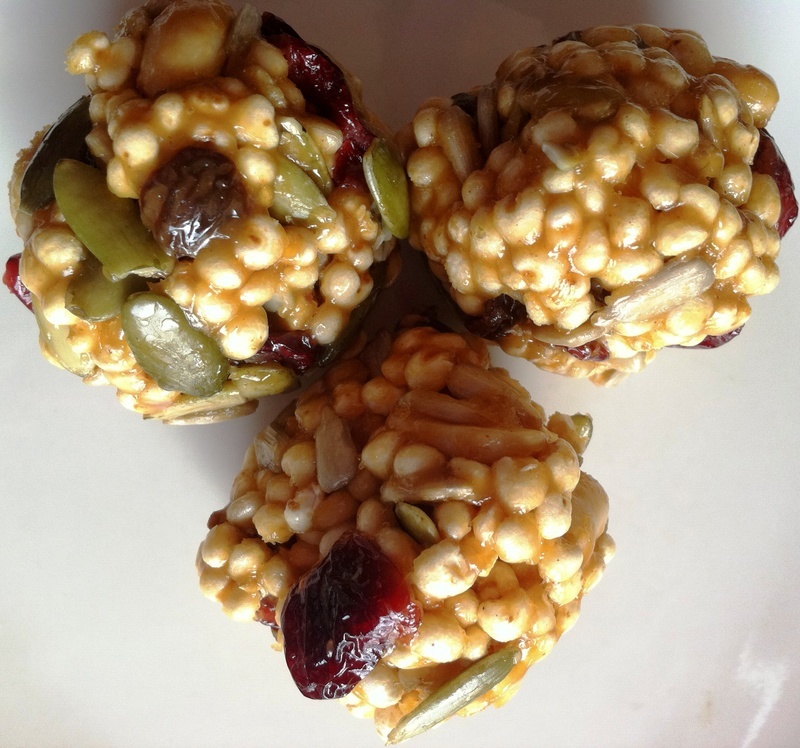 These Vegan Power Puffs are so puff-tastic! I highly recommend them. I have never used millet before and I will certainly be using it more often. It's fluffy, light and has more protein than puffed rice. These little power puffs are a perfect snack with a hot cuppa joe. You can easily cut this recipe in half if you aren't trying to feed an army. These are so good that my husband brought them to his Tai Chi class this morning and vanished with a request for more next week…I highly suggest you give these a whirl.
Find more
Gluten-free recipes
on Veganbaking.net
Vegan Power Puff Recipe
4 cups puffed millet cereal
2/3 cup raisins
2/3 cup dried cranberries
1/2 cup peanuts, chopped (or nut of choice)
1/2 cup pumpkin seeds
1/2 cup sunflower seeds

1 cup peanut butter (or other nut butter)
1 cup brown rice syrup
1-2 teaspoon pure vanilla extract
salt if desired


1)
In a medium bowl mix the cereal, raisins, cranberries, nuts, pumpkin seeds and sunflower seeds.

2)
In a small saucepan combine the peanut butter and brown rice syrup. Cook over low heat for 1 to 2 minutes, stirring occasionally until warm and bubbly. Remove from heat and stir in the vanilla and salt if desired. Pour over cereal the mixture and stir until thoroughly coated.

3)
Wait until cooled slightly, the peanut butter mixture can get very hot, then mold into balls (the size of golf balls). Transfer mixture to a cookie sheet to continue cooling. Tip – it helps to dampen hands, this mix can get very sticky.


This recipe makes 36 to 40 Vegan Power Puffs
.
Nutrition Facts for 36 Power Puffs: Calories: 112.8, Total Fat: 5.5 g, Total Carbs: 14.5 g, Protein: 2.8 g