Vegan Power Puffs

Renoodle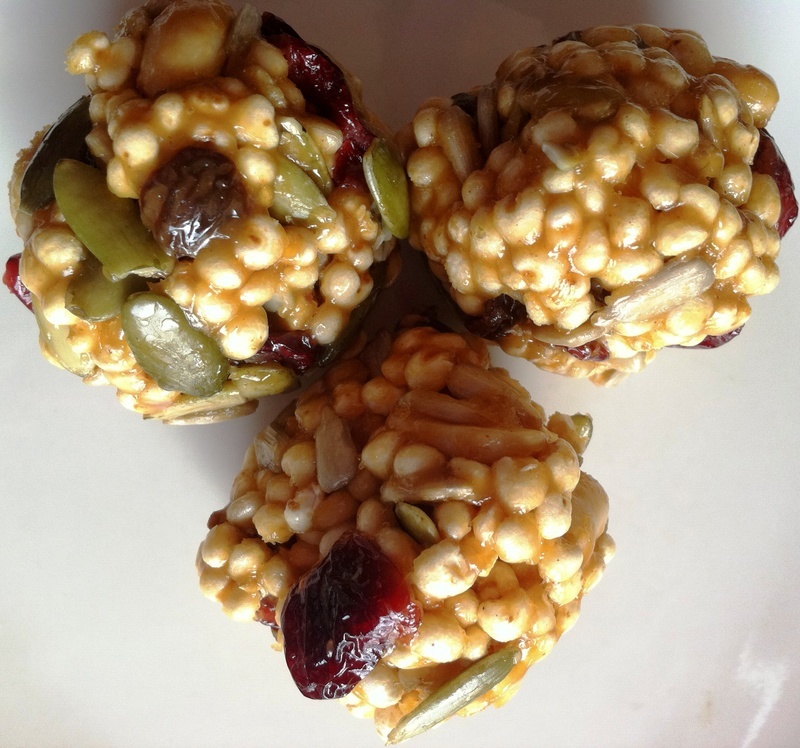 These Vegan Power Puffs are so puff-tastic! I highly recommend them. I have never used millet before and I will certainly be using it more often. It's fluffy, light and has more protein than puffed rice. These little power puffs are a perfect snack with a hot cuppa joe. You can easily cut this recipe in half if you aren't trying to feed an army. These are so good that my husband brought them to his Tai Chi class this morning and vanished with a request for more next week…I highly suggest you give these a whirl.
Find more
Gluten-free recipes
on Veganbaking.net
Vegan Power Puff Recipe
4 cups puffed millet cereal
2/3 cup raisins
2/3 cup dried cranberries
1/2 cup peanuts, chopped (or nut of choice)
1/2 cup pumpkin seeds
1/2 cup sunflower seeds

1 cup peanut butter (or other nut butter)
1 cup brown rice syrup
1-2 teaspoon pure vanilla extract
salt if desired


1)
In a medium bowl mix the cereal, raisins, cranberries, nuts, pumpkin seeds and sunflower seeds.

2)
In a small saucepan combine the peanut butter and brown rice syrup. Cook over low heat for 1 to 2 minutes, stirring occasionally until warm and bubbly. Remove from heat and stir in the vanilla and salt if desired. Pour over cereal the mixture and stir until thoroughly coated.

3)
Wait until cooled slightly, the peanut butter mixture can get very hot, then mold into balls (the size of golf balls). Transfer mixture to a cookie sheet to continue cooling. Tip – it helps to dampen hands, this mix can get very sticky.


This recipe makes 36 to 40 Vegan Power Puffs
.
Nutrition Facts for 36 Power Puffs: Calories: 112.8, Total Fat: 5.5 g, Total Carbs: 14.5 g, Protein: 2.8 g
User reviews

Milly
Funny name but very tasty.
Was this review helpful to you?

John
Great recipe! Thanks for sharing!
Was this review helpful to you?

Stan Smith
thanks!
thanks for sharing this!!
Was this review helpful to you?

Julie H
These are super good. Everyone at my house loved them. Even the non-vegans!
Was this review helpful to you?

Sewitpretty
Top 500 Reviewer
View all my reviews (1)
Delicious
Loved these!!! They did get sticky so I dampened my hands every 5 balls. I also used 100% pure maple syrup instead of brown rice syrup because I have hears things about arsenic in it.
Next time I will just cut into bars I think. Just wondering how to store these and how long they last. Great recipe!
Was this review helpful to you?

Testarosa
Top 500 Reviewer
View all my reviews (2)
Powerfully Delicious Treat!
Just finished making these and indulged in one just to make sure they weren't poisonous - HA! They remind me of the brown rice crispy squares I make my husband and he loves them so I can hardly wait for him to try these!

I used coarsely chopped walnuts & almonds (no peanuts in the house) and everything else was as suggested. There was no mention if the sunflower seeds, pumpkin seeds or nuts were to be raw or roasted so I chose raw. As suggested, I tried wearing gloves to form the puffs, but even my gloves became so sticky, that I had to quit after just a few puffs. I ended up spraying a 9x13x2 glass baking dish and put the rest in there to cool. I'll cut them into small squares and serve them that way.

Just a suggestion: Before putting the millet cereal and 5 other ingredients in the bowl, spray if with cooking spray. It will make it much easier to remove once you've poured the peanut butter & brown rice syrup over everything!
Was this review helpful to you?

Lu
Delish
My 10 year old son and I made these and used almonds instead of pepita's which we had on hand. He loves them, and they are a healthful and fun snack.
Was this review helpful to you?

Sheryl
You don't have to be vegan to love them! Great healthy snack for kids. Easy on-the-go energy food. Put them in a pretty container with a ribbon for a teacher gift, thank-you gift, whatever! Awesome!
Was this review helpful to you?

Valerie
Um Yeah, Amazing? For sure.
I have a hard time finding healthy treats, so this is definitely a jackpot. It's sooooooooooooooooooooo easy. And so delicious. Thank you for sharing the recipe!! I'm not a huge fan of dried fruit, but putting dried cranberries in these puffs are like the frosting on a cake. Definitely worth recommending, and I will use this recipe time and time again.
Was this review helpful to you?

Birgitta
Top 50 Reviewer
View all my reviews (7)
Yum! And oh so easy!!!
I took heed of the message about how sticky this mix can get, so I solved this problem by putting on a pair of thin cooking gloves and it was soooo easy. I was able to put my hands into the bowl of ingredients (while wearing the gloves) and really mix it well together. And oh by the way, do they ever taste great. They are not going to last very long, especially since I made mine bigger than a golf ball. Next time I'm probably going to double the mix!
The only alterations I made to the original recipe was omitting the raisins and increasing the cranberries to 1 cup. The nuts I used were walnuts, (awesome brain food), and I used crunchy peanut butter which gave me added peanuts to the mix. I omitted the salt, and only used 1 tsp of organic vanilla extract.
Was this review helpful to you?