Vegan Peanut Butter Chocolate Chip Cookies

Mattie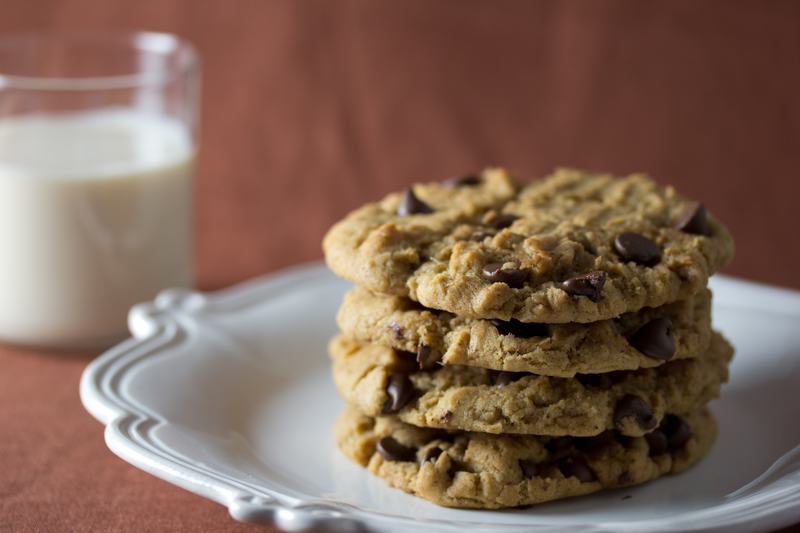 For me, the ultimate cookie is crispy on the outside, yielding to a satisfying chew on the inside. This should not be confused with just a soft cookie. It should resist your bite a little and take a few moments to break down in your mouth as it provides burst of flavor with every chew. In contrast, soft cookies tend to be great on the first bite and disintegrate into nothingness soon after, often leaving you feel like you're chewing on sweet dust. I'm a huge fan of peanut butter but I find the texture of peanut butter cookies to too often fall into the soft-only or even worse, the crumbly camp. If you scale back on their precious peanut butter they retain their chewy qualities but also quickly turn into regular cookies with just a hint of peanut butter flavor. I set out to find the optimum combination of decadent chewiness while keeping a peanut butter punch as intense as possible (and tossing in chocolate chips for good measure). This tightrope walk is extremely dangerous in that it causes you to eat way too many test cookies as you perfect your recipe.
Building an optimal Peanut Butter Chocolate Chip Cookie
The flax meal in these cookies provides some binding power to keep things moist and chewy and assist in emulsifying the oil-based ingredients with the water-based ingredients. the apple cider vinegar curdles the proteins in the non-dairy milk and adding flavor complexity. The cinnamon, coconut oil, vanilla extract and coconut oil enhance flavors to the point of where vegan butter isn't necessary. The molasses also assists chew; a similar affect of using brown sugar.
Find more
Peanut Butter recipes
on Veganbaking.net
Vegan Peanut Butter Chocolate Chip Cookie Recipe
½ cup + 2 Tablespoons non-dairy milk
½ teaspoon apple cider vinegar
1 ½ cups + 2 Tablespoons all-purpose flour
¾ teaspoon baking soda
½ teaspoon cinnamon
1 teaspoon salt
1 ¾ cups sugar
1 ¼ cups unsalted, natural style peanut butter
¼ cup unrefined coconut oil, melted
1 teaspoon vanilla extract
1 teaspoon molasses
1 cup + 2 Tablespoons semi-sweet chocolate chips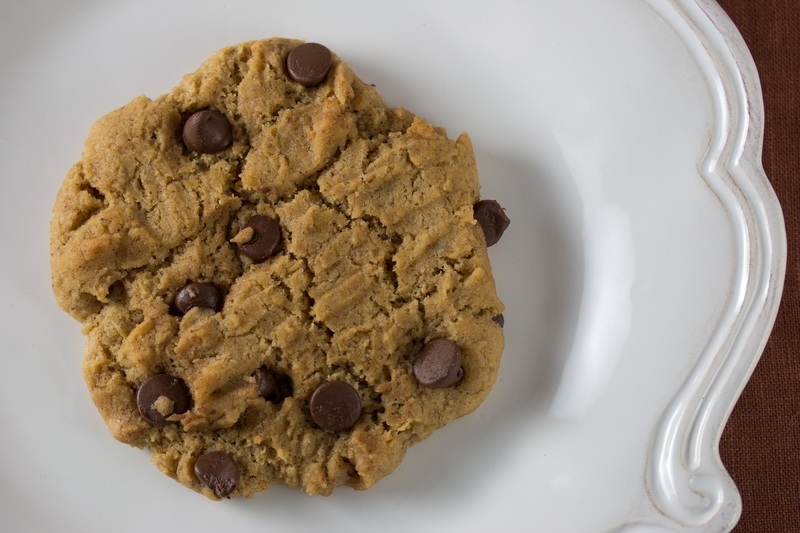 1) Prepare the egg replacer mixture and line your baking sheets
Preheat your oven to 350F (177C). In a small bowl whisk together the flax meal, non-dairy milk and apple cider vinegar. Allow it to sit for 10 minutes so the mixture thickens and curdles. Line two cookie sheets with parchment paper.
2) Whisk together the dry ingredients
In a medium mixing bowl whisk together the all-purpose flour, baking soda, cinnamon and salt until well incorporated. Set aside.
3) Whisk together the flavor building ingredients
In another medium mixing bowl whisk together the sugar, peanut butter and coconut oil until well mixed. Mix in the flax meal mixture from step 1 followed by the molasses and vanilla extract.
4) Build the cookie dough
Add the flour mixture from Step 2 and mix until just incorporated. You may have to use your hands at this point because the dough will be pretty thick. Use your hands to fold in the chocolate chips.
5) Bake the vegan cookies to perfection
Form the dough into 1 ½ inch balls and place them on the cookie sheet so they're spaced about 2 to 3 inches apart. Use a fork to flatten them to ¾ inch and bake for 15 to 17 minutes, rotating the baking sheets halfway through the baking duration. These cookies will not turn golden as they bake so it's important to pay attention to the baking time.
Store the cookies in an air tight container at room temperature for about one week or in the freezer for up to two months. This recipe makes about 22 to 24 Vegan Peanut Butter Chocolate Chip Cookies.
User reviews

Fifi
Chocolate Chips
Please tell me what type of chocolate chips you use. Are there vegan chocolate chips available? Are there vegan chocolate chips without sugar, using a more natural sweetener? If yes, where can I buy these. Thank you for your help.
Was this review helpful to you?

Nette
I've made these maybe 50 times!!!
These are so good. I've made it so many times I should have the recipe memorized. Anytime I use a different cookie recipie I compare them to these and usually they are not as good...then I wished I would have just made these. Everyone I make them for loves them both vegans and non vegetarians & they are my Husbands fav. I do substitute carob chips instead of chocolate chips.
Was this review helpful to you?

Megan
Disappointing at Best
I followed the instructions as they were, using 1 cup white sugar, 3/4 cup of brown. My dough seemed soft and goopy but I decided to use it anyways, knowing well that they wouldn't turn out. 15 minutes later I am left with somewhat risen cookies. That is, until they were left out to cool, leaving me with a wafer thin mess. I made three batches, or trays, of varying sizes with the same dough, same time, and same temperature. No luck! Unless there is something wrong with what I have done, I will definitely not be making these again..
Was this review helpful to you?
The best cookies ever
So easy to make and soooo delicious! Next time I'm just using some less sugar, but apart from this, that recipe is perfect!
Was this review helpful to you?

Iris
The best peanutbutter cookies!
These were great! I made them with about 3/4 of the sugar because I always find desserts to be way too sweet for me. I'm just about to bake these again, but this time I halfed the sugar, used almond butter instead of peanutbutter and made a mix of wheat and soy flour (I ran out of wheat -.-). I think these will be just as delicious! I found them to be just a bit too thick, so this time I'm gonna make them just a tad thinner. Plus I've been using chia seeds instead of flax meal because I don't have a grinder, works like a charm. Seriously, bake these! There just wonderful
Was this review helpful to you?

Tori
Just so guys know, almost all chocolate chips contain milk product. So if you want them to be vegan a baking bar is a great alternative!
Was this review helpful to you?

MaryMcCrazy
Top 1000 Reviewer
View all my reviews (1)
Delightful texture.
Peanuts and choc chips - what's not to like? Everyone who has eaten the batch I just made has been suitably impressed. The texture was superb and I didnt find them too sweet - but I think I only put 1 cup of sugar in... sometimes I just accidentally miss things out of recipes.... lol. The guy who does these recipes is a bit of a genius - if you have a spare day to do the prep work you should totally do the vegan croissants....
Was this review helpful to you?

Sarah
Fantastic
Great recipe - thank you for sharing! Made perfect, beautiful cookies on the first try. I made them exactly as directed along with my regular chocolate chip recipe, and these were better! Love. Thank you!
Was this review helpful to you?

Cheyenne
SO Great!
These really are outstanding! After trying a vegan Alfredo sauce recipe last night that was miserably disgusting and disappointing (not one of yours, just to be clear) this is such a lovely surprise! But even without that terrible experience so fresh, these would be wonderful. I halved the recipe, and also used whole wheat flour for half of the flour. Plus, I did reduce the sugar just by a bit because it was easier to measure half of 1.5 cups of sugar rather than 1 3/4 (plus I thought it would be fine given guyfriday's review and my similar tendency to like things on the less sweet side. These turned out perfectly after 17 minutes (my cookie balls were on the big side) - perfect caramelized crunchiness on the bottom, and chewy in the middle. Really just perfect, probably the best peanut butter cookies I've had, and definitely the best I've ever made (vegan or not)! Thank you!!
Was this review helpful to you?

guyfriday
Top 1000 Reviewer
View all my reviews (1)
Good, but way too sweet!
This cookie has an excellent texture, but if you're not a fan of super super sweet desserts, feel free to cut the sugar down to 1 1/4 cup!
Was this review helpful to you?

Melissa
Yum!
After doing a quick google search I clicked on your website and boy am I glad I did. These are the best PB chocolate chip cookies I have ever had! Thank you for sharing the recipe :)
Was this review helpful to you?

Megan
Delicious cookie!
I don't normally write reviews but I just had to comment on how good these are! My husband and I couldn't stop eating them. I ran out of peanut butter, so I used half almond butter and half peanut butter. The batches that came out best were the ones that I baked for 15 min. The ones left I longer were more crunchy than chewy. Thanks for such a great recipe!
Was this review helpful to you?

Peg
Sooooooo Good!!!
I just found your website last evening and these peanut butter cookies are the first recipe I tried. Just took them out of the oven and can't stop eating them!!! They are better than any other pb cookie I've ever had - even those loaded with butter! You are a genious, Mattie!! Thank you so much for sharing your recipes and kitchen science. I intend to try many, many more of your recipes!!
Was this review helpful to you?
Wheat-free version
I substituted 1 cup oat flour and 1/2 + 2TBS rice flour for the flour in this recipe, and the cookies turned out great. The dough was soft, not thick (probably because of the oat flour), so I made them like drop cookies and shortened the baking time to about 10 minutes.
Was this review helpful to you?

Angela
Pretty good
I tried these out, and found them to be "pretty good". I think the chewiness was the best quality. A little crunch on the outside with a healthy chew. It's not really a big deal, but I had a hard time keeping the chocolate chips in the dough when making balls. They kept falling out, the dough looked slick rather than sticking to them. thanks for sharing!!!
Was this review helpful to you?