Vegan Macadamia Snickerdoodle Cookies

Mattie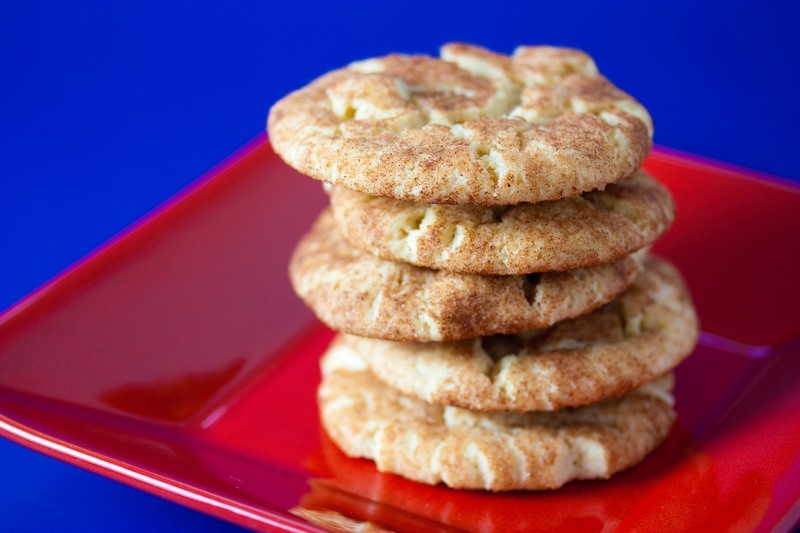 This Vegan Macadamia Snickerdoodle Cookie recipe utilizes a soft, buttery dough that's designed to leaven fast in the oven then fall. This results in the trademark crackly top that some say give this cookie the origins of it's name;
schneckennudeln
which means
snail noodle
in German. Snickerdoodle dough is similar to sugar cookie dough but there is more leavening power and the dough is rolled in cinnamon sugar prior to baking in the snickerdoodle version. The result is a tender cookie that is slightly crispy on the outside and soft on the inside accompanied by rich cinnamon notes.
Find more
Macadamia recipes
on Veganbaking.net
Vegan Macadamia Snickerdoodle Cookie Recipe
For the rolling mixture
3 Tablespoons sugar
1 Tablespoon cinnamon
For the dough
¼ cup + 2 Tablespoons non-dairy milk
2 Tablespoons
golden flax meal
2 teaspoons cream of tartar
2 ¼ cups all-purpose flour
1 teaspoon baking soda
½ teaspoon salt
1 ½ cups sugar
¾ cups (160 grams)
Regular Vegan Butter
or stick margarine (1 ½ sticks, softened but cool)
¼ cup (54 grams)
Vegan Shortening
or store bought shortening
½ cup macadamia nuts, toasted
1) Prepare your oven, baking sheets and rolling mixture
Preheat your oven to 400F (204C). Line two large baking sheets with parchment paper. Prepare your rolling mixture by whisking together the 3 Tablespoons sugar and 1 Tablespoon cinnamon in a small bowl. Set aside.
2) Curdle the non-dairy milk mixture
In a small mixing bowl, whisk the non-dairy milk, flax meal and cream of tartar until smooth. Set aside for about 10 minutes so the mixture gets thick and curdles.
3) Whisk together the dry ingredients
In a medium mixing bowl, whisk together the all-purpose flour, baking soda and salt.
4) Cream the fats and beat in the flax mixture
In another medium mixing bowl, cream together the 1 ½ cups sugar, Vegan Butter and shortening until well combined which should take about 1 to 1 ½ minutes. Add the flax mixture from Step 2 and beat until well combined, about 30 seconds.
5) Build the cookie dough
Add half of the dry ingredients and mix with a spoon until the mixture comes together. Add the rest of the dry ingredients and mix with your hands until just combined. Add the macadamia nuts and mix until they're evenly distributed.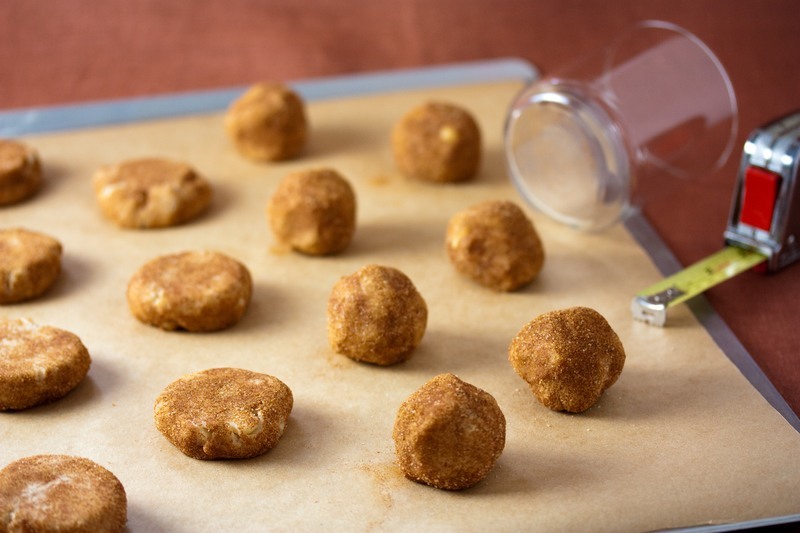 6) Bake the vegan snickerdoodles to perfection
Roll the dough into 1 ½ inch diameter balls and roll them in the Rolling Mixture until coated. Transfer to the baking sheet, making sure they're spaced about 2 inches apart. Use the bottom of a drinking glass to squish each cookie to ¾ inch. Use a slight twisting motion after squishing to allow the drinking glass to release from the cookie. Bake for about 12 minutes, rotating the baking sheets halfway through the baking duration.
Store in a tightly sealed freezer bag at room temperature for up to ten days. This recipe makes about 30 Vegan Macadamia Snickerdoodle Cookies.
User reviews

FreakyVegan
Top 500 Reviewer
View all my reviews (1)
Sugar revision
I'm wondering what the sugar revision would be?

"Owner's reply
Hi Joseph! Looks like I need to revise this recipe to reduce the sugar. I don't know how I got 1 1/2 cups in there! That's probably also what's contributing to the excessive flattening because sugar liquifies during baking and acts like water. Thanks so much for your feedback and I'm so glad you got them to turn out perfectly for you!"
Was this review helpful to you?

Jenna Legge
Hi! Was wondering if instead of using vegan butter, I could use vegan coconut spread? It's a substitute for butter, and tastes great!
Was this review helpful to you?

Joseph
Delicious!!
These cookies are delicious!

I did add a couple teaspoons of cinnamon to the dough and reduced the sugar content by half a cup. Personally, I think they're better that way.

Also, in response comments on the cookies being flat: Just leave them as round balls and don't press them with a cup.

Was this review helpful to you?

LizzyBoBizzy
Needs revising
The cookies spread so this and end up WAY too sweet. I would reduce the sugar by half and maybe even reduce the butter a bit to make it more fluffy.
Was this review helpful to you?

Kate
Disappointing
These would have been delicious, but they spread to flat, greasy pancakes! Any tips to decrease the spreading so they actually look like a cookie, or how to decrease the greasiness?
Was this review helpful to you?

Rachel
Just perfect.
Mattie, I've made 3 or 4 of your cookie recipes now and they have been delicious every time. You have the vegan cookie science down!

My mods: I subbed half whole wheat flour & cashews, and cooked for 11 minutes. Turned out delicious!
Was this review helpful to you?

Anonymous
These are delicious. For my batch I omitted the macadamias, and instead dipped them in a little ganache (the simple ganache recipe found on this website, mixed with a little instant coffee) and they came out super tasty.
Was this review helpful to you?

Holly
macadamia snickerdoodle
wow, this is truly a nonvegan tasting vegan cookie. i replaced macadamia with almonds because of my son's allergy. thank you Mattie for all your great recipes.
Was this review helpful to you?

Danielle
Hey,

This recipe sounds really good. Excuse my ignorance but I was wondering if it was a good recipe to use with a cookie cutter? I'm unsure because this recipe has macadamia nuts in it.
Was this review helpful to you?

Ricky
This looks great, though I need to buy some flax meal. Or could I substitute something for that? Perhaps wheat germ?
Was this review helpful to you?

Shanti Meera
Very nice. Love the texture, and the cinnamon. Yum!
Was this review helpful to you?