Chewy Vegan Chocolate Chip Cookies

Mattie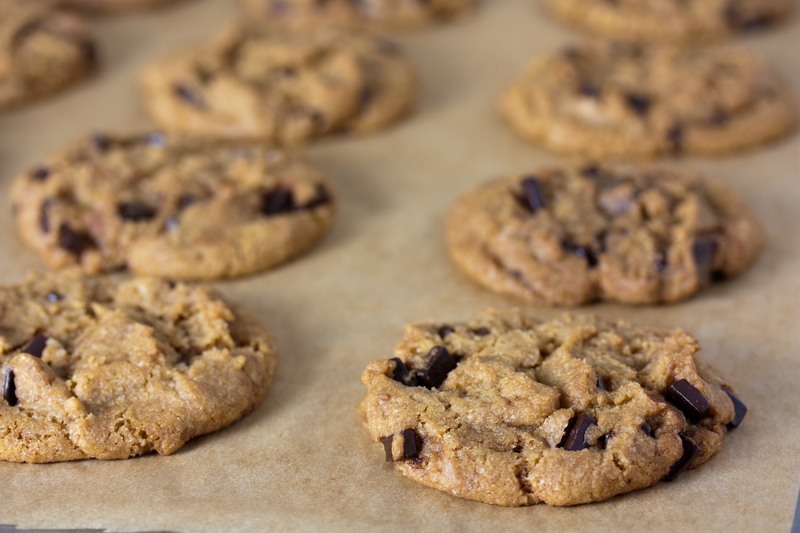 These Chewy Chocolate Chip Cookies are no nonsense soft, chewy chocolate chip cookies like your vegan grandma used to make. Over the years I've learned a lot about the art of cookie making and these are simple to make but still pack lots of flavor into a chewy, chocolatey chippity package. The secret to this cookie recipe is having just the right ratio of fat, water and
golden flax meal
. The molasses also adds chewiness and the cinnamon adds a touch of flavor complexity. Finally, the way the cookies are formed results in just the right shape. These cookies are also great for ice cream sandwiches.
Find more
Easy recipes
on Veganbaking.net
Chewy Vegan Chocolate Chip Cookie Recipe
2 Tablespoons golden flax meal
3 Tablespoons water
2 ¼ cups all-purpose flour
¾ teaspoon baking soda
¾ teaspoon salt
½ teaspoon cinnamon
¾ cups + 2 Tablespoons (188 grams) or 1 ¾ sticks
Regular Vegan Butter
or margarine, room temperature
1 ½ cups sugar
2 teaspoons molasses
2 teaspoons vanilla extract
1 cup semi-sweet chocolate chips
1) Prepare your flax gel mixture
Preheat your oven to 350F (177C). In a small bowl whisk together the flax meal and the water. Allow it to sit for 10 minutes so the mixture thickens. Line two cookie sheets with parchment paper.
2) Whisk together the dry ingredients
In a medium mixing bowl whisk together the all-purpose flour, baking soda, salt and cinnamon until well incorporated. Set aside. For a Holiday twist, add a ½ teaspoon cardamom here as well.
3) Cream the Vegan Butter and other ingredients
In another medium mixing bowl cream the Vegan Butter and sugar until well mixed. Beat in the flax meal mixture from step 1 followed by the molasses and vanilla extract.
4) Mix the vegan cookie dough
Add the flour mixture from Step 2 and mix until just incorporated. The dough will be thicker than traditional non-vegan cookie dough so don't be afraid to use your hands to mix it together if you need to. Stir in the chocolate chips.
5) Transfer the cookie dough to the sheets and bake to perfection
Form the dough into 1 ½ inch balls. Place them on the cookie sheet so they're spaced about 2 to 3 inches apart. Bake for 15 minutes, rotating the baking sheets halfway through the baking duration. These cookies will not turn golden as they bake so it's important to pay attention to the baking time. Cookies will store in an air tight container at room temperature for about one week or in a freezer bag in the freezer for up to six months. This recipe makes about 22 to 24 Chewy Vegan Chocolate Chip Cookies.