Vegan Chocolate Truffles

Mattie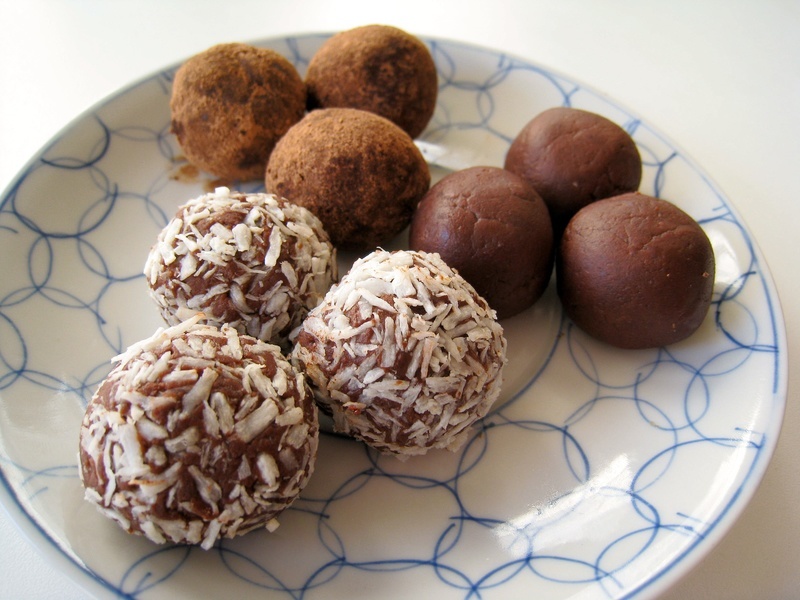 This Vegan Chocolate Truffle recipe utilizes the flavor combination of two different types of chocolate for maximum flavor depth. These vegan truffles are then enhanced further by the addition of vanilla extract, touch of salt then rolled in the coating of your choice to make them truly delectable. For certified choco-holics only.
Find more
Chocolate recipes
on Veganbaking.net
Vegan Chocolate Truffle Recipe
¼ cup non-dairy milk
2 teaspoons arrowroot powder or tapioca starch
1 ½ teaspoons vanilla extract
¼ teaspoon apple cider vinegar
1 ½ cups + 3 Tablespoons confectioners sugar, sifted
4 oz. unsweetened baker's chocolate, 100% cacao content
2 Tablespoons
Vegan Butter
or margarine
¼ teaspoon salt
½ cup coating of your choice (see below)
1) Whisk together the non-dairy milk mixture
In a small bowl whisk together the non-dairy milk, arrowroot powder, vanilla extract and apple cider vinegar. Set aside.
2) Prepare the confectioners sugar
In a large bowl, sift the confectioners sugar and set aside.
3) Whisk the chocolate mixture together
Break the baker's chocolate into 1 inch pieces. In a medium saucepan, whisk together the chocolate, Vegan Butter and salt until it's completely melted. Whisk in the non-dairy milk arrowroot or tapioca mixture from Step 1 until it's well incorporated. Transfer the mixture to a medium size mixing bowl.
4) Mix in the confectioners sugar
Add half of the powdered sugar to the mixing bowl and mix with an electric mixer for a few minutes. Add the other half of the powdered sugar and mix it with it with a wooden spoon until well incorporated. Knead the the mixture with your hands for about a minute.
5) Roll the vegan chocolate truffles into a balls and coat
Place a chunk in between the palms of your hands and roll into a 1 inch ball. Drop into the desired coating and turn until well covered. Repeat with the remainder of the mixture. Allow the truffles to sit in a cool place for an hour to firm up. Keep the truffles in a cool place. This recipe makes about 12 Vegan Chocolate Truffles.
Vegan Chocolate Truffle Coatings
cocoa powder
cinnamon
shredded coconut
melted chocolate
powdered sugar
maple sugar
vanilla powder