Vegan Chocolate Truffles

Mattie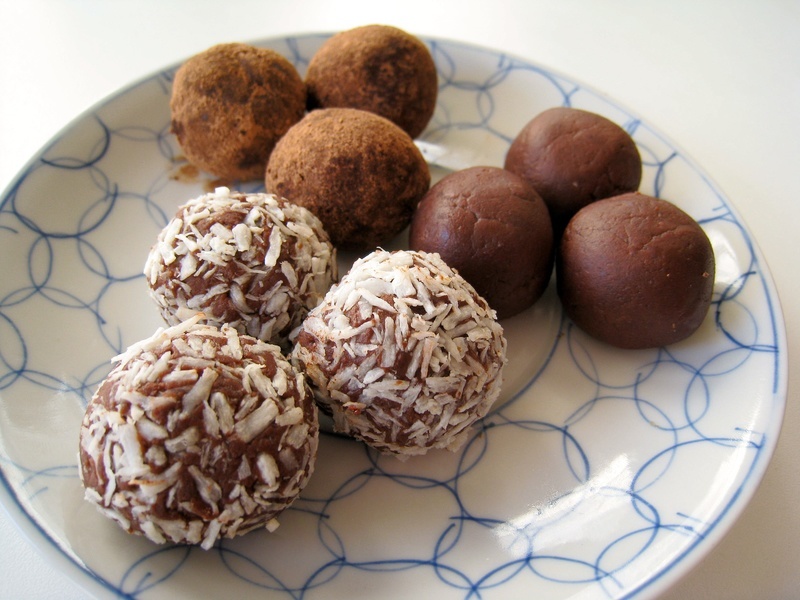 This Vegan Chocolate Truffle recipe utilizes the flavor combination of two different types of chocolate for maximum flavor depth. These vegan truffles are then enhanced further by the addition of vanilla extract, touch of salt then rolled in the coating of your choice to make them truly delectable. For certified choco-holics only.
Find more
Chocolate recipes
on Veganbaking.net
Vegan Chocolate Truffle Recipe
¼ cup non-dairy milk
2 teaspoons arrowroot powder or tapioca starch
1 ½ teaspoons vanilla extract
¼ teaspoon apple cider vinegar
1 ½ cups + 3 Tablespoons confectioners sugar, sifted
4 oz. unsweetened baker's chocolate, 100% cacao content
2 Tablespoons
Vegan Butter
or margarine
¼ teaspoon salt
½ cup coating of your choice (see below)
1) Whisk together the non-dairy milk mixture
In a small bowl whisk together the non-dairy milk, arrowroot powder, vanilla extract and apple cider vinegar. Set aside.
2) Prepare the confectioners sugar
In a large bowl, sift the confectioners sugar and set aside.
3) Whisk the chocolate mixture together
Break the baker's chocolate into 1 inch pieces. In a medium saucepan, whisk together the chocolate, Vegan Butter and salt until it's completely melted. Whisk in the non-dairy milk arrowroot or tapioca mixture from Step 1 until it's well incorporated. Transfer the mixture to a medium size mixing bowl.
4) Mix in the confectioners sugar
Add half of the powdered sugar to the mixing bowl and mix with an electric mixer for a few minutes. Add the other half of the powdered sugar and mix it with it with a wooden spoon until well incorporated. Knead the the mixture with your hands for about a minute.
5) Roll the vegan chocolate truffles into a balls and coat
Place a chunk in between the palms of your hands and roll into a 1 inch ball. Drop into the desired coating and turn until well covered. Repeat with the remainder of the mixture. Allow the truffles to sit in a cool place for an hour to firm up. Keep the truffles in a cool place. This recipe makes about 12 Vegan Chocolate Truffles.
Vegan Chocolate Truffle Coatings
cocoa powder
cinnamon
shredded coconut
melted chocolate
powdered sugar
maple sugar
vanilla powder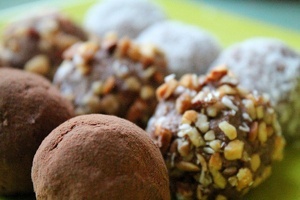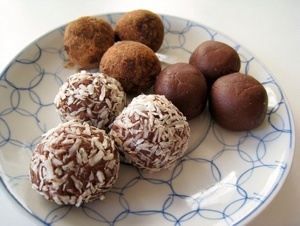 User reviews

BunnicusRex
Top 500 Reviewer
View all my reviews (2)
Great base with endless possibilities
Just made these and love 'em! Tried several coatings, and my fave by far is coconut sugar - adds a little texture without losing the truffle idea. Tried mixing in a wee bit (SMIDGE) of almond oil after making half as directed, and oooh that was nice. Well, "as directed" except had to chill a few minutes before shaping into balls for some reason, started out making a gooey mess but 10 minutes in the fridge was perfect.
Hope to experiment with orange oil, peppermint oil, rum or bourbon next. Thanks for this brilliant, versatile recipe!
Was this review helpful to you?

Sara
Is there a substitute for the apple cider vinegar? I'm making these non-vegan by the way :)

thanks
Was this review helpful to you?

Rachel
Can you put liquor in these truffles?
Can you put a small amount of liquor (for flavor) in these truffles without affecting the consistency?
Was this review helpful to you?

Aly
Absolutely love
I adore this recipe. It's easy, tastes amazing, and is well loved by plenty of my non-vegan friends even. The only bad thing I could say about this recipe is that it's difficult to stop eating them! xx
Was this review helpful to you?

Sneha
Query
Hi Mattie. I was wondering what I could use instead of the 4 oz. unsweetened baker's chocolate, 100% cacao, since where I live, in India, it isn't available. All you get here thats vegan is chocolate compound, and honestly, I have no idea what the heck that is!! :0)

Was this review helpful to you?

Anna
How long will these keep? My wedding is in two weeks and I want to make a huge batch to put in thank you bags for my guests but I'd like to make them the weekend before. Would they keep for a week in the refrigerator?
Was this review helpful to you?

sweet semosh
These truffles are heavenly! They're simple, yet so decadent.
Was this review helpful to you?

sweet semosh
At what point does the vanilla get added?
Was this review helpful to you?