Vegan Toasted Coconut Cake

Mattie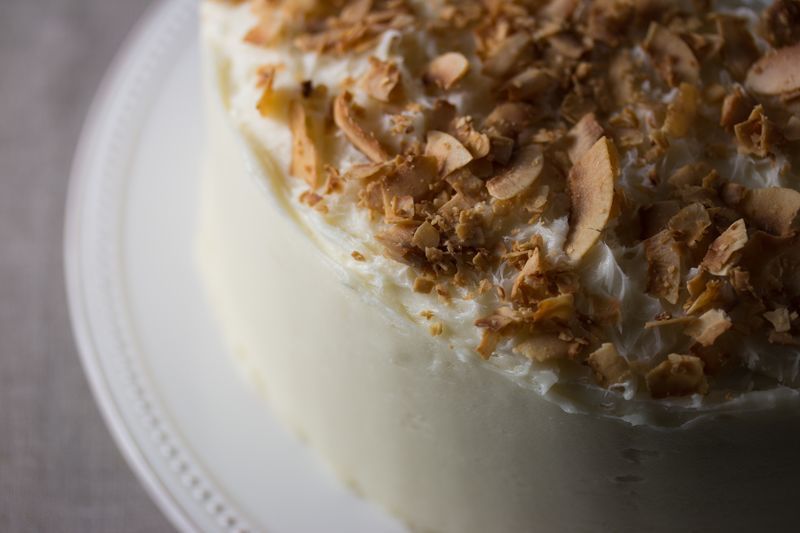 Coconut is one of my favorite ingredients due to its neutral flavors that add richness to almost anything. Coconut contains flavor compounds called
lactones
that are among the same flavor compounds that give traditional dairy cream its trademark creamy flavor. And we all wondered why coconut and cream went together so well! In this Toasted Coconut Cake I wanted to maximize these layers of coconut and cream for a truly decadent cake.
This cake is borne out of the success of my
Toasted Coconut Chocolate Chip Cookies
. While developing that recipe I found that using multiple types of coconut provides layers of coconut flavor.
How to build maximum coconut flavor
You'd think that coconut milk would be one of the most effective ways to infuse coconut flavor right? That's what I thought too. After several test batches, I found that coconut milk contains too much water and not enough solids or fat to contribute a substantial amount of coconut flavor. And even if it did, there's just way too much variation from brand to brand and even can to can. Some tend to have way more fat than others and some even have added guar gum which can throw things off if you're not looking out for it.
Coconut flour and coconut oil tend to be where all the flavor is, probably because there's no water to get in the way which makes the flavors more concentrated.
To toast or not to toast
Coconut usually has an extremely smooth, rich, creamy flavor, unless of course it's lightly toasted. In this case, you get to experience the more edgy, complex, nutty and toasty side of coconut. I love the combination of both of these flavor profiles so I utilize toasted coconut flour for the batter and toasted shredded coconut for the frosting to provide the toasty notes in this recipe. If you're not a fan of this edgier side, I won't judge if you forego the toasting.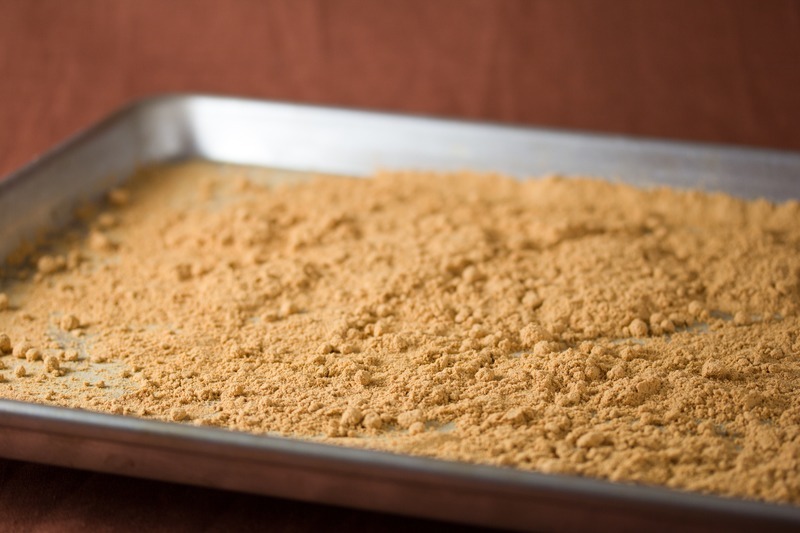 Unrefined coconut oil is another great way to pack coconut flavor into baked items. Unrefined just means that the oil hasn't been passed through an activated charcoal filter which removes the lactones and other coconut flavor compounds.
Finally, coconut sugar is a subtle but worthy opportunity for us to add another layer of coconut flavor. Coconut sugar is a golden granulated sugar that originates as a sap from the coconut palm. This sap is then cooked down, filtered to some degree and processed into granulated crystals that lend a slight coconut caramel note to baked goods.
I should add that since we're going whole coconut with this thing, Coconut Buttercream Frosting is recommended. This requires you to make
Coconut Vegan Butter
in advance, but if you don't have time, any regular frosting of your choice will do.
Coconut flour's insatiable thirst
Now that we have our coconut flavor, we need to keep in mind that, as with my Toasted Coconut Chocolate Chip Cookie recipe, the coconut flour is going to absorb about six times the amount of water as regular flour which is going to create a problem. Luckily,
we've been through this before
so the solution is to compensate for this by calling for a considerably larger amount of non-dairy milk in the recipe.
The coconut flour is also going to displace gluten-based flour, which is the primary protein building block for structure in regular gluten-based vegan cakes. Luckily, we can bring gluten levels back in check by adding a flour with a higher gluten content: good ol' bread flour. We'll call for even more non-dairy milk so the glutenin and gliadin have enough moisture to combine into gluten without giving a fuss. Yes, this amount of non-dairy milk is so much liquid for a vegan cake recipe it's almost laughable. But at least now everyone's well hydrated and happy.
One caveat of all these coconutty modifications is that we're not going to be left with a light and airy sponge of a cake. This cake is going to be on the heavy, dense, rich and moist side. I happen to prefer these types of cakes and I'm hoping you do too.
At this point, all we need is a little vanilla extract and salt to tie everything together. Coconut Buttercream Frosting is what they call
icing on the cake
.
Find more
Coconut recipes
on Veganbaking.net
Vegan Toasted Coconut Cake Recipe
1 ½ cups shredded coconut, unsweetened
2 ¾ cups + 2 Tablespoons non-dairy milk
1 ½ cups bread flour
1 cup toasted coconut flour
3 ½ teaspoons baking powder
1 ½ teaspoons baking soda
¾ cup + 2 Tablespoons coconut sugar
¼ cup unrefined coconut oil
2 teaspoons vanilla extract
½ teaspoon salt
Coconut Buttercream Frosting
1) Prepare the toasted coconut
Preheat your oven to 300F (149C). Spread the shredded coconut evenly on one rimmed baking sheet and the coconut flour evenly on another rimmed baking sheet. Place them in the oven for 20 minutes. Set aside. Feel free to find out more information on
toasting coconut flour
. If you work with it often and you love it as much as I do, you might want to consider making a large amount and storing it in a covered container for future use.
2) Prepare your cake pan and curdle the non-dairy milk
Preheat your oven to 350F (177C). Lightly coat two 8 inch round cake pans with vegetable oil and dust them with flour, making sure to shake off any excess. In a small bowl, whisk together the non-dairy milk, flax meal and apple cider vinegar. Set aside for at least 5 minutes so the mixture thickens.
3) Whisk together the dry ingredients
In a medium mixing bowl, whisk together the bread flour, toasted coconut flour, baking powder and baking soda. Set aside.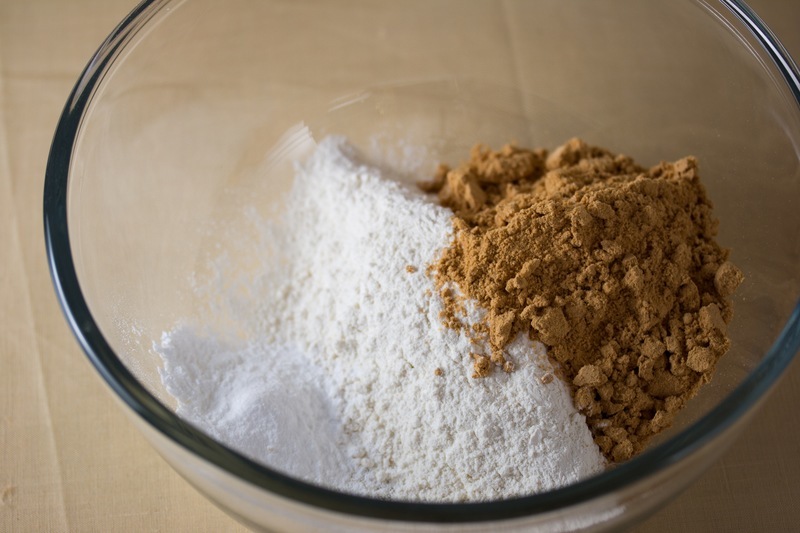 4) Whisk together the flavor building ingredients
In another medium mixing bowl whisk together the coconut sugar, coconut oil, vanilla extract and salt. Now whisk in the flax mixture from Step 2 until well incorporated.
5) Mix the batter
Add the dry ingredients to the bowl containing the wet ingredients and whisk together until well incorporated and the lumps are eliminated.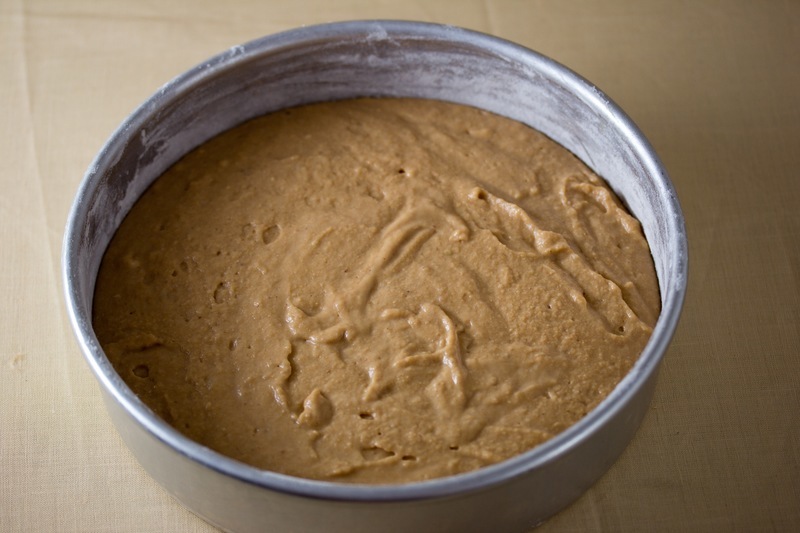 6) Bake to perfection
Pour equal portions of batter into each cake pan. To eliminate air bubbles lift each cake pan about 2 inches off the counter and drop it onto the counter a couple times. Bake for 30 minutes or until an inserted toothpick comes out clean. Cool for about an hour then transfer to a cake rack to cool completely before frosting.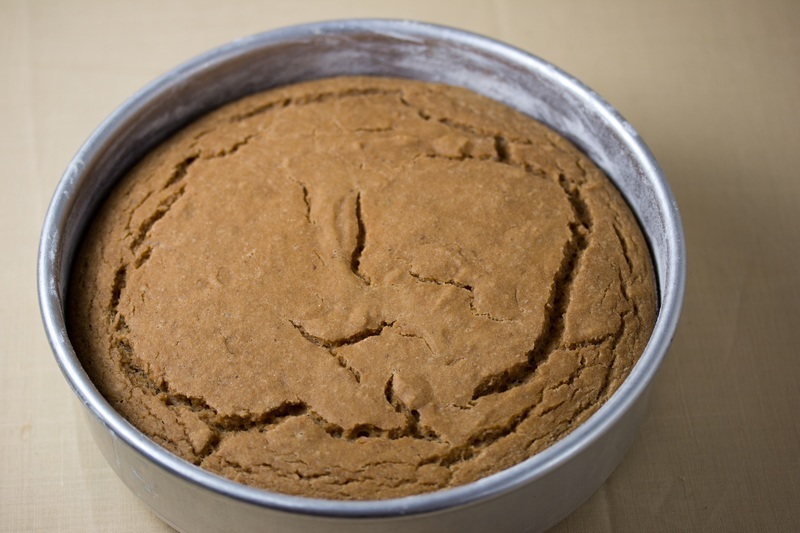 7) Prepare the Coconut Buttercream Frosting
8) Frost the cake
Frost the cake by first applying a
crumb coat
to both layers separately and place them in the refrigerator for about 20 minutes so the frosting hardens. This extremely thin, cold, hard layer of base frosting will provide a good foundation for the rest of your frosting and ensure that no cake crumbs get caught up into it. Apply the rest of your frosting and sprinkle the toasted shredded coconut on top. The cake can be stored in a covered container at room temperature for about 1 week or in a freezer bag in the freezer for up to 6 months. Makes two layers of an 8 inch round Vegan Toasted Coconut Cake.