Sugar Mama's Gluten-free Vegan Vanilla Cake

sugarmamabakeshop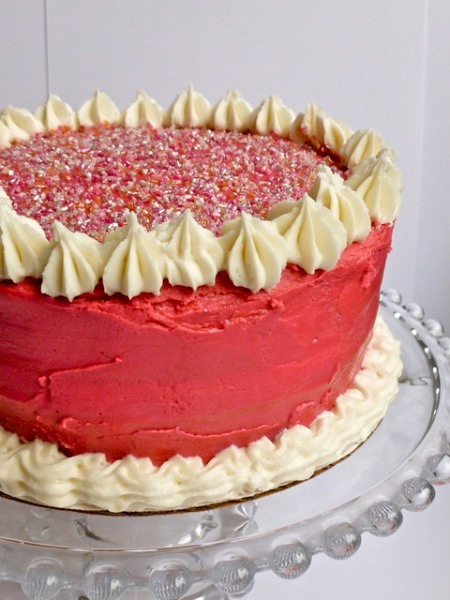 Let me just say, I'm a vanilla girl. Don't get me wrong, chocolate is great! But when I had to give up gluten & dairy I really just missed good old vanilla cupcakes. I tried a lot of recipes but they were too dry or too grainy or too plain or too... well, gross. So I got to work! It took me awhile to perfect but I'm SO proud of this Gluten-free Vegan Vanilla Cake recipe and I really think you'll love it. So far I've gotten great feedback from my "taste testers" (most of whom aren't gluten-free OR vegan). Enjoy!
Find more
Gluten-free recipes
on Veganbaking.net
Sugar Mama's Gluten-free Vegan Vanilla Cake Recipe
¾ cup sorghum flour (or organic brown rice flour)
¾ cup tapioca flour
½ cup organic coconut flour
1 cup organic cane sugar (I really love Wholesome Sweeteners. It's fair trade!)
½ teaspoon sea salt
1 teaspoon baking powder
1 teaspoon baking soda
1 teaspoon xanthan gum
½ cup plain coconut milk (or soy, almond, whatever you're into)
1 cup warm water
3 Tablespoon grapeseed oil (or coconut, organic canola, again it's your call)
1 Tablespoon GOOD vanilla (no artificial ok? splurge. I'm serious.)
1 teaspoon lemon juice
¼ cup unsweetened applesauce
1)
Preheat your oven to 375F (191C). Measure the non-dairy milk into a liquid measuring cup & add lemon juice (set aside for now).

2)
Whisk together all dry ingredients.

3)
Add all liquid ingredients to the dry ingredients and mix with electric mixer until smooth.

4)
Fill the cupcake wrappers or greased cake pans.

5)
Bake the cupcakes for 15-20 minutes or cake for 30ish minutes. When the cake is ready it will be light brown on top and spring back when you press it lightly. Sugarmama's Gluten-free Vegan Vanilla Cake makes 12 to 14 cupcakes, two 7inch round cakes or one 9 inch cake.
User reviews

This email address is being protected from spambots. You need JavaScript enabled to view it.
Top 500 Reviewer
View all my reviews (1)
Enjoy the recipe - 5th time
This is my fifth time making the cake for my gluten and dairy free daughter. We enjoy your great recipe.
Was this review helpful to you?

Sarah
Love them!
I am making these for my son's first birthday. I have already made a test batch and all my taste testers love them! My older son has a handful of severe food allergies and I try to use flours that aren't rice. These are perfect! Putting some "buttercream" frosting on them. Thank you.
Was this review helpful to you?

Carol
Out of this World!!!
I replaced the first two ingredients with Erika's Gluten Free Flour mix. I made a vegan frosting
With one cup Spectrum shortening, one cup powdered sugar, 1/8 cup non dairy milk and 2 tablespoons vanilla and a pinch of salt. I also topped them Enjoy Life mini chocolate chips.
I made cupcakes.
They were the most delicious cakes I have ever made!!!
They were to die for!!!
Was this review helpful to you?

BattyCake
Top 500 Reviewer
View all my reviews (1)
Amazing!
This is such an amazing recipe, thank you! I made a few substitutions and adapted it to create a pumpkin spice version with vegan maple frosting. It's so delicious! I linked back to your page of course. All the best :)

http://www.battycake.com/?p=276
Was this review helpful to you?

Khadija
Question
I'm wanting to make these vanilla cupcakes but it calls for apple sauce. I can't use any fruit due to cross pollen allergies. What would you suggest for a good substitute? More coconut milk? Thanks.
Was this review helpful to you?

Fruitbat77
Top 500 Reviewer
View all my reviews (1)
Question
Hi,
This cake looks amazing and not too tricky, I am thinking of it for my wedding cake next year, but I just wanted to check something. I can't get tapioca flour - is this the same as starch and if so could I use arrowroot instead?
Please reply
Kind Regards
Nikki
Was this review helpful to you?
This is now my base recipe for all kinds of cakes!
I can't tell you how many times I've made this cake in the last few years (following the ingredients and instructions exactly), and it comes out amazing every time. And it got me started thinking a little creatively, too--could I make a coffee cake with this recipe by topping it with a brown sugar/cinnamon mix before baking? Yup! Hmmm, a little tweaking with the flavorings and maybe it could be a lemon cake? Right again! How about coconut? Yes--awesome. And today's variation is pineapple upside down cake, which I'm sure will be lovely as well. My comments: do NOT mess with the flours or liquid amounts, but DO play around with the extract and liquid flavorings, and you can have tons of fun with this recipe. I thank you from the bottom of my vegan heart for sharing this recipe, and my celiac husband thanks you, too!
Was this review helpful to you?
I got a Question
So this cake is Awesome dont get my wrong
but how do i make Dairy and egg free Icing for the cake
can u make one or link me a recipe for that you like
Was this review helpful to you?

Canada cook
very good
This turned out great. I followed all the instructions exactly and it turned out perfectly. I am not gluten-free but my son is. the only reason I gave it 4 stars, is because it still states slightly gluten free to me, but it's very close to gluten-full baking. My son totally loved it!!!!
Was this review helpful to you?
Definitely will make it for Easter, great recipe, but how to make the red frosting?
Was this review helpful to you?

Dorton
Cake Time
I doubled the recipe and did two 9 inch pans. It's been in the oven at 375 for 40 minutes and not done yet. So definitely more than 30 minutes in this case. Haven't tasted the finished product yet obviously so not rating at the moment.
Was this review helpful to you?

Phoebe
Amazing!
This cake surprised me! I was nervous baking my first GF Vegan cake (somehow for my non-gf or vegan family...) and was afraid it would turn out with the gritty texture so many gf baked goods have. However this cake is amazingly moist and fluffy! Even the most hardcore meat and gluten supporter of the group gave it a rave review! This recipe will be my new go-to! Thank you so much!!
Was this review helpful to you?

caitlin_kiss
Top 500 Reviewer
View all my reviews (1)
Cups? =S
Hi there!! Was so glad to find a recipe for a gluten-free vegan cake as my mummy has recently discovered that she can't have gluten, dairy or eggs :( and I really wanted her to have a yummy birthday cake despite this! So I managed (with difficulty) to source all the ingredients and cake came out ok (although had to add more liquid as batter was too doughy for my little arm to whisk - no electric whisker!). It's tasty, moist but not a very cake-like texture, slightly more bready or like a fruit loaf texture. BUT can't complain as she was just delighted to have a birthday cake as she didn't think she would have one :D

However, I do not think the texture was the fault of the recipe as I think I may have used the wrong conversion for ingredients listed in 'cups' but correct for measurements listed in 'tsp' and 'tbsp', therefore creating the wrong balance!! I used a great conversion website but assumed these were US Cups, as opposed to Metric Cups....was this wrong?? Any chance you could list the recipe in grams/ounces and mls for me pretty-please? :D
Was this review helpful to you?

JAckie
How can I make cake come out Fluffy???
Hello,
Thanks so much for the recipe, but how can I make it a little sweeter and fluffier?
Thanks
Was this review helpful to you?

ResourceQueen4U
Top 500 Reviewer
View all my reviews (1)
RE: Baking Powder Substitute
This may be too late for the original poster but Hain Baking Powder is corn free, I believe. I have used it in the past for a corn free, gluten free, dairy free, egg free cake. I made the same cake with Frontier brand baking powder (contains corn) and I could not tell a noticeable difference.

As for the cake recipe itself, I had some struggles with it. This mixture was so thick, it was impossible to pour into cake pans. I had to add much more liquid for some reason. It tasted really good the day of but by the next day, it wasn't as tasty. I think it is a solid recipe though and will be working with it more!

Was this review helpful to you?
(Updated: September 10, 2013)

MamaChrissy
Top 500 Reviewer
View all my reviews (1)
Baking Powder Substitute?
Do you have any idea if this could be made without baking powder? Or if there is something you could substitute for it? I am making a birthday cake this weekend for a severely allergic little boy (no gluten, dairy, eggs, nuts, soy or corn) and I can't use baking powder due to the cornstarch. Right now I'm just glad I found an organic powder sugar that used tapioca starch instead of cornstarch, but I still need to either find an acceptable baking powder substitute, or find a recipe that doesn't need it.
Was this review helpful to you?

Courtney
I'm glad I've stumbled on to this post. I need to make a gluten free/vegan cake for my daughter's birthday party since some of the guest attending fall into those categories, and I want everyone to be able to enjoy cake! I'm an experienced baker, but I'm not used to baking gluten free. I recently purchased a bag of Bob's Red Mill Gluten Free Flour mix....can I sub it for the other flours listed? Have you had any experience with this product? I can get the other flours listed, but figured I'd use what I have if you think it'll swap out okay. Thanks!! :)
Was this review helpful to you?

Cait
AH-MAY-ZING.
So my grandfather died last week and I really, really, really wanted to make a cake that I could take to the get-together after the funeral because 1) cake is damn comforting and 2) I am SICK of NEVER being able to eat dessert at these type of family gatherings. I wanted a big, fat piece of delicious vanilla cake slathered with thick, creamy frosting, and I wanted my whole omnivore family to rant and rave over it and never even suspect that it was vegan AND gluten-free.

So I made this recipe but with a few tweaks for what I hand in the house: I used potato instead of tapioca starch, I milled coconut flakes in the blender to make "flour," and I used ground flax instead of xanthan gum. That first cake tasted great, but the top half came out horribly mushy and undercooked despite the edges being about to burn.

I needed a few things for the icing (more on that in a sec) so I decided to get "actual" coconut flour and some tapioca starch. Store-bought coconut flour is a MUCH more powdery consistency than anything I could make at home and it was incredibly more absorbent. The first batch of batter was quite thin and soupy, the second time it was thick like REAL cake batter! The ONLY thing I didn't do to the letter the second time was the xanthan- I read somewhere once that flax can usually be used in place of xanthan and this cake turned absolutely perfect. I doubled the recipe and made a layer cake with strawberry filling and coconut icing.

Guys. Follow the recipe. Just do what the nice lady says. Go out and hunt down some coconut flour or order it from Bob's Red Mill. Use tapioca starch, not potato or corn. I used brown rice flour but if she says you can use sorghum then I'm sure you could!

I used almost 1.5 batches of this frosting to adequately cover the cake: http://www.chow.com/recipes/10856-vegan-fluffy-buttercream-frosting

HOLY SMOKES THIS ICING IS GOOD! I used Earth Balance shortening sticks and coconut oil. Omnomnom. This cake isn't winning any nutritional awards but this cake recipe with this icing recipe satisfied my insatiable, longtime craving for store bought birthday cakes. It was amazing!!!!!

Thank you, Sugar Mama, this recipe is the BOMB DIGGITY! The BEST gluten-free vegan cake recipe ON THE WHOLE INTERNET
Was this review helpful to you?

GlobalHeart
Top 500 Reviewer
View all my reviews (1)
I need help as soon as possible...making this cake
Hello! I am going to make this cake but I want to add 12 ounces of thawed strawberries chopped up into the batter. Am I going to need to make adjustments to the recipe? If so, what kind of adjustments? Also, I would like to reduce the sugar slightly (to 3/4 or 2/3 of a cup) would the strawberries add the moisture needed that the sugar gives so it will allow me to reduce the sugar without compromising the moisture of the cake? I know gluten free baking is tricky and it can be very dry when you reduce the sugar. Please help!!! Oh and just to let you know I plan on making a vegan strawberry cream cheese frosting that is low sugar and delicious to cover this cake in! It's for a birthday party!
Was this review helpful to you?

Melissak
Top 1000 Reviewer
View all my reviews (1)
Curious about the icing recipe. I'm working on a birthday cake for my mother who is gluten free and sugar free. I figure for the cake I can use stevia instead, but was unsure about what to do for icing.
Was this review helpful to you?

Laura
Great texture
I'm so happy I stumbled on to this recipe! I'm gluten free, and I'm going to be attending an event hosted by a couple of vegans. This recipe fit the bill for dessert! I made two versions of the cake - as written, and with agave syrup instead of sugar. The agave version is denser and darker (almost molasses-y), but still very tasty. I used 1/2 c. of agave syrup and reduced the water to 2/3 c. I love that the cake isn't grainy, and doesn't taste "gluten-free". I'm going to experiment with a couple difference starches and see what the results are like. I might try potato starch in place of some of the tapioca.
Was this review helpful to you?

dottiered
Top 1000 Reviewer
View all my reviews (1)
Question about tapioca flour
I want to make this for my daughter's birthday (her request) and when I went to buy ingredients I wasn't able to find tapioca flour...are there any substitutions? Thanks for the help...excited to try it out!
Was this review helpful to you?
Excellent!
My husband is 100% gluten-free and we're also long time vegans. Add to that his multitude of food allergies/sensitivities and the inability to have ANY salt in anything, and making a birthday cake for him is, well, challenging.

This recipe started with most things that he could have. I did substitute a few things: vinegar for lemon juice; flour-- 1/3 sorghum, 1/3 almond meal and 1/3 sweet rice; guar gum instead of xanthan to avoid corn and I used coconut oil-- oh, and I used canned coconut milk instead of the other type that has all the other ingredients that he can't have-- like salt.

It was really good and even the non-gluten-free people gulped it down and asked for more.

For a frosting, I powdered natural sugar, added some coconut oil and a splash of coconut milk (the canned stuff). It was really good! If I'd had some maple syrup, I'd have substituted it.

He had a great birthday yesterday and thanks largely to this recipe. Thanks!
Was this review helpful to you?

Tabatha
Flat and gummy?
I made this cake today and followed the recipe exactly (except for white rice flour instead of brown). It cooked beautifully but fell very flat as it cooled. The texture is gummy. Any ideas? I noticed the recipe has no eggs?
Was this review helpful to you?

Alex
Oh, I can't wait to make this cake. I'm missing the coconut flour. But I'll just have to go out and buy some.
I was wondering if you could convert this into a chocolate cake? I've only recently gone gluten free, and until then had my very favourite vegan chocolate cake that I used as a base for anything - cupcakes, layered cakes, you name it. So I'm still learning about the different flours in gluten free baking, but Im thinking 1/2 cup of cocoa powder shouldn't affect the consistency too much, right?
Was this review helpful to you?

Erin S
Amazing Cake!
I tried this cake last weekend and it was amazing! I can't tolerate a lot of oil so this recipe is perfect in my books because I could eat a nice big piece and not feel sick after. It reminded me of the gluten and dairy filled cake my mom use to make on our birthdays when I was a kid :)
Was this review helpful to you?

Jenni
This looks great! Im thinking of making it for a potluck coming up... However I am wondering if I could use quinoa or millet flour in place of the sorghum? I'm also wondering if you have ever done a chocolate icing? Im trying to decide what to do for an icing... would a fruit sauce go nice with it? I can't choose! haha
Was this review helpful to you?

Jessica
Coconut flour?
I was wondering if there is anything I can use to replace the coconut flour? It is quite expensive and I rarely, if ever, use recipes that already call for it. Thank you! :)
Was this review helpful to you?

ww
Sub. Coconut Flour?
Hello! I'm researching birthday cake recipes and wondered if the coconut flour could be substituted with arrowroot? My kiddos can't do coconut. Thanks! Looks like a fantastic recipe!
Was this review helpful to you?

Sas
Oh dear!
Hi
I tried this recipe with a commercial gluten free flour mix and I'm afraid it was a dismal failure! The taste was nice but the texture was very dense - no sign of a crumb at all. Do you think there is something in the combination of flours that you use that causes a better texture?
Was this review helpful to you?
View all user reviews