Vegan Double Chocolate Cake

Mattie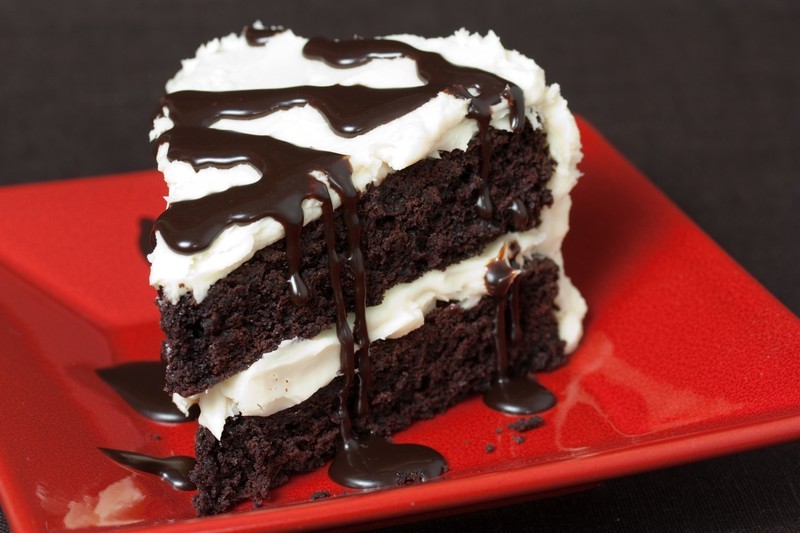 This Vegan Double Chocolate cake recipe has been specifically designed to deliver maximum chocolate flavor. It utilizes cocoa powder, semi-sweet chocolate and espresso for maximum flavor depth. Some of the flour is offset by cocoa powder, which would normally reduce the overall gluten content of the cake, making it crumbly. Using bread flour which has a higher than normal amount of gluten brings things back in balance, allowing us to pack this vegan cake with as much deep, complex chocolate flavor as possible. Pictured with Rich White Chocolate Frosting and
Vegan Double Chocolate Sauce
.
Find more
Chocolate recipes
on Veganbaking.net
Vegan Double Chocolate Cake Recipe
½ cup + 2 Tablespoon non-diary milk
½ cup + 2 Tablespoon sugar
1/3 cup cocoa powder, non-Dutched, sifted
1 oz semi-sweet chocolate
3 Tablespoons
Regular Vegan Butter
or margarine, melted
½ teaspoon instant espresso powder
⅛ teaspoon salt
1 Tablespoon
golden flax meal
1 teaspoon vanilla extract
¾ cup bread flour
¾ teaspoon baking soda
1 teaspoon baking powder
1) Prepare your oven and cake pan
Preheat your oven to 350F (177C). Lightly coat a 8 inch round cake pan with canola oil and dust it with flour, making sure to shake off any excess.
2) Whisk the flavor building ingredients over heat
In a medium saucepan add the non-dairy milk, sugar, cocoa powder, semi-sweet chocolate, vegan butter, espresso powder and salt. Whisk constantly over medium heat until the sugar is dissolved. Remove from heat and whisk in the flax meal and vanilla extract.
3) Whisk together the dry ingredients
In a large mixing bowl whisk together the bread flour, baking soda and baking powder.
4) Build the cake batter
Now add the wet ingredients to the dry ingredients and briefly whisk together for one minute. This step is critical because unlike most other cakes, this recipe relies on the gluten being more activated in order to facilitate rising and optimal texture.
5) Bake the vegan chocolate cake to perfection
Pour mixture into the cake pan. To eliminate air bubbles, lift the cake pan about 2 inches off the counter and drop it onto the counter a couple times. Bake for 20 to 25 minutes or until an inserted toothpick comes out clean. If you want this cake extra moist bake it until the toothpick barely has crumbs on it. Cool for about an hour then transfer to a cake rack to cool completely before frosting. Makes one 8 inch round cake. Double the ingredients if you plan on making a two layered cake. Store the cake in a covered container at room temperature for about 1 week or in a freezer bag in the freezer for up to 6 months. This recipe makes one 8 inch round Vegan Double Chocolate Cake.
User reviews

ChocoholicPhilosopher
Top 10 Reviewer
View all my reviews (7)
This cake was a hit. It was a little bit dry, but I'm pretty sure that was my fault for overbaking it, and not the fault of the recipe. It was deliciously rich and chocolately, and looked great, though I decorated it differently to the recommendations here. I've given it only 4 stars because mine turned out a little dry, but the recipe probably deserves 5 stars, I think I just left it in the oven too long after I checked it the first time.

Some points of interest:
* I used Dutch processed cocoa powder, with some apprehension, because I have kilos of the stuff, and it turned out fine.
* I didn't have bread flour, so I added vital wheat gluten to my plain flour (1 teaspoon per cup), and that worked.

If anyone's interested, I've written up what I did and how I decorated it in more detail on my blog, linked below.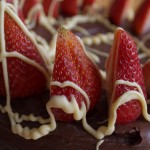 Was this review helpful to you?

Patty
WOW
Another hit! This was the most delicious chocolate cake I have ever eaten. Very moist and rich. You should put out a vegan baking book. :) I actually omitted the butter because I like whole fats instead of oil/butter and it still worked very well. This cake was gone in a matter of minutes. I didn't even have time to frost it.
Was this review helpful to you?
Turned out dry & I don' :S
I just tried making this for some friends. I followed the recipe with painstaking accuracy it came out way too dry. I probably did something wrong but I can't figure out what.

I made sure to use non-dutched cocoa powder to prevent getting the problem Lina had.

I wasn't able to pour the batter into my cake pans it was too thick -- it was more like the vegan brownie batter on this website. Instinctively I knew something was wrong at this point but I sadly dismissed that thought.

I made sure my oven thermometer was accurate beforehand by doing the boiling water test & it was. Also I did double the recipe to make a layered cake, so I think my multiplication below is correct:

1 cup + 2 Tbps
1 cup + 1/4 cup + 2 Tbps
2/3 cup
2 oz
1/4 cup + 2 Tbps
1 tsp

2 Tbps
2 tsp

1 + 1/2 cup
2 tsp
1 tsp

I also baked the layers on the middle rack in the over & moved them around half-way through baking. At 20 min bake time, a toothpick in cake out with batter, so I only cooked them 5 min more & the toothpick came out clean by this point.

I made sure to use stainless steel cake pans that aren't dark or non-stick, since I've had tons of problems with dark/non-stick bakeware burning/overbaking everything.

I'm at a loss :'( Any ideas? I really want to get this one down because it looks like da bomb!
Was this review helpful to you?

Lina
I have it out of the oven and it looks so thin. Do you make two 8 inch rounds to make it look like on the picture? Cause it won't be possible to cut that in half at all, its way too thin. Not sure how it tastes like yet, just finished making the frosting, I subbed cocoa butter with coconut oil, I really hope it works out.
Was this review helpful to you?

jacqui
yum!
I made this cake for a non-vegan friend for her birthday. She LOVED it!
It was moist and delish!
I made a layer cake with white buttercream frosting...it was perfect!
Thanks for the great recipe!
Was this review helpful to you?