Vegan Chocolate Cake

G.Vongola666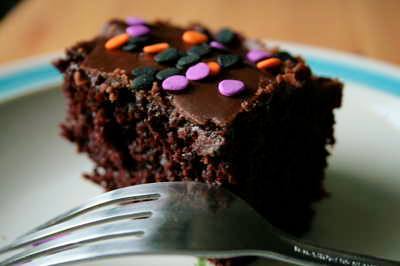 Ok so I found this Vegan Chocolate Cake recipe and it was a HUGE hit with my family and friends. It was quite easy to make as well! I've never really been a cake person, in fact I detest the stuff for the most part; but this cake made even me nod in approval. The blend of coffee that I put in the recipe adds to the chocolaty goodness and taste. It's very moist as well. There is a glaze that goes with the cake, but I personally never use it. I think the cake is just fine alone. However, I will add the directions for the glaze in case you guys want to try it.... Enjoy!
Find more
Chocolate recipes
on Veganbaking.net
Vegan Chocolate Cake Recipe
For the cake
1 ¼ cup all-purpose flour
1 cup sugar
⅓ cup cocoa powder
1 teaspoon baking soda
½ teaspoon salt
1 cup warm water (you may substitute this for coffee)
1 teaspoon vanilla extract
⅓ cup vegetable oil
1 teaspoon white or apple cider vinegar
For the glaze
½ cup sugar
4 Tablespoons margarine or vegan butter substitute
2 Tablespoons soy milk
2 Tablespoons cocoa powder
2 teaspoons vanilla extract
1) Prepare the Cake
Preheat oven to 350F (177C). In an 8 x 8 inch square pan, mix the flour, sugar, cocoa powder, baking soda and salt with a fork. Add the water or coffee, vanilla extract, vegetable oil and vinegar. Mix the ingredients together. Bake for 30 minutes. Cool on a cooling rack.
2) Prepare the Glaze
In a small saucepan bring the sugar, margarine, soy milk and cocoa powder to a boil, stirring frequently. Simmer for 2 minutes, remove from heat and stir an additional 5 minutes. Stir in the vanilla extract.
3) Glaze the Cake
Pour the glaze onto cake and let it cool for one hour. This recipe makes 1, 8 x 8 inch square Vegan Chocolate Cake.