Vegan Chocolate Cake

G.Vongola666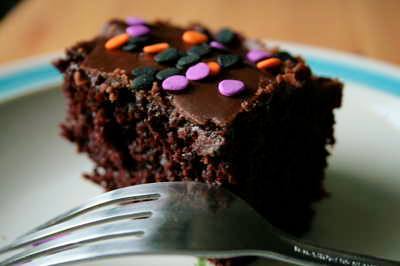 Ok so I found this Vegan Chocolate Cake recipe and it was a HUGE hit with my family and friends. It was quite easy to make as well! I've never really been a cake person, in fact I detest the stuff for the most part; but this cake made even me nod in approval. The blend of coffee that I put in the recipe adds to the chocolaty goodness and taste. It's very moist as well. There is a glaze that goes with the cake, but I personally never use it. I think the cake is just fine alone. However, I will add the directions for the glaze in case you guys want to try it.... Enjoy!
Find more
Chocolate recipes
on Veganbaking.net
Vegan Chocolate Cake Recipe
For the cake
1 ¼ cup all-purpose flour
1 cup sugar
⅓ cup cocoa powder
1 teaspoon baking soda
½ teaspoon salt
1 cup warm water (you may substitute this for coffee)
1 teaspoon vanilla extract
⅓ cup vegetable oil
1 teaspoon white or apple cider vinegar
For the glaze
½ cup sugar
4 Tablespoons margarine or vegan butter substitute
2 Tablespoons soy milk
2 Tablespoons cocoa powder
2 teaspoons vanilla extract
1) Prepare the Cake
Preheat oven to 350F (177C). In an 8 x 8 inch square pan, mix the flour, sugar, cocoa powder, baking soda and salt with a fork. Add the water or coffee, vanilla extract, vegetable oil and vinegar. Mix the ingredients together. Bake for 30 minutes. Cool on a cooling rack.
2) Prepare the Glaze
In a small saucepan bring the sugar, margarine, soy milk and cocoa powder to a boil, stirring frequently. Simmer for 2 minutes, remove from heat and stir an additional 5 minutes. Stir in the vanilla extract.
3) Glaze the Cake
Pour the glaze onto cake and let it cool for one hour. This recipe makes 1, 8 x 8 inch square Vegan Chocolate Cake.
User reviews

Kendall
I was running low on sugar, so a few teaspoons of sugar, and a fourth and an eight cup of honey did the trick!
Was this review helpful to you?

Cait
Do I need to spray the pan with nonstick spray or line it with parchment paper?
Was this review helpful to you?

Lindsay
Best vegan cake recipe
I made this cake today and everything came out to perfection! The cake was so fluffy and light. The glaze was the right amount of sweet! I made two batches of the glaze because I love a lot of that on my cake, and it was just great. I can use this recipe at ease knowing that I can leave it in for exactly half an hour and for it to come out perfect. Very simple, delicious, and easy to make. I'll never buy boxed mixes again knowing I have this recipe bookmarked
Was this review helpful to you?

Lin
Deliciously perfect
Thank you for sharing this recipe. It came out moist and with great texture. Easy and cheap! I am addicted to chocolate cake so my husband prohibited me from making it more than twice a month. He says I eat too much sugar, but it's great to know that this one will come out just right every time.
Was this review helpful to you?
Very moist
This recipe is so moist and easy to make. It's my new go to chocolate cake! Thanks for the recipe.
Was this review helpful to you?
Beyond YUM!
Super straightforward recipe, with the most delicious result!
Can't believe how soft and fluffy it came out - and yep, can't belieeeeeve it's vegan.

BAKE IT!
Was this review helpful to you?

Sharon
Yum
Made this for a vegan friend when she just had her baby. It's delicious. Great recipe
Was this review helpful to you?

sue warner
I cannot believe this is vegan!
I had one of my chocolate pangs again- the one that you dream of a regular chocolate cake with a creamy frosting? After breakfast i jumped on computer and googled vegan baking- and wella- here i was looking at a nice hunk of chocolate cake and thought what the heck lets try it again... It looked normal- it smelled terrific- and after buttercream frosting recipe you have- it was the BEST-NORMAL-NOT DENSE- LIGHT FLUFFY CAKE! It even fooled my grown sons!
Thank you for the best chocolate cake recipe ever - vegan or non-vegan!!!
Was this review helpful to you?

Shayna
This recipe was insanely good! It was my first try at a vegan cake or any cake, and I needed it for a school project. I can't wait to bring it to school.
Was this review helpful to you?
Unfortunate
The frosting tasted good, but unfortunately, it had a horrendous texture. Maybe because of the vinegar? It looked nothing like the picture, but rather was a curdled concoction reminiscent of very fine scrambled tofu. I only made half of the recipe, so perhaps that was a factor... sad :(
Was this review helpful to you?

Sarah
Quantities
I can not see the quantities for the coca and the oil. It shows a picture of a square and then it just says cup. Can anyone help me with what these quantities are? I really would like to bake this cake.

Was this review helpful to you?

Lynnette
Top 500 Reviewer
View all my reviews (1)
Chocolate Cake Perfection
Just a perfect cake! The glaze easy and fun to make!
Was this review helpful to you?

Carlota
Delicious cake! I made it with organic ingredients, whole flour and sugar and best cacao powder.
Excellent!
Was this review helpful to you?

Martje
So easy and yummie
I am in Sri Lanka in a hostel at the moment, so i needed an easy recipe with ingredients that are available in a small village. This one was perfect!!
Was this review helpful to you?

DixieGirl
Top 500 Reviewer
View all my reviews (1)
Sooooo good!
Oh my word...all I can say is that this cake is purely awesome. This is the best cake I've EVER ate, vegan or not. We have recently turned vegan for health purposes. Today is Thanksgiving, and for our desert we'd normally have my sister in law's delicious chocolate pecan cake. Well, we can't have that anymore, but I wanted to make some kind of treat for me, my husband, and our kids, as we're the only ones in the family that eat like this. For years her cake has set the standard for all cakes. Today, we found a new standard! This blew that cake out of the water! Everyone loved it! So moist and delicious. The glaze is AMAZING! This is my new favorite cake. Thank you so much for sharing!
Was this review helpful to you?

kim
My "go-to" Chocolate Cake
This is a great chocolate cake recipe. I am not Vegan, but my daughter is, so when she wants a desert, we double the recipe, put it into two 8 inch layer pans, and frost it 2 different ways. We sometimes even split the layers for more frosting. I have one in the oven now for Thanksgiving tomorrow. Thanks for the recipe..it's definitely a keeper in this house.
Was this review helpful to you?

Amanda
@Ruth - cup conversion
Hi Ruth from Ireland,

Depending on what you are measuring, a cup is roughly 250 mL. This website may help you as well. Happy baking!

http://allrecipes.com/howto/cup-to-gram-conversions/
Was this review helpful to you?

Roxana
I have done this cake several times already (first time as my birthday cake). As I have an intolerance to wheat flour, I used GF flours (buckwheat, chestnut flour) and it turned out fantastic! Of course I added a little bit of xantham gum and a little bit of tapioca (for the consistency) and I also do more of the glaze (aprox. one extra spoon of milk, margarine, etc.) Ah, and I add some roasted pecan nuts on top. Yummi!!!!
Was this review helpful to you?

Ruth
Silly question...
This may be a silly question but how much is a cup?
I am writing from Ireland and am a novice baker so need measurements I can understand.
Thanks.
Was this review helpful to you?

Jodie
Don't know what all the fuss is about
I've made this cake 2 times now, once with coconut oil and once with coconut butter. I couldn't tell the difference either way. While it's certainly a vegan cake, and I'm pleased with that, I'm not sure what all the fuss is about. I found it to be average at best. I'll fiddle with the recipe and hopefully end up with something outstanding! :)
Was this review helpful to you?

Nicole
This is my GO TO vegan chocolate cake recipe
This is by far, the #1 best chocolate cake recipe I have ever made or eating - vegan OR non-vegan! It has been approved by my sweets-loving and non-vegan husband and step-father, and they both agree that it is the best chocolate cake they have ever had. I've tried a few variations of it - like replacing coffee with Kahlua (yum!), and replacing the oil with applesauce or coconut oil, and everything seems to work beautifully. I can't thank you enough for posting it!
Was this review helpful to you?

JustineDi
Top 50 Reviewer
View all my reviews (3)
I just made this cake. I had a similar problem to someone who had written before me, that was that had I put in the whole liquid part, it would've been just soup. So I used a bit less coffe. But it just was not great for me. It doesn't taste bad but I'm just not loving it.
Was this review helpful to you?

Cakebaker
Top 500 Reviewer
View all my reviews (1)
Delicious.
I am not vegan but was asked to do a cake by a friend who is, I have started to really enjoy baking vegan style, and find that most if not all recipes i try turn out super, and yummier.
This chocolate cake is great.
I doubled the recipe for a larger cake and did a bit of tweaking, about 1/2 cup less sugar and omitted one of the cups of water for soy milk.
I bake all my cakes on a low setting so it took quite a while to bake, but once cooled was perfect and moist.

Was this review helpful to you?

Caitlin
I just made this for my mum - It's her birthday today. She's not Vegan but I am, hope this wins her over as she isn't sure about veggie food. It's currently cooling but the batter tasted amazing.
Was this review helpful to you?

Amanda77
Top 500 Reviewer
View all my reviews (1)
Loved this!
This was a great recipe. Very moist and perfect for cupcakes.
Was this review helpful to you?

Terence
The cake was very good. I was not sure if I would like it, but it moist. I did make a change to the amount of sugar used. I used 3/4 cup of sugar rather than 1 cup of sugar and it was perfect. I felt that 1 cup of sugar was too much.
Was this review helpful to you?

Sharada
Irresistible !!!
My first chocolate cake ever and I was lucky to get my hands on this recipe. It came out exactly as promised and tasted out of the world!
Accidentally I added more chocolate and then realized and substituted with more sugar, so it came out very chocolatey and with enhanced taste. So now I use 1/2 cup cocoa powder and 1 1/4 cup sugar each time :)
The glaze was tricky as I could not get Vegan butter (or margarine), so added some chocolate sauce instead.
The only part that I hate is the wait time of 2 hours for it to cool down, but it is all worth it !!!
Was this review helpful to you?

mel
I tried cooking this with double the ingredients of everything. when I was mixing the liquids into the flour mixture it was just way too much liquid. I ended up using a bit over half the liquid mixture and the batter was REALLY liquidy. Its in the oven now so I'll let you know how it turns out. If I had put all the liquid it would have literally been soup. Fingers crossed.
Was this review helpful to you?

Amanda
Surprisingly Good Basic Chocolate Cake
I was a litte worried that the quantity of flour seemed a bit low for the volume of wet ingredients but was very pleasantly surprised that it turned out absolutely beautiful. It was moist and delicious and not crumbly.

It's not a large mixture so if you want a tall cake you will want to upsize the recipe by 1.5 - 2 times the quantities (and obviously cook for a bit longer).
Was this review helpful to you?

juju
Since sharing this recipe ..it has been modified with vegan choc chips. & coconut to name a few options. I cut back on the oil by half and its still very moist!
Was this review helpful to you?
View all user reviews