Vegan Banana Walnut Cake

Mattie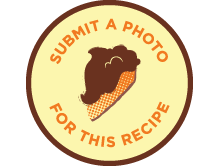 This Vegan Banana Walnut Cake recipe is a staple birthday cake in my family. Nutmeg, walnuts, and a touch of vanilla extract really brings out the banana. It pairs perfectly with Chocolate Frosting or Ganache.
Vegan Banana Walnut Cake Recipe
½ cup + 2 Tablespoons non-dairy milk
1 teaspoon apple cider vinegar

2 Tablespoons vegetable oil
½ cup banana purée (about 1 ½ – 2 bananas)
½ cup + 2 Tablespoons sugar
2 teaspoons vanilla extract
½ teaspoon salt
¼ teaspoon nutmeg

1 ¼ cup all-purpose flour
1 ½ teaspoons non-aluminum baking powder
½ teaspoon baking soda

¼ cup chopped walnuts (optional)
1) Curdle the non-dairy milk
Preheat your oven to 350F (177C). In a small bowl, add the non-dairy milk, apple cider vinegar and whisk together. Set aside for at least 5 minutes so the non-dairy milk curdles.
2) Whisk together the flavor building ingredients
In a large bowl, whisk together vegetable oil, banana purée, sugar, vanilla extract, salt and nutmeg.
3) Whisk together the dry ingredients
In a separate large bowl, whisk together the all-purpose flour, baking powder and baking soda.
4) Mix the batter
Whisk the non-dairy milk mixture into the bowl containing the wet ingredients. Then mix the wet ingredients into the bowl containing the dry ingredients.
5) Add the walnuts
Stir in the walnuts if using.
6) Bake the vegan cake to perfection
Pour the mixture into a lightly oiled 8 inch round cake pan and bake for about 25 minutes or until an inserted toothpick comes out clean. Store the cake in a covered container at room temperature for about 1 week or in a freezer bag in the freezer for up to 6 months. This recipe makes 1, 8 inch round Vegan Banana Walnut Cake.


User reviews

hanne.vdb
Top 1000 Reviewer
View all my reviews (1)
Delicious and easy !
I am making this for the third time or so. This cake is delicious, with simple ingredients, and fast to make.
Was this review helpful to you?

Sherry
I want to make this for my sister's birthday - just want to confirm I can substitute white vinegar for apple cider vinegar - will that work? Also, can I simply double the recipe to make a two layer cake.
Was this review helpful to you?

Amanda13
Top 500 Reviewer
View all my reviews (1)
My new fav. banana cake recipe!
This is the best vegan banana cake recipe I have found! It is light without being crumbly and just the right amount of moisture and sweetness. I don't often follow recipes to the 'T' but I did with this one and was so impressed I will continue to make without changing a thing. YUM! :)
Was this review helpful to you?

Nicola Andrewes
Great vegan cake
This is a great cake. So often I need to amend vegan online recipes- this one is perfect. Well done.
Was this review helpful to you?

Deea
Best banana bread I've made! I added cranberries and almonds (another 1/4 of a cup), it can take it :)
Was this review helpful to you?
Hi matti,

I'm very new to baking as such & would like to learn so I can bake healthy vegan cakes for my little girl. I'm loving all your recipes & would like to start with this one. Please could you let me know if this cake can be baked as cup cakes?

Thank you
Regards
P
Was this review helpful to you?
So delicious!
I've now made this cake 5 times, and every time it has been a big hit with people!
Every time I made it, I also added just a thin layer of homemade vanilla frosting to the top.
The last time I made it, I used all purpose gluten free flour and a bit of xanthan gum. It was a little more dense, but still equally delicious.

Thanks!
Was this review helpful to you?

Lucy
Hello,

Could you please tell me if the by 1/2 cup plus two tablespoons of milk you mean 1/2cup of water plus two tablespoon of non diary powder milk. Sorry if I sound stupid but I would really like to try the recipe :)
Was this review helpful to you?

Anothercrane
Top 500 Reviewer
View all my reviews (1)
Fantastic!!!
I made a banana cake, which my son was very excited about, then our puppy ate it while the rest of the family was decorating the Christmas tree. I was desperately ISO a cake that used two bananas and whipped this up in no time flat - only to find that it is definitely better than the other one would have been anyway! The crumb is very tender but it is sturdy and the edges have a great texture too. Admittedly, I added chocolate chips. Good thing for my dog that the first cake was chocolate free! We are definitely not giving her the chance to get this one!! Really great recipe and many thanks for saving the day!
Was this review helpful to you?
Yum!
Thank you so much for this recipe! The cake was super easy to make and it was really delicious! My 20 month old daughter loved it too!! I think we will use it for her 2nd birthday in January too!! Thanks again
Was this review helpful to you?

Victoria Sponge
Top 1000 Reviewer
View all my reviews (1)
Great first vegan cake - Highly recommended
I am very new to veganism and this is the very first recipe I've used which doesn't contain dairy and it's great! I was worried that without eggs a cake just wouldn't be a cake, but it works and is delicious! I baked it for an extra ten minutes (35 min in total) as it wasn't done and it came out perfect. I frosted it with chocolate ganache made from 250ml coconut cream, 1x tbsp caster sugar, 1x tbsp cocoa powder, 1x tsp vanilla extract and 200g dark chocolate - melted together in a bain marie. This made enough to ice two cakes so I have frozen half the mixture for next time.
Was this review helpful to you?