Vegan Carrot Cake

Mattie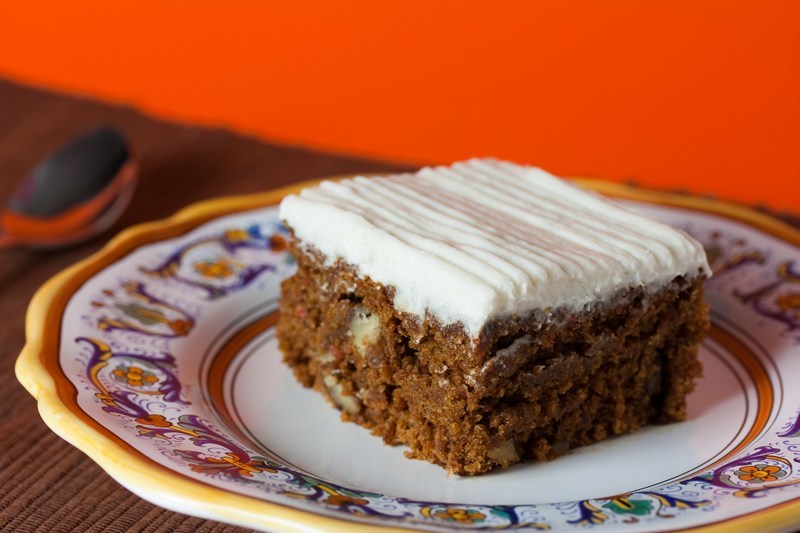 When I was little, I noticed my Mom eating cake. When I asked what kind of cake it was she replied, "you won't like it, it has carrots in it". Later in life I realized that she said that so she could horde the best type of cake in the world all for herself! (Don't think I forgot about that Mom) Just to make sure that doesn't happen again, I designed this vegan carrot cake recipe which features carrot enhancing ingredients such as pineapple, molasses, cinnamon, cardamom with just the right amount of raisins and walnuts for optimal flavor contrast. It's great slathered with
Cream Cheese Frosting
. I also have a
vegan carrot cake recipe
for 8 inch cake pans.
Find more
Birthday recipes
on Veganbaking.net
Vegan Carrot Cake Recipe
2 cups carrot pieces
1 ¾ cups sugar
1 cup pineapple pieces
½ cup
vegetable oil
¼ cup mild molasses
2 teaspoons cinnamon
2 teaspoons nutmeg
2 teaspoons vanilla extract
½ teaspoon cardamom
1 ½ cups whole wheat flour
1 cup all-purpose flour
1 teaspoon non-aluminum baking powder
1 teaspoon baking soda
½ cup raisins
½ cup chopped walnuts
1) Blend the carrots with the other flavor building ingredients
Preheat your oven to 350F (177C). Cut the carrots into 1 inch pieces. Process or blend the carrots, sugar, pineapple, vegetable oil, molasses, cinnamon, nutmeg, vanilla extract and cardamom until coursely mixed.
2) Whisk together the dry ingredients
In a large mixing bowl whisk together the whole wheat flour, all-purpose flour, baking powder and baking soda.
3) Build the cake batter
Add the flour mixture to the mixing bowl containing the wet ingredients and mix until combined. Mix in the raisins and walnuts with a spoon.
4) Bake the vegan carrot cake to perfection
Pour mixture into a lightly oiled 9 x 13 inch square baking dish and bake for about 45 minutes or until an inserted toothpick comes out clean. Store in a covered container at room temperature for about 1 week or in a freezer bag in the freezer for up to 6 months. This recipe makes one 9 x 13 inch Vegan Carrot Cake.