Vegan Carrot Cake

Mattie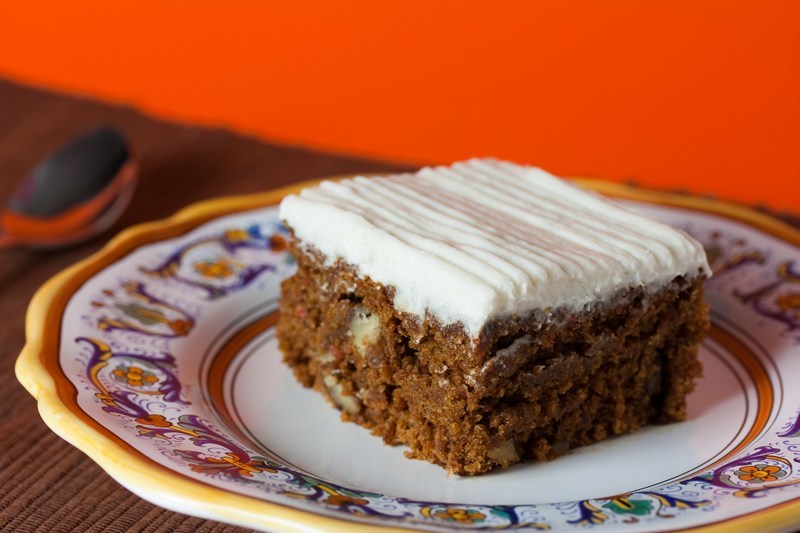 When I was little, I noticed my Mom eating cake. When I asked what kind of cake it was she replied, "you won't like it, it has carrots in it". Later in life I realized that she said that so she could horde the best type of cake in the world all for herself! (Don't think I forgot about that Mom) Just to make sure that doesn't happen again, I designed this vegan carrot cake recipe which features carrot enhancing ingredients such as pineapple, molasses, cinnamon, cardamom with just the right amount of raisins and walnuts for optimal flavor contrast. It's great slathered with
Cream Cheese Frosting
. I also have a
vegan carrot cake recipe
for 8 inch cake pans.
Find more
Birthday recipes
on Veganbaking.net
Vegan Carrot Cake Recipe
2 cups carrot pieces
1 ¾ cups sugar
1 cup pineapple pieces
½ cup
vegetable oil
¼ cup mild molasses
2 teaspoons cinnamon
2 teaspoons nutmeg
2 teaspoons vanilla extract
½ teaspoon cardamom
1 ½ cups whole wheat flour
1 cup all-purpose flour
1 teaspoon non-aluminum baking powder
1 teaspoon baking soda
½ cup raisins
½ cup chopped walnuts
1) Blend the carrots with the other flavor building ingredients
Preheat your oven to 350F (177C). Cut the carrots into 1 inch pieces. Process or blend the carrots, sugar, pineapple, vegetable oil, molasses, cinnamon, nutmeg, vanilla extract and cardamom until coursely mixed.
2) Whisk together the dry ingredients
In a large mixing bowl whisk together the whole wheat flour, all-purpose flour, baking powder and baking soda.
3) Build the cake batter
Add the flour mixture to the mixing bowl containing the wet ingredients and mix until combined. Mix in the raisins and walnuts with a spoon.
4) Bake the vegan carrot cake to perfection
Pour mixture into a lightly oiled 9 x 13 inch square baking dish and bake for about 45 minutes or until an inserted toothpick comes out clean. Store in a covered container at room temperature for about 1 week or in a freezer bag in the freezer for up to 6 months. This recipe makes one 9 x 13 inch Vegan Carrot Cake.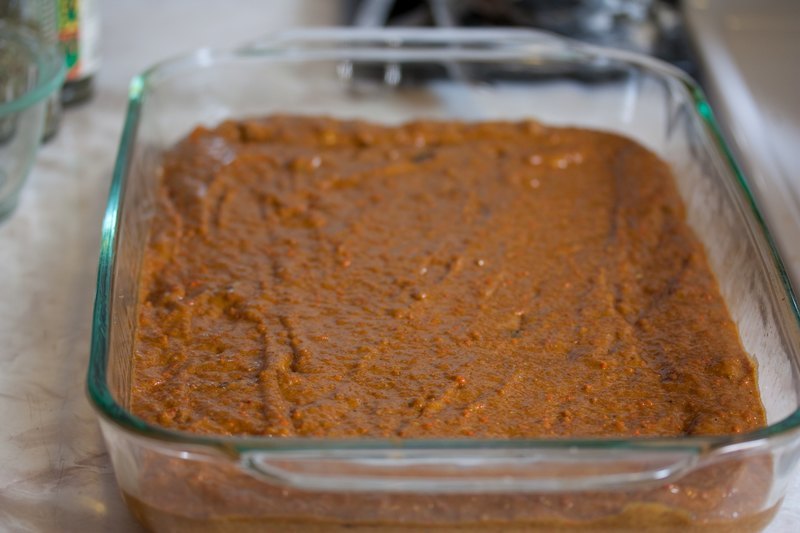 User reviews
Wonderful Recipe
Thanks for sharing such a wonderful recipe and in a simple way.
Was this review helpful to you?

Stephen01
Top 1000 Reviewer
View all my reviews (1)
Amazing Recipe
Thanks for sharing such an amazing recipe.
Was this review helpful to you?
Awesome Recipe
Thanks for sharing such an awesome recipe. https://www.treeremovalraleighpro.com/tree-removal.html
Was this review helpful to you?
Great
Pretty good post and thanks for sharing such a yummy recipe. :) I definitely share it with others.

https://www.deckscoloradosprings.net/
Was this review helpful to you?

vajiya3892
#1 Reviewer
View all my reviews (57)
Wow what a smart way of choosing ingrediants, it looks so tasty
Was this review helpful to you?

David Ing
Was this review helpful to you?

Jaques
I like this. Very palatable.

Was this review helpful to you?

Jaques
Something i'd love to make this weekend.
Was this review helpful to you?

gocubsgirl
Top 500 Reviewer
View all my reviews (1)
Eh, too sweet for my tooth
Made this last night. I'm always looking for a good, healthy yet tasty vegan carrot cake. And I should preface this by saying there's nothing on this page claiming to be healthy - so my other vegan friends might like it better.

The cake batter is very dense and thanks to the heavy spicing, is tasty, but way too sweet for me. Would like to try it again using 1/2 - 2/3 the various sugars in this and maybe swap out the pineapple for bananas for more fluffiness?

The frosting was so heavy with shortening that the mouth feel was just disgusting. And it only barely covered 1/2 the cake at 1/4". I even added another 1/4 cup of sugar, splash more of the flavorings and almond milk, but still nasty. I created a second batch that used 1/2 the shortening asked for and blended the 2 batches together - better, but you lose the stiffness that you see in the photo above.

Still searching for that healthy, tasty, vegan carrot cake.
Was this review helpful to you?

VK
Nut substitutions
We do vegan baking in our family because of food allergies but my kiddo also has a nut allergy. My favorite part of carrot cake is the crunch of the pecans/walnuts but since I can't use nuts, I've found in other baked goods like banana bread, I can get the crunch from flax eggs since the flaxseeds still have a little crunch to them even after being soaked. Is there a way I could incorporate flax eggs into this recipe? Or maybe just throwing in a Tbsp of flax seeds into the batter? I was also thinking I could use coconut flakes but not everyone likes the flavor of coconut so I thought I'd try with flaxseeds first. What do you think? Thank you!
Was this review helpful to you?

Nayana
Made the carrot cake yesterday fir my son's birthday
Amazing amazing cake
Used dark brown sugar instead of molasses and dried cranberries instead on raisins
Worked very well
Was this review helpful to you?
Molasses
Hi Mattie,
I just made this cake last night for my husband's birthday. Carrot cake is his favorite and he's been missing it since we became vegan. The taste is amazing, but I think the molasses I used (wholesome sweeteners) caused it to burn around the edges very quickly. As a result, I took it out too soon and parts were not fully cooked. What kind of molasses would you recommend to avoid this problem?
Was this review helpful to you?
Great Cake
Hi Mattie I tried this recipe and it worked great i used fresh ground spelt and it turned out way better than any other carrot cake i have made. I also used the cream cheese topping you suggested ,I even made the shortening ,i figure that if I am going to make a good healthy home made cake ,I should do it all the way and it turned out great . i understand that the gluten content isnt the same in spelt as it is in other flours ,But my mom prefers to use the spelt or Hard red spring wheat. Thanks for making such a great recipe for me to use Avery Tulak

Was this review helpful to you?

Jamie
Delish!
Just fantastic! I have never made carrot cake before and was thrilled with how it turned out. The whole family loves it. After having made it I went and checked non-vegan recipes and was really shocked how much fat is eliminated in this recipe. Thank you so very much for sharing your talent.
Was this review helpful to you?

Shelley
Oil substitution
Just to update that I tried to substitute the oil with applesauce and it didn't work. Unfortunately came out underdone and rubbery. I may try one more time without the oil ( and just not replacing it with anything), but it's hard to see such a great cake ruined. Marie - your original is still the best!
Was this review helpful to you?

Shelley
Amazing texture, a keeper!
Thank you so very much for this recipe. I love it (as did my husband) and will certainly be making it again. The texture is amazing. It is moist without being stodgy and I appreciate that this recipe has a lot less oil than other carrot cake recipes I've tried and the fact that the pineapple gives moisture and body without a noticeable pineapple flavour.

Now that I've tried it almost as written (I substituted Xylitol for the sugar and Sweet Freedom for the molasses) I plan to make the following substitutions next time around:

1) Put in half or less of the nutmeg (was too strong for me)
2) Try pecans instead of walnuts
3) Grate half the carrots with a fine grater separately. I think I processed them too fine this time around and didn't really notice them at all in the finished cake. I like to SEE the little bits of carrot in the finished cake.

I was also considering trying to reduce the oil even further by substituting either orange juice or applesauce for part of it. Haas this been tried by anyone before and, if so, can you advise / warn about the results?
Was this review helpful to you?

Marnie
I made this cake today - the best carrot cake I've ever had (and I'm spoilt when it comes to cake). The method is unusual and the amount of carrots and pineapple seemed way too much, but it worked out perfectly and made a very moist, flavorful cake. Thank you Mattie!
Was this review helpful to you?
Best of the best
So great!! I'm a big lover of carrot cake and I thought our local health food store's restaurant made the best. I can say that this recipe beat its pants off! It was pretty easy to put together and baked up beautifully. The spices are incredible and the cake is moist. Pair it with the vegan cream cheese frosting linked above and it is absolutely divine. Love it! Thank you!
Was this review helpful to you?

Naomi
Amazing!
Just made this for my mum's birthday! Accidently left out the pineapple, but it still turned out great. Thanks so much for the recipe xx
Was this review helpful to you?

tia
Carrot Cupcakes
Today, I made carrot cake cupcakes. It has been a journey. I don't have many grocery food options in LC. I went on a mad hunt to find cardamom and vegetable shortening. I asked the guy stocking spices if they had cardamom. He said," That sounds very expensive." Well sure enough it was the most expensive one ($17.99) at the local Albertsons. For a split second, I almost splurged. No cardamom in this carrot cake. I did read that cinnamon and nutmeg mixed equal parts is a good substitution. Cardamom as a very distinct amazing flavor. It doesn't even compare. I ended up using a little extra cinnamon and nutmeg.

I did not have molasses, but substituted it for maple agave syrup and used a little less sugar.

Next, vegetable shortening. I was crossing my fingers they would have Earth Balance vegetable shortening. Nope, not at Albertsons. Only Crisco. No thanks. I ended up going to a co-op and purchasing Tofutti vegan cream cheese for the frosting.

My recipe as follows:

8oz Tofutti cream cheese
2 tsp vanilla
1/4 cup Smart Balance butter spread
2 cups confectionery sugar (powder sugar)

The cream cheese frosting is very yummy. I think the vegetable shortening would have made the consistency a lot thicker versus gloppy. I will try next time.


An old friend from the past called tonight. I was making these cupcakes while talking on speaker phone. Therefore, I totally forgot to put the walnuts and raisins in. I knew I forgot something!!!!! Anyways, the carrot cupcakes came out great. I will definitely use this recipe again. I plan on freezing some for an emergency snack!

Happy New Year!
Was this review helpful to you?