Vegan Carrot Cake - Bunny Approved

Mattie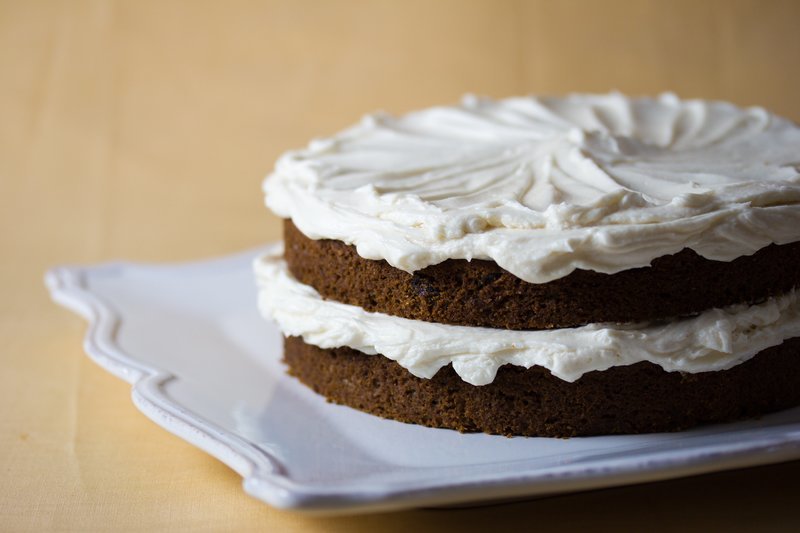 This Vegan Carrot Cake recipe is similar to the one
here
but it's designed for 8 inch cake pans. It's loaded with carrot-forward spices such as pineapple, molasses, cinnamon and cardamom. A touch of raisins and walnuts give this vegan cake a slightly more complex flavor and texture that is sure to please. Try it slathered with
Cream Cheese Frosting
.
Find more
Carrot recipes
on Veganbaking.net
Bunny Approved Vegan Carrot Cake Recipe
2 medium sized carrots (about 5 to 7 ounces)
¼ cup + 2 Tablespoons sugar
½ cup pineapple pieces
¼ cup non-dairy milk
2 Tablespoons unrefined coconut oil
1 Tablespoon + 1 teaspoon mild molasses
1 teaspoon vanilla extract
1 teaspoon cinnamon
1 teaspoon nutmeg
¼ teaspoon cardamom
½ cup whole wheat flour
½ cup all purpose flour
1 teaspoon non-aluminum baking powder
½ teaspoon baking soda
3 Tablespoons raisins
3 Tablespoons chopped walnuts
1) Process your ingredients
Preheat your oven to 350F (177C). Lightly coat a 8 inch round cake pan with canola oil and dust it with flour, making sure to shake off any excess. Cut the carrots into 1 inch pieces. Process or blend the carrots, sugar, pineapple, non-dairy milk, coconut oil, molasses, vanilla extract, cinnamon, nutmeg and cardamom until coarse.
2) Whisk together the dry ingredients
In a large mixing bowl whisk together the whole wheat flour, all purpose flour, baking powder and baking soda.
3) Mix the Vegan Carrot Cake batter
Add wet mixture to the mixing bowl containing the dry ingredients and mix until just combined. Mix in the raisins and walnuts with a spoon.
4) Bake to perfection
Pour the mixture into an 8 inch round cake pan and bake for about 30 minutes or until an inserted toothpick comes out clean.
5) Cut the top of the cake off if necessary
When the cakes have cooled don't forget to cut their tops off to make them flat if necessary.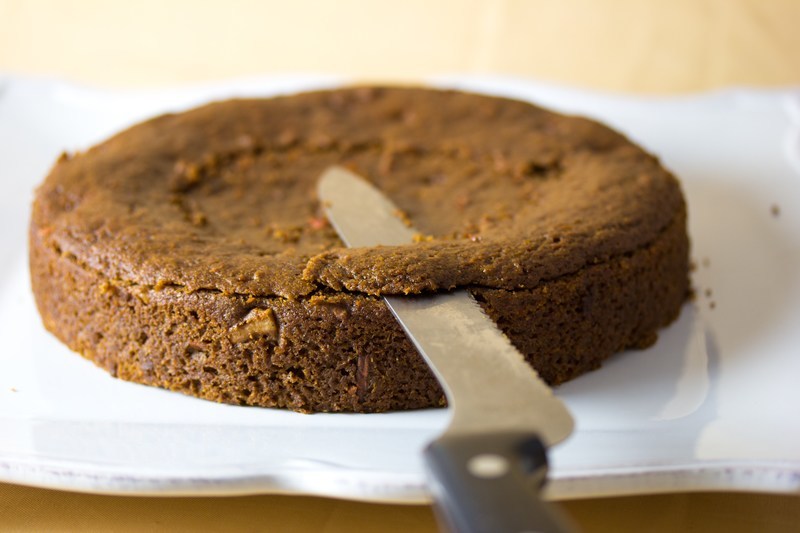 6) Frost the cake
To make frosting easier I recommend applying a crumb coat. This is a thin initial coat of frosting that absorbs the crumbs so the second coat goes on effortlessly and crumbless. After applying a thin, even coat of frosting to the cake place it in the freezer for about 30 minutes. After you remove the cake from the freezer apply the frosting as you normally would.
Store the cake in a covered container at room temperature for about 1 week or in a freezer bag in the freezer for up to 6 months. This recipe makes 1, 8 inch round Bunny Approved Vegan Carrot Cake.
User reviews

Cheyenne
Low Histamine Version?
Hi Mattie!

First of all, I use your recipes often and especially love your PB Chocolate Chip cookies. My mom's birthday is coming up, and I'm looking for a cake to make her. She eats a vegan diet, and has also recently been diagnosed with Histamine Intolerance, so she's now adding a low histamine requirement to her diet. Chocolate is high in histamines, therefore vastly reducing the number of possible cake recipes, so I thought of Carrot Cake - she loves it!

Pineapple and walnuts both are semi-high in histamines. I have never been failed by one of your recipes, and so would love to use this one.. Do you have recommendations for a lower-histamine substitute for the pineapple? Almonds are the only nut, as far as I know, that is low in histamines, and she does love nuts in desserts. Maybe a fruit that would work well with the almonds while still complementing the carrot flavor?

I'd so appreciate your advice!
Thanks!
Was this review helpful to you?
what about the liquids in this recipe?
Hi!
I was going to do this recipe today but I realized there was almost not liquids, only ¼ Tablespoons non-dairy milk?
(is it right or it was ¼ tablespoon of cup?)

and 2 Tablespoons unrefined coconut oil... I thoughIt was not enough, I had just seed another recipe with 2 carrots and 1 cup of water and 1 cup of oil... lol

At the end I invented a bit and the recipe was great, I´ll write it soon!

Thanks for the inspiration :)

Ana
Was this review helpful to you?

Robert Cesaric
This carrot cake came out really tasty (the mentioned frosting recipe was too vinegary for our tastes but had a perfect texture).

The only critique is that it's a heavier cake and not as light/fluffy as I'm accustomed to. I noticed the same thing when i made the pumpkin cupcakes with spiced icing. Is there something I can change to lighten the cake up? I'm at sea level (FL).
Was this review helpful to you?