Vegan Vanilla Cupcakes - Cream Method

Mattie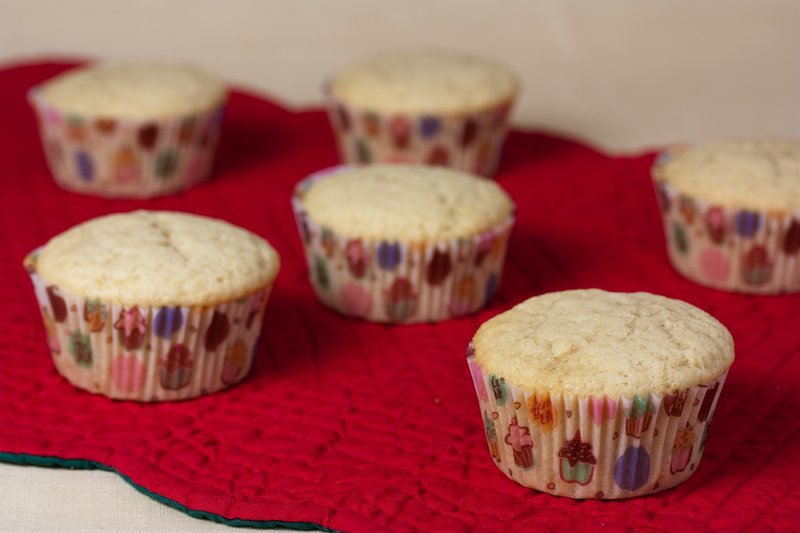 This Vegan Vanilla Cupcake recipe makes soft vegan cupcakes that utilize the cream method which involves beating or creaming Vegan Butter or margarine and sugar together, beating in an egg replacing liquid then mixing in the flour and remaining liquid at alternating stages. This results in a cake that has a more substantial mouth feel and less crumbs partially due to the gluten in the flour becoming more activated from the mixing. This method also provides a more substantial rise that is less inhibited by sugar than cakes made via the quick bread method. This cupcake requires more preparation and is less tender and spongy but more flavorful due to the Vegan Butter or margarine and slightly increased sugar. Use these cupcakes as a base for other flavor variations by switching out some of the flour and/or flavoring extracts. If you're looking for a cupcake that's a little bit more fluffy and less sweet check out the
Vegan Vanilla Cupcakes - Quick Bread Method
.
Find more
Birthday recipes
on Veganbaking.net
Vegan Vanilla Cupcake Recipe
¼ cup + 2 Tablespoons non-dairy milk
1 ½ teaspoons
Egg Replacer Powder
or
golden flax meal
or other egg replacer such as Ener-G-Egg Replacer
1 teaspoon apple cider vinegar
1 ¼ cup + 1 Tablespoon all-purpose flour, sifted
1 teaspoon baking powder
½ teaspoon baking soda
¾ cup sugar
½ cup (108 grams) or 1 stick room temperature
Regular Vegan Butter
or stick margarine
2 teaspoons vanilla extract
¼ teaspoon almond extract
1/8 teaspoon salt
½ cup non-dairy milk
1) Prepare the egg replacer mixture
Preheat your oven to 375F (191C). In a small mixing bowl whisk together the non-dairy milk, Egg Replacer Powder or flax meal and apple cider vinegar until smooth. Allow the mixture to sit for about 10 minutes so the mixture thickens slightly.
2) Whisk together the dry ingredients
In a medium mixing bowl, whisk together the sifted all-purpose flour, baking powder and baking soda. Set aside. Note: It's important to sift the flour so clumps are eliminated and some air is incorporated into it, enabling maximum rise.
3) Beat the sugar, Vegan Butter and flavor building ingredients together
In another mixing bowl cream the sugar and Vegan Butter together by beating them until fluffy, about 2 minutes. Beat in the vanilla extract, almond extract and salt followed by the non-dairy milk and egg replacer mixture from Step 1 until well incorporated.
4) Mix the batter together
Now mix in about half of the flour followed by the ½ cup non-dairy milk, followed by the rest of the flour until just incorporated.
5) Bake the vegan cupcakes to perfection
Pour the batter into a cupcake mold lined with cupcake liners so the mixture is half the way up to the top of the cupcake liner. Lift the cupcake mold a few inches off the counter and drop it to settle any air bubbles. Bake for 17 minutes or until an inserted toothpick comes out clean.
This recipe makes 12 Vegan Vanilla Cupcakes.