Soyatoo Soy and Rice Whip Review - Which vegan whip creams the competition?

Mattie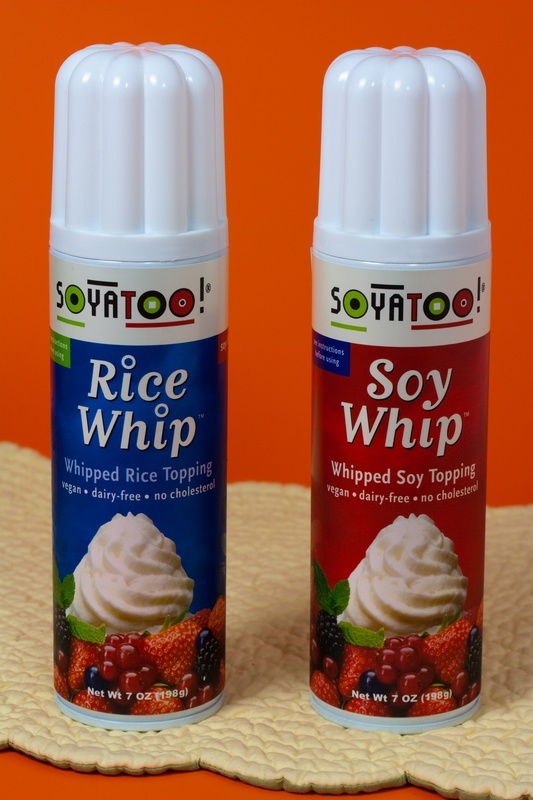 Whip cream is frosting's long lost cousin. This is a good thing because it's enabled us to top everything from pies to ice cream to cake with it's creamy goodness. Sensing a vacuum in the vegan whip cream space since Hip Whip disappeared from the market (RIP Now and Zen),
Soyatoo
has stepped up to the plate with
Rice Whip and Soy Whip
. These vegan whipped creams give you no excuses to leave any tastebuds behind in your quest for the ultimate desserts.
I tested this whip on some
Pumpkin Cheesecake
to see how it stacked up. Is it worth it's compressed nitrous oxide? Read on to find out.
Soyatoo spawned from a fifteen year old company called
Tofutown
, located in Wiesbaum, Germany. Soyatoo's committed themselves to populating the world with more dairy-free alternatives than you can can shake a butter knife at. They make everything from
creams
to
non-dairy milks
to
cheeses
to
margarine
. They even make a vanilla soy milk called Milli Vanilla. I'm not kidding. It looks like Soyatoo may be gearing up to invade the United States if donating 2000 pounds of Soyatoo products to the
Long Island Food Not Bombs
is any indication. These whips need to be stored in the refrigerator for optimum shelf life and removed from the fridge and allowed to warm slightly before use so the contents loosen up a little. If you try to spray this whipped cream out of a cold can you'll just get the hiss of pure, beloved nitrous oxide. I found that the best way to get from fridge to cream was to put the can under warm running water for about 10 seconds, then give the can a shake for another 10 seconds to loosen up it's contents.
Soyatoo Rice Whip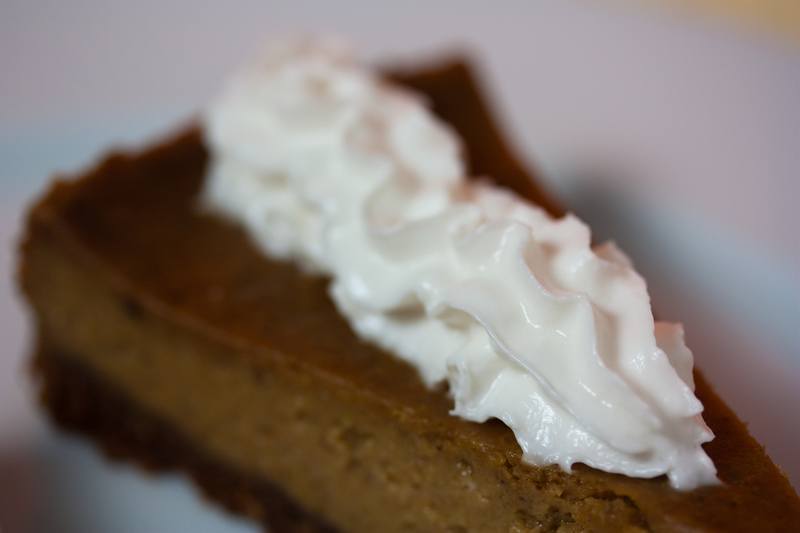 This whipped cream looked magnificent adorning our desserts but had a rather dull and airy taste. It wasn't very sweet or creamy, probably due to it being rice-based. If you had a soy allergy or were getting ready to embark on a shock-and-awe style pie fight it would be a worthy addition to your refrigerator side-door.
Ingredients: Organic rice milk (water, organic rice syrup, organic rice starch, organic rice flour), coconut oil, organic maltodextrin from rice, tartaric acid, carageenan and gum arabic (thickeners), sea salt, propellant (nitrous oxide).
Soyatoo Soy Whip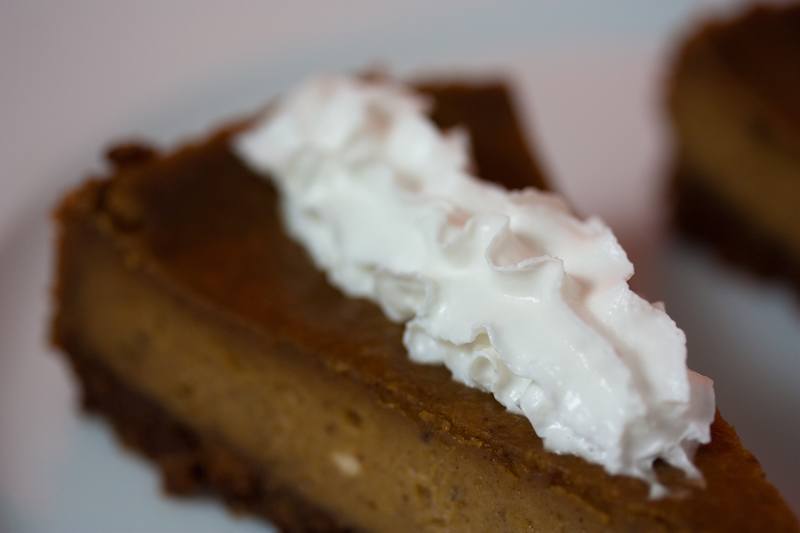 This whip was great. I've always found dairy-based whipped cream to be a little too thick and filmy in the mouth and this soy whip is just a little less creamy than that which is perfect in my book. Mouthfeel was smooth and not too airy and the flavor was slightly sweet and creamy. It didn't remind you of how whipped cream should be; it
is
whipped cream! On desserts it kicked everything up a notch by adding another layer to the dessert experience. It will be a permanent resident in our refrigerator from now on.
Ingredients: Organic soymilk (water, soybeans), organic coconut oil, organic fractionated palm kernel oil, organic sugar beet syrup, organic maltodextrin, tartaric acid, carrageenan, sea salt, natural vanilla extract, propellant (nitrous oxide).
I'm happy that good quality vegan whipped creams are finally becoming available at major health food stores. It's one less thing to live without in a wolrd increasingly turning to quality non-dairy dessert products.
User comments

Chris
Don't refrigerate
Even at the shop where I buy them the cashier tells you NOT to refrigerate these. Even with instruction if you refrigerate you might never get anything out of the bottle later, so just don't. Never put in the fridge and you'll never have a problem with it. There's no dairy, it's not dying any time soon. I just used one that was on the shelf for a year (unopened), it taste fine and works great. (still has 6 month validity on the expriation)
Was this review helpful to you?

Love soyatoo!!
Follow Directions
To the commenters unable to get the whip from the can: Follow the directions!!! It has to be warmer than your fridge temp to come out. I have bought several cans of this, and always follow the directions and rinse the top each time I use. I have never had an issue with the packaging. This is a super yummy treat.
Was this review helpful to you?

KRYSTLE
I think the product is delicious. I did follow the directions and I still was unable to get any product out after the 2nd attempt. I have more than half of the product left and I simply cannot get the nozzle to work. They have to improve the way the nozzle device works or it is simply not worth the purchase.
Was this review helpful to you?

SJ
Not Bad
I'm a fan of this stuff and I'm grateful that somebody has invented a vegan alternative to whip cream. It's a good topping for ice cream and pumpkin pie but no, it's not as good as the real thing if you plan to eat it out of the bowl. The cans of whip cream have some pretty specific instructions. If I can recall correctly you are supposed to rinse the top off under warm water before and after each use. Not sure how much of a difference it makes. I do however prefer the carton of whipping cream that you whip yourself. My Whole Foods only carries the cans but I found the cartons it on veganessentials.com (http://store.veganessentials.com/soyatoo-topping-cream-heavy-cream-substitute-p1904.aspx). If you're allergy free I recommend the soy over the rice.
Was this review helpful to you?

Flo
SOYATOO Soy Whip is an very fine product, but the propellant is not sufficient to empty the cream that ends up left inteh connister.

Sadly, this mechnical problem needs to be addressed before I purchase another can.
Was this review helpful to you?

cape cod resq
I must concur with some of the previous posters. We bought the can of SOYATOO Soy Whip in Maine, over the weekend. Drove home to Cape Cod and was looking forward to having some "whipped cream." We have been VEGANS for quite sometime.We were looking forwad to this treat and yup, that's right, all of the propellant came out with no cream! WHAT A WASTE OF MONEY, TIME, AND SUCH A GREAT DISAPPOINTMENT!!!!!!!!
Was this review helpful to you?

liebejud
Top 500 Reviewer
View all my reviews (1)
SUCKS
This product was a waste of money. To the extent I got a taste of the whipped cream, it was pretty good. But I got nothing more than a taste of it because the packaging/delivery system was horrible. And that was after buying two cans--the first can utterly failed. A viable vegan whipped cream would be fabulous, if it were in any way accessible and did not cost $5 for basically nothing.
Was this review helpful to you?
Hi we've been able to Soyatoo for quite a while in the UK. However sometime ago you used to be able to get the soy cream in a carton and whip it up like real cream and it was fantastic. Then it disappeared and you could only get the squirty stuff. I went to the German webpage and their message said something along the lines of it not being reliably stable so they were removing it from the UK market. However you can still get it in Germany - what's up with that? I wrote to them in albeit rather poor German but never heard back. Still like the squirty cream but it is a bit temperamental when trying to get it out the can. If you do it the way Matty advised it does seem to work pretty well. Made some excellent "Devon" cream and strawberry scones. Going to try making Pecan pie from Pie in the Sky tonight and serve it with that. I haven't tried the rice cream but I think I'm about to as someone found some for 49p in a bargain shop and bought me 8!! Wish they'd bring back the cartons though.
Was this review helpful to you?

Aqua
Worth a try
I picked up this product while browsing my location organic supermarket and thought it was worth a try. I'm glad I did. The instructions are lengthy and detailed but I followed them and got a delicious and great looking result. The only thing I don't like it keeping it out for 10 to 15 minutes to lower the temperature. By that time my pie was a little cold but still tasty.
Was this review helpful to you?

ti
I concur with the other reviews. This purchase was the worst purchase I've made in a grocery! The whip wouldn't come out of the can. When it did, it was just runny. The 6 step instructions on the back of the can are ridiculous. They really shouldn't even be selling this until they get a better dispensing system down. I had to throw away mine and the $5 it took to buy it.

Was this review helpful to you?

Togotooner
Horrific Delivery Mechanism! The Can is awful!!!!!
A total waste of money! I spent 4 bucks on a can that was useless after one use! Seriously? Put it in a container like whipped cream and get rid of the propellant idea. If that doesn't work,...don't bother. If you have to make special provisions just to use it in it's propellent form like storing it upside down, shaking it for 10 seconds after warming it up for 10 seconds,....blah blah blah,....forget it.
Was this review helpful to you?

Carolyn
Badly manufactured...
But the cans are horribly manufactured. I bought two cans on different occasions over a year ago and couldn't use the entire can when it lost it's pressure. That's a little over half of the product I purchased I couldn't use since it's stuck in the can. Then I purchased it again yesterday hoping that maybe it was a fluke, but it wasn't. I wouldn't throw down money on a product if you can't use it in it's entirety.
Was this review helpful to you?

FRANCES-MARY
MRS
I love the idea of the squirty cream, but the canister design and operation of it is stupid. All the gas goes from the canister, leaving cream in there, but with no way ot getting it out. In it's existing form it is a waste of time and money and I would suggest a review on the design. In the meantime, I think the existing ones should be withdrawn. I certainly won't be buying another at £3.20 a go!
Was this review helpful to you?

Cerena
My Opinion On Rice Whip
I am on a special diet, and I am not allowed to eat wheat, dairy, soy, or sugar, because it gives me stomach aches. I was miserable, and longing for a whipped cream subsitute to top my berries, yogurt, diet-friendly cakes, etc. That's when I discovered Rice Whip! Its sweet, creamy, light and airy flavor tasted just like regular whipped cream, with a hint of rice. I would recommend this delicious product to anyone, especially people with dairy allergies. Only 1 gram of sugar!

Ingredients: Organic rice milk (water, organic rice syrup, organic rice starch, organic rice flour), coconut oil, organic maltodextrin from rice, tartaric acid, carageenan and gum arabic (thickeners), sea salt, propellant (nitrous oxide).
Was this review helpful to you?

SugarMolars
Top 100 Reviewer
View all my reviews (2)
not for hot stuff
also, if you are looking for a whip alternative that will stand up to high temperature delicacies, such as hot chocolate and hot desserts, the soyatoo products are a no go. They melt really quickly!
Was this review helpful to you?

SugarMolars
Top 100 Reviewer
View all my reviews (2)
invading the US
we already have soyatoo products in the US!
Was this review helpful to you?