How to Easily Veganize a Cookie Recipe

Mattie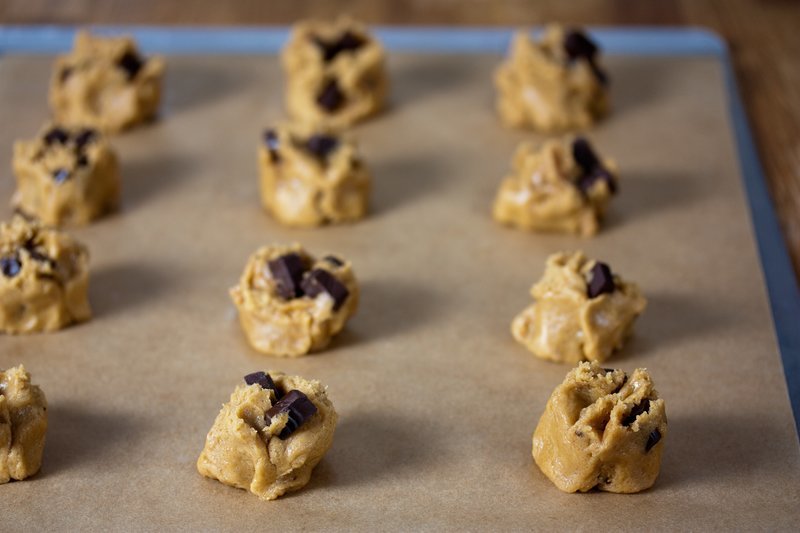 Cookies are among the most enjoyed and frequently baked desserts in home kitchens and it's no wonder. There's no faster path to satisfying a sweet tooth than whipping up a batch of chocolate chip, shortbread, oatmeal or sugar cookies, just to name a few. Up until recently, making vegan cookies was a slightly more treacherous journey, littered with numerous potential pitfalls that could turn your cookies into hockey pucks, skeet shooting discs or worse.
How do I substitute butter? How do I make sure they turn out chewy? Luckily, these issues have been addressed and currently vegan cookie recipes are becoming increasingly easier to come by due to the efforts of bloggers and cookbook writers everywhere. However, they still remain rather sparse due to the sheer number of cookie styles that are out there. If you're unable to find a vegan version of your preferred cookie recipe you're going to have to take a deep breath, step up to the mixing bowl and veganize them yourself. Below I'll detail major tips to keep in mind when veganizing a cookie recipe that will enable you to tackle almost any cookie recipe with confidence.
Find
Easy recipes
on Veganbaking.net
1) Keep it simple
When I first started to veganize cookie recipes over a decade ago I would develop complex schemes often involving things like cashew butter, raisin purée and a complex assortment of vegetable starches. The cookies never really seemed to emulate their classic version and I'll bet you can guess why. Later I learned that simplicity is key to veganizing recipes in most cases. Try to avoid putting an ingredient in your cookies that you wouldn't want to eat by itself. Most cookies just need substitutions for eggs and butter. Once you've figured those out you're already half way there.
2) Pick an egg replacer
My favorite egg replacer consists of 1 Tablespoon
golden flax meal
whisked together with 3 Tablespoons water and allowed to sit for about 10 minutes until it thickens. This starchy mixture does a great job of binding in recipes with up to about 3 eggs. Keep in mind that this goopy mixture is suitable for cookies in the realm of chocolate chip, oatmeal and peanut butter styles. It's not going to help you for those meringue cookies you may have your eye on. I recommend storing the flax meal in the freezer for up to one year to keep their highly perishable oils from going rancid.
3) Choose your fats wisely
Depending on the style of cookie you're veganizing, it's important to choose a fat that is similar to the one you're replacing. Margarine is the recommended substitute for butter and Earth Balance is the best vegan margarine available. Earth Balance Buttery Sticks are recommended over tub margarine because the sticks have a water content that's more similar to butter. If you'd like to substitute canola oil or coconut oil for the butter keep in mind that you should use less because butter is about 15% to 20% water.
If you have the time you should also look into making
Vegan Butter
. Vegan Butter has the same fat profile as regular butter. Making your own Vegan Butter empowers you to have control over more of the recipe. For instance, you can make chocolate brownie cookies with White Chocolate Vegan Butter to obtain a flavor profile that will bring your cookies to a whole new level. Also, most non-hydrogenated margarines on the market utilize palm kernel oil, which is increasingly being linked to rainforest destruction. Making your own Vegan Butter frees you to steer clear of this critical environmental issue. I like to make large amounts of it and store it in the freezer. The night before baking I'll transfer it from the freezer to the refrigerator or countertop so it gets to the right consistency for the recipe I'm using it in.
4) Do you want your cookies to be chewy or crunchy?
Eggs are amazing culinary miracles of nature. Taking them out of a recipe can have all sorts of ramifications including reduced chewiness, dryness and crumble issues. If you'd like your cookies to be on the chewier side, consider adding a touch more of molasses, brown rice syrup or barley malt syrup which will hold onto moisture. The ratio of fats also control how chewy your cookies will be. Generally, look for a ratio of 1:3 of saturated fat to unsaturated fat for the chewiest cookies. This would mean that for the chewiest chocolate chip cookies you would want to use about 33% coconut oil and 66% canola oil.
5) Make your dough slightly thicker than normal
Eggs have a tendency to really pull together and thicken batters during baking. Since you're not using them it's a good idea to use slightly less water-based liquid in your recipe to make your dough slightly thicker to compensate for this.
6) Choose your baking sheets with care
Vegan cookies are often more sensitive to burning on the bottom. To ensure you don't need a chisel to free your cookies from their baking sheets, use thick aluminum baking sheets lined with parchment paper for baking. The thick aluminum will allow for optimum heat distribution and the parchment paper will guarantee effortless removal from the sheets. This will also make cleanup a cinch because you won't even have to worry about washing the baking sheets later.
These six tips should significantly reduce your cookie veganizing drama in the kitchen. Soon it will be second nature and whipping up vegan versions of almost any cookie recipe will be almost as easy and fun as eating them.