Vegan Sugar Glaze

Mattie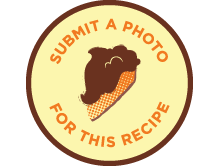 This Vegan Sugar Glaze recipe is simple to make and perfect for topping everything from
Pastries
to
Quick Breads
and
Muffins
.
Vegan Sugar Glaze Recipe
1 ½ cups powdered sugar
2 ½ Tablespoons non-dairy milk
1 teaspoon Regular Vegan Butter or margarine, melted
1/4 teaspoon vanilla extract
1/8 teaspoon salt
Process all ingredients until smooth
Add all above ingredients to a food processor or blender and process until smooth and creamy. Store the glaze in an airtight container in the refrigerator for up to 2 weeks or in the freezer for up to 6 months. This recipe makes about 1 ½ cups of Vegan Sugar Glaze.


User reviews

Katherine
Sugar Cookie glaze
This glaze was exactly what I was looking for. I halved the recipe, as I only needed a little bit and was able to frost 32 small snowflake shaped cookies. I had plenty left over that I just threw out. The consistency was smooth and creamy, just runny enough. Be sure to cover with plastic wrap if not using right away as it will dry out quickly.
Was this review helpful to you?