Easy Vegan Cream Cheese Frosting

Mattie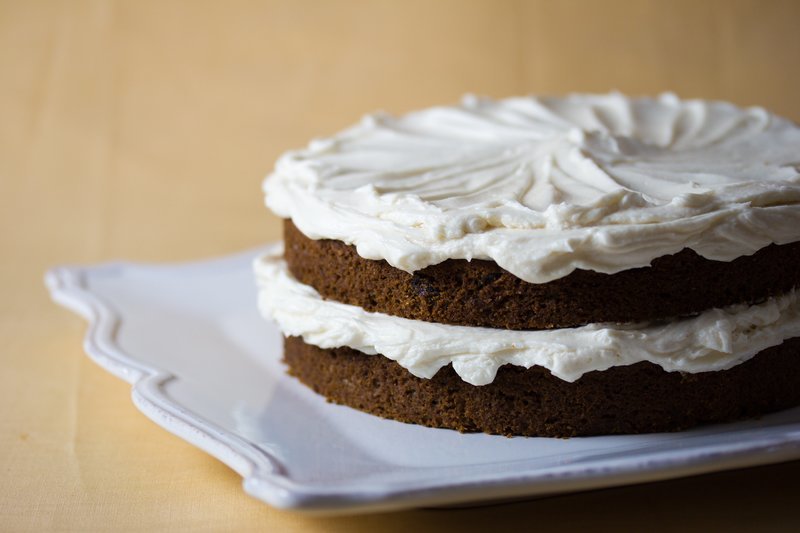 This Easy Vegan Cream Cheese Frosting recipe is easy to make and perfect on chocolate cake or carrot cake. Enhancing this vegan frosting with a touch of vanilla extract, apple cider vinegar and lemon juice brings out just the right cream cheese flavors without having to resort to highly processed cream cheese alternatives.
Find more
Cream Cheese recipes
on Veganbaking.net
Easy Vegan Cream Cheese Frosting Recipe
1 cup powdered sugar
½ cup (108 grams)
Vegan Shortening
or store bought shortening (1 stick), cold
2 Tablespoons non-dairy milk
1 teaspoon apple cider vinegar
½ teaspoon vanilla extract
¼ teaspoon lemon juice
¼ teaspoon salt
Place all ingredients in a food processor and process for about 1 minute. Scrape down the sides and process for another minute. The mixture should be smooth and creamy. Store in an airtight container in the refrigerator for up to 2 weeks or in the freezer for up to 6 months. This recipe makes about 2 cups Easy Vegan Cream Cheese Frosting, or enough for about one layer of an 8 inch diameter cake.
User reviews

Sarah
Simple and awesome!
I was looking for a vegan quarantine-friendly recipe for the carrot cake my son requested for his birthday. It turned out amazing, better I think than if I had used vegan cream cheese. I used a fairly soft vegan margarine as the base and it turned out great. Thank you for sharing this recipe!
Was this review helpful to you?

azri yana
]new idea..!
i have found your recipe and it great ..may i know can i replace shortening with margarine ..
Was this review helpful to you?

Rouillie Wilkerson
Delicious!
I only gave four stars, because there's always room for improvement! This one is one of the single most delicious vegan cream cheese frosting's I've ever had. My family agrees that it's really good! Thanks for this!
Was this review helpful to you?

Sebastien
Wow! Taste like real cream cheese frosting! Thank you!!!
Was this review helpful to you?

Sandra
The taste of this frosting is mind blowing! I am definitely making this again for the potluck we're having at work and for a bake sale! I used this over a vegan carrot cake and it turned out perfect! Thank you for sharing!!
Was this review helpful to you?

Plueschpuppe
Top 1000 Reviewer
View all my reviews (1)
Great!!
Just amazing! It really does taste like cheesecake, is prepared in no time and only asks for ingredients I have at home anyway. I love it and will definitely use it regularly from now on, as it can be a cake filling, icing or just be served as a dessert. Thank you!!!
Was this review helpful to you?

This email address is being protected from spambots. You need JavaScript enabled to view it.
Top 500 Reviewer
View all my reviews (1)
Amazing
I would love to go vegan but unfortunately my husband runs the household and will not but I figured what he doesn't know won't hurt him.
Since I do the baking I decided to make vegan red velvet cupcakes and frosting and not say anything.I don't understand how these ingredients work to make the cream cheese flavor but they do.
My husband as well as 6 of his co workers didn't even know and loved them.
They got rated 9 out of 10 and they didn't even know they were vegan.
Was this review helpful to you?

Eileen
Omg, this was perfect!!! I'm making a vegan lemon layer cake and so I followed your instructions exactly, only adding about 2-3 tablespoons of lemon zest. Thank you so much - this totally captured the cream chees-y flavor I wanted without the dairy!!!
Was this review helpful to you?

cenique-jegeg
Top 100 Reviewer
View all my reviews (2)
Maybe will use butter
I love the taste...the kids love it to. But because the climate hee is hot, it wont hold no more than 10 minutes after I apply on vegan red velvet. Maybe next time I'll use butter-cocoa butter base. Thank you.
Was this review helpful to you?

culpritsmom
Top 500 Reviewer
View all my reviews (1)
Oh! Wow!
Veganbaking never lets me down. This frosting tastes just like cream cheese frosting should taste! I did use coconut oil rather than shortening. I made the frosting for carrot cupcakes. Unfortunately I did not use Mattie's recipe for carrot cake and I'm frosting something more like carrot muffins, but who cares with this frosting! Amazing!
Was this review helpful to you?

Lia
Great with coconut oil!
I just made two batches of this to go with a carrot cake. I used coconut oil instead of shortening and cut the apple cider vinegar to half a tsp the first time and it was great (I also added shredded coconut). The second time I still used coconut oil but added the full tsp of apple cider vinegar and it is also good, just a bit more of a kick. Thanks for the recipe!
Was this review helpful to you?

Marla
Not a shortening fan
I was going to use vegan butter in place of the shortening because I figured it'd taste more like cream cheese (with a creamy, buttery taste), but I thought shortening would hold it's creamy texture better, so I followed the recipe and used shortening. The result tasted like sweetened, bland oil. It's nice not having to buy Toffuti (which I think tastes like nothing) or make my own vegan cream cheese, so this is a good idea. Maybe it tastes better with shortening other than Spectrum (which I bought before I knew about palm oil).
Was this review helpful to you?
Simple and Perfect
Delish! I had to beat the family away from just eating it straight out of the bowl or I wouldn't have had any to put on the divine carrot cake. It was sweet and soft and easy to make.
Was this review helpful to you?

Robert Cesaric
I loved the texture and consistency but the overall taste of this frosting was overpowered by the vinegar. Is the vinegar required or can it be replaced by something like lemon juice? Btw, I made the vegan shortening for this which came out really nice. Great work!
Was this review helpful to you?

Mithuna
Hi! I've just discovered your amazing site and i have got to say it is incredible!! I've been a food science geek for some time now (got hooked when i start watch harold mcgee's lecture series online). I've tried to put it into baking but but i've never found any good sources that put that knowledge into vegan recipes the way you do! I can't understate how much I'm loving your site!
This recipe looks great as vegan cream cheese costs its weight in gold in new zealand (where i'm currently at), and is weird tasting! I want to make a white chocolate icing and i wonder if i could do it by making the shortening with coco butter and basically adopting this recipe? Do you think that'll work or would that not taste strongly of chocolate enough? Thank you!
Was this review helpful to you?

Darlene Anderson
Can I use other Mixer?
Hi Can I use a Hand Mixer instead of food processor or a blender? thank you sp much! this would really work on my carrot cake with less calorie!
Was this review helpful to you?

Mike
What attachment to use?
Hi, Mattie.

This looks great. I often need a cream cheese frosting and have been using Tofutti cream cheese to make it. This looks like it will be cheaper and easier, using ingredients I always have on hand anyway.

I have a question: when you say to process the frosting in a food processor, what attachment are you using? I can't imagine it would work well with a rotary blade. Are you using a whisk attachment or a blunt blade?

Thanks!
Was this review helpful to you?

Daniel-san
Top 50 Reviewer
View all my reviews (3)
Vegetable shortening?
I am looking something to frost your great apple cake recipe and I am wondering what is : "vegetarian vegetable shortening"?

Can it be replaced by something else?
I have really no idea where to find that...
Was this review helpful to you?