Vegan Gingerbread Waffles

Mattie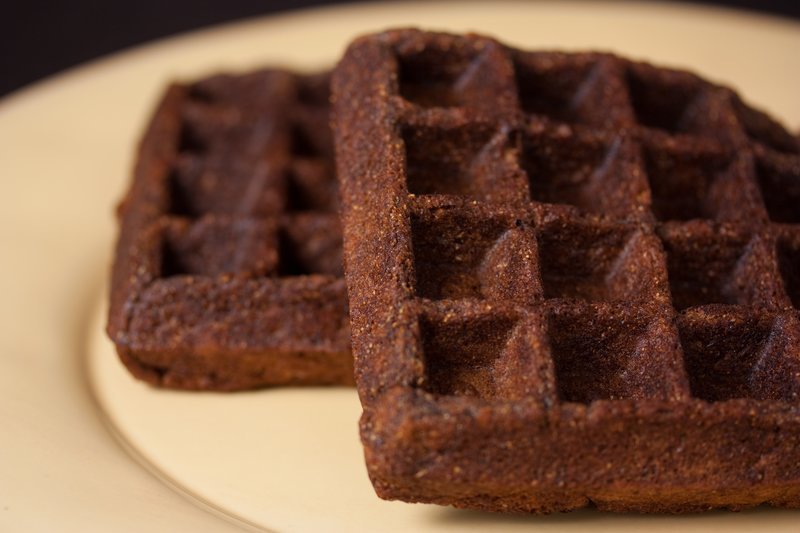 One of my favorite breakfasts is this Vegan Gingerbread Waffle recipe accompanied by a cup of strong coffee and veggie sausage on the side. Just when you''re thinking that you may be eating dessert you'll notice a savoriness that will assert that this is indeed breakfast. Slather these vegan waffles with a touch of almond butter, a splash of maple syrup and a sprinkling of
Balsamic Candied Pecans
to make this a truly memorable experience.
Find more
Gingerbread recipes
on Veganbaking.net
Vegan Gingerbread Waffle Recipe
¼ cup small or medium grind corn meal, toasted
1 ½ cups + 2 Tablespoons non-dairy milk
6 Tablespoons molasses
1/3 cup (72 grams)
Regular Vegan Butter
or margarine, melted
1 teaspoon vanilla extract
¾ cup whole wheat flour
2/3 cup all-purpose flour
1/3 cup oat bran, wheat bran or wheat germ
2 Tablespoons sugar
2 teaspoons ginger powder
¾ teaspoon baking powder
¾ teaspoon baking soda
1 teaspoon cinnamon
1 teaspoon nutmeg
½ teaspoon salt
Cooking oil spray
Balsamic Candied Pecans (optional)
1) Toast the corn meal and whisk together the flavor building ingredients
Preheat your waffle iron. Toast the corn meal in a large skillet over low heat for about 10 minutes, stirring occasionally until golden. Set aside. In a medium bowl whisk together the non-dairy milk, molasses, coconut oil, canola oil and vanilla extract.
2) Whisk together the waffle batter
In a large bowl whisk together the corn meal, whole wheat flour, all purpose flour, oat bran, sugar, ginger, baking powder, baking soda, cinnamon, nutmeg and salt. Mix in the wet ingredients from Step 1 until well incorporated.
3) Bake the vegan waffles to perfection
Liberally coat the waffle iron cooking surface with cooking spray. It's important to do this every time you add batter to the waffle iron or they will become long-term friends. Using a ladle, pour enough batter to cover ¾ of the surface of the waffle iron. Cook 4 to 5 minutes or until the waffles can be easily removed with two forks. Repeat with the remaining batter.
The waffles keep for up to 5 days in an airtight container in the fridge and can be easily heated in a toaster. This recipe makes about 6 Vegan Gingerbread Waffles.