Hearty Vegan Waffles

Mattie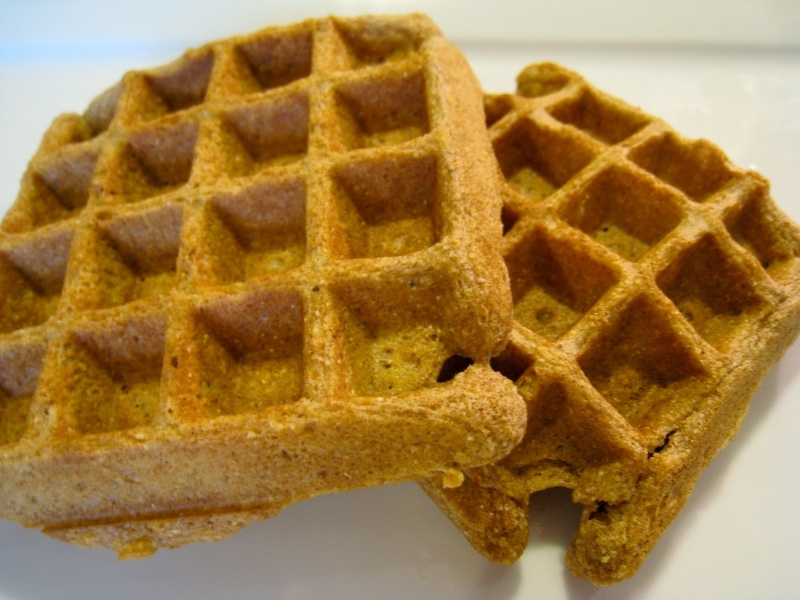 This Hearty Vegan Waffle recipe makes light and fluffy vegan waffles sporting a nice crispy exterior and a soft, moist interior due to the use of toasted cornmeal. They're delightful topped with a touch of almond butter, fruit and/or real maple syrup.
Find more
Healthy recipes
on Veganbaking.net
Hearty Vegan Waffles Recipe
1 ¾ cups + 2 Tablespoons non-dairy milk
2 teaspoons apple cider vinegar
1 teaspoon vanilla extract
3 Tablespoons water
1 Tablespoon
golden flax meal
3 Tablespoons unrefined coconut oil, melted
¾ cup whole wheat flour
2/3 cup all-purpose flour
1/3 cup oat bran, wheat bran or wheat germ
¼ cup corn meal, toasted
2 Tablespoons sugar
1 ½ teaspoons baking powder
1 teaspoon cinnamon
½ teaspoon salt
½ teaspoon baking soda
½ teaspoon nutmeg
½ teaspoon ginger
Cooking oil spray
1) Curdle the non-dairy milk and prepare the flax mixture
Preheat your waffle iron. In a medium bowl, whisk together the non-dairy milk, apple cider vinegar and vanilla extract. In another small bowl, whisk together the water and golden flax meal. Let it sit for about 10 minutes.
2) Toast the cornmeal and whisk together the dry ingredients
Toast the corn meal (optional) in a large skillet over low heat for about 10 minutes, stirring occasionally until golden. Set aside. In a large bowl, add the whole wheat flour, all-purpose flour, oat bran, cornmeal, sugar, baking powder, cinnamon, salt, baking soda, nutmeg and ginger.
3) Mix the wet ingredients into the dry ingredients
Add the non-dairy milk, apple cider vinegar mixture and the flax meal slurry into the large bowl containing the flour. Now add the melted coconut oil and mix until just incorporated.
4) Bake the vegan waffles to perfection
Liberally coat the waffle iron cooking surface with cooking spray. It's important to do this every time you add batter to the waffle iron so the waffles don't stick. Using a ladle, pour enough batter to cover ¾ of the surface of the waffle iron. Cook 4 to 5 minutes or until the waffles are golden brown. Repeat with remaining batter.
Waffles keep for up to 5 days in an airtight container in the fridge and can be easily heated in a toaster. This recipe makes about 6 Hearty Vegan Waffles.