Vegan Chocolate Peanut Butter Granola

Mattie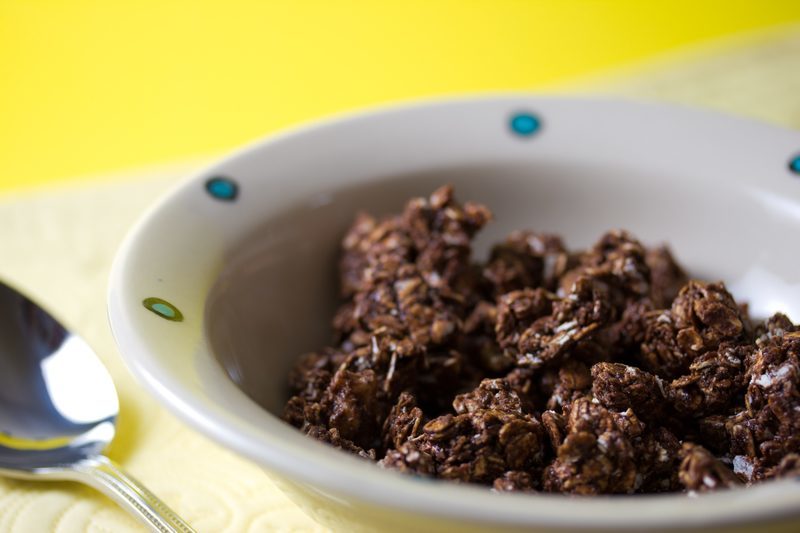 This Vegan Peanut Butter Chocolate Granola recipe brings possibly one of the best flavor combinations known to man to the granola world. This allows this vegan granola to be extremely versatile, being equally good for breakfast, sprinkled on top of ice cream or enjoyed all by itself for a mid day snack.
Find more
Chocolate recipes
on Veganbaking.net
Vegan Chocolate Peanut Butter Granola Recipe
¾ cup sugar
½ cup cocoa powder, sifted
½ cup non-dairy milk
½ cup water
½ cup peanut butter, unsalted
6 Tablespoons
vegetable oil
2 Tablespoons unrefined coconut oil, melted
¾ teaspoon espresso powder
½ + ⅛ teaspoon salt
1 teaspoon vanilla extract
5 cups rolled oats (also known as old fashioned)
½ cup wheat germ, wheat bran or oat bran
1 cup chopped walnuts
1) Whisk together the flavor building ingredients
Preheat your oven to 300F (149C). In a large bowl whisk together the sugar, cocoa powder, non-dairy milk, water, peanut butter, vegetable oil, coconut oil, espresso powder, salt and vanilla extract.
2) Stir together the dry ingredients then mix the granola
In a large mixing bowl, stir together the oats, wheat germ and walnuts. Add the wet ingredients from Step 1 and thoroughly stir until well combined.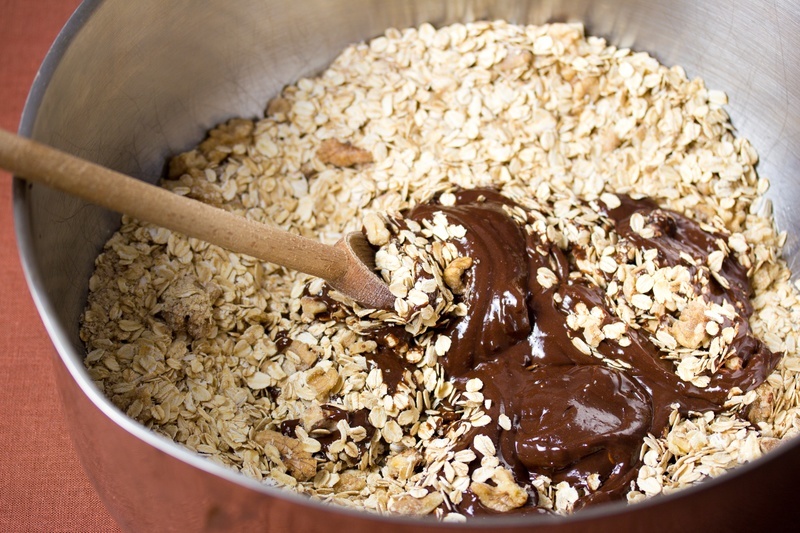 3) Bake the vegan granola to perfection
Place the mixture on a baking sheet and spread it out flat. Bake for 30 minutes, or until the granola starts to dry. If using two baking sheets, switch racks halfway during the baking duration. Remove from the oven and let cool.
4) Break up the granola
Transfer the granola to a large mixing bowl and break it up into smaller pieces. Store in a covered container at room temperature for up to 2 months. This recipe makes about 8 cups of Vegan Chocolate Peanut Butter Granola.