100 Percent Rye Bread

Mattie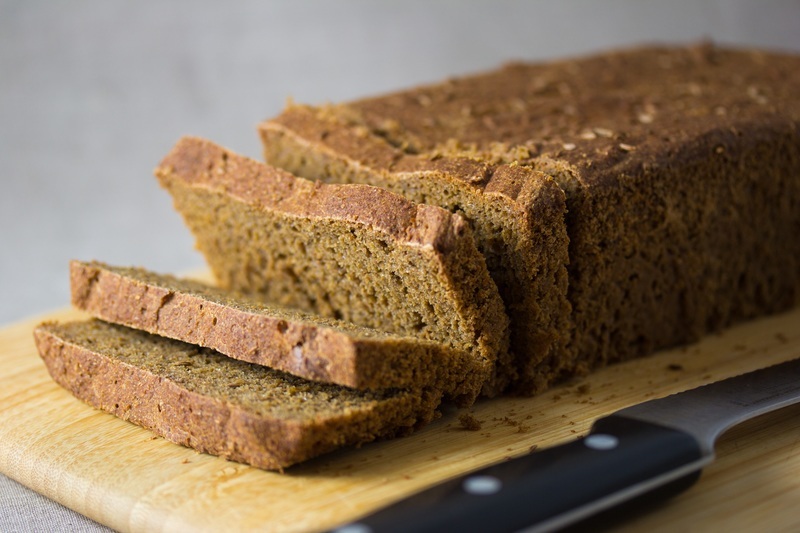 After falling in love with rye breads I became fascinated with developing a bread containing 100 percent rye. I knew that taking all of the wheat flour out of a bread recipe would wreak havoc on the end result and a high-rising crusty bread would not be obtainable. This is because wheat flour is unique in that it contains two proteins in the wheat endosperm called glutenin and gliadin. When these proteins hydrate and undergo friction, they unravel like balls of yarn, bind together into sticky strands and form a structure building network. This elastic web of protein holds in air bubbles during leavening and acts as a structure builder after the bread cools, resulting in a high-rising, fluffy, springy loaf.
The magic of pentosans
Rye flour does contain tiny amounts of gluten and gliadin but not enough to form a considerable amount of gluten in baking applications. Rye flour contains about the same amount of protein as wheat flour but the proteins have no effect on leavening. Rye flour has something else that assists leavening and structure: vegetable gums called
pentosans
. Pentosans absorb about 16 times their weight in water despite being about only 2 to 3 percent of the rye berry by weight. This gummyness doesn't build structure and trap air bubbles as effectively as gluten but it's still enough to make a favorable loaf. Since the bread is made from all rye flour it has a considerably complex flavor that is not obtainable with a wheat flour-based bread.
Contributing extra darkness and flavor to the rye bread
Dark rye flour doesn't contribute to the darkness of this bread. Molasses and espresso powder instead make for a dark brown loaf while enhancing rye flavors. I've also included a touch of sugar to take some of the bitterness off the rye and caraway seeds that contribute a subtle spicy cool finish. The cream of tartar is added to increase acidity. The acidity helps round out the flavor giving the loaf a very subtle tart finish that enhances flavor. The higher acid content also deactivates the amylose enzymes from breaking out too much sugars from the starch which would make the bread excessively gummy.
This loaf is considerably denser and flavorful than breads made with wheat flour. It will proof like a wheat bread into a beautiful dome but then shrink down almost to its original size when baked which is normal in this particular recipe.
Find more
Rye recipes
on Veganbaking.net.
100 Percent Rye Bread Recipe
1 ¾ cups + 3 Tablespoons warm water
2 ¼ teaspoons, or one ¼ ounce package active dry yeast
4 cups dark rye flour
1 ¾ teaspoons salt
1 teaspoon cream of tartar (optional)
3 Tablespoons molasses
1 Tablespoon sugar
2 teaspoons caraway seeds
½ teaspoon espresso powder
1) Activate the yeast
In a small mixing bowl, whisk together the warm water and yeast. Allow the mixture to sit for about 10 minutes so the yeast activates.
2) Whisk together the dry ingredients
In a medium mixing bowl whisk together the dark rye flour, salt and cream of tartar until well incorporated.
3) Whisk together the flavor building ingredients
In another medium mixing bowl, whisk together the molasses, sugar, caraway seeds, espresso powder and stir until just combined. Whisk in the warm water and yeast mixture from Step 1.
4) Mix the dough
Add the dry ingredients to the bowl containing the wet ingredients and mix with a wooden spoon in one circular direction for 1 minute. Now stir in the opposite direction for 1 minute.
5) Coat the rye dough with oil
Add about 1 Tablespoon olive oil to another medium mixing bowl and spread it around the inside with your fingers. Use a spatula to scrape the dough into the oily bowl. With dampened fingers, form the dough into a ball and rotate it around in the inside of the bowl so it's coated in oil.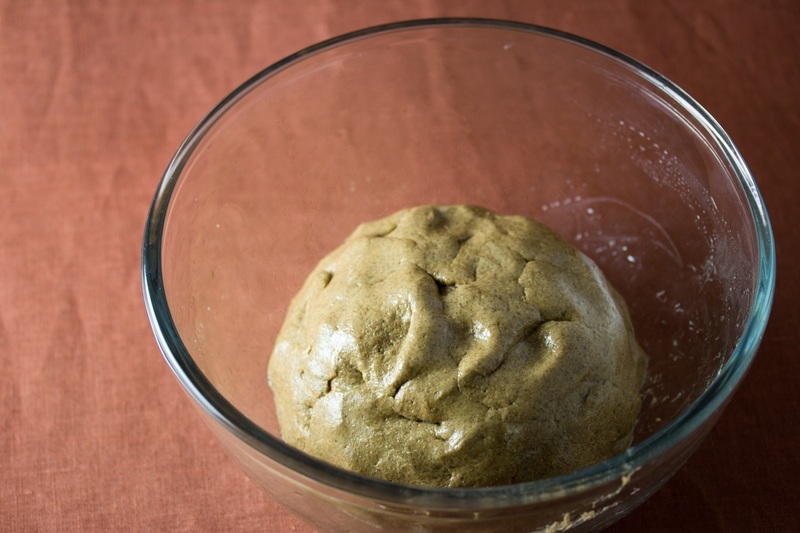 6) Let the dough rise
Cover the bowl with a plastic bag and let it rise in a warm place until it's doubled in size, about 1 ½ hours. Alternatively, place in the refrigerator for about 12 to 24 hours. Remember that we want our dough to double in size regardless of whether it spends a full 24 hours in the refrigerator or rises at room temperature. Feel free to let it rise in the refrigerator for some of the time and outside of the refrigerator the rest of the time.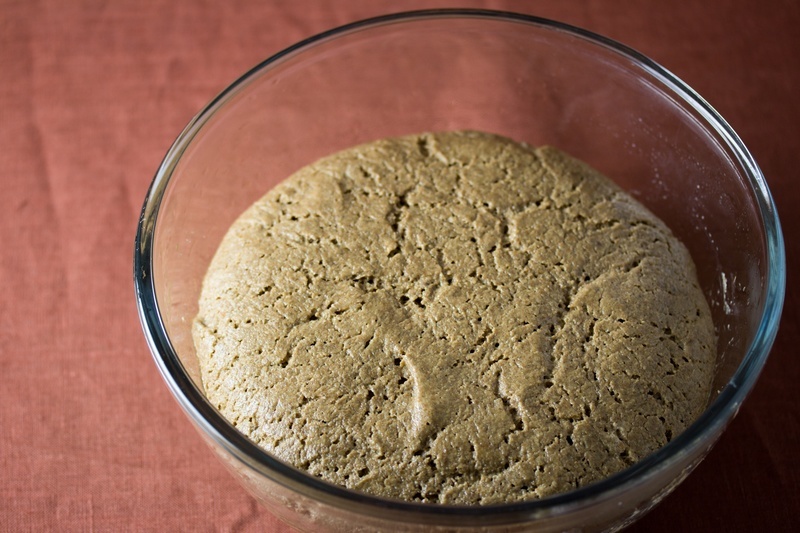 7) Let the dough rise once more
Degass the dough by pressing on it with dampened hands several times until no more gas comes out of the dough. Form the dough into a ball again and let it rise until it's doubled in size, about 1 ½ hours. If you did your last rise in the refrigerator, do this rise at room temperature and allow 4 hours of rise time.
8) Proof the dough
The dough can now be
proofed
by gently forming it into a lightly oiled loaf pan and allowed to sit covered with a plastic bag until it reaches about 80% to 90% of it's intended size, which should be about 40 minutes. The proofing stage is where the dough takes most of it's shape. It's important to leave room under the plastic bag so the dough can rise sufficiently.
9) Bake the rye bread to perfection
Preheat your oven to 375F (191C). Remove the plastic bag so the dough can rest for about 10 minutes while your oven is preheating. During the baking process, the dough will rise another 10% to 20% of it's intended size in the process known as 'oven spring'. Bake until the internal temperature of the bread measured with an
instant-read thermometer
registers 200-210F (93-99C). Rotate the loaf 180 degrees in the oven halfway through the baking duration for even baking. If you don't have a thermometer, this is about 40 to 45 minutes or until the bottom of the loaf sounds hollow when the loaf pan is tapped with a blunt object like a rolling pin.
10) Let the bread cool completely
Since this rye bread isn't bound together with gluten we need to wait until it cools completely before removing it from the loaf pan so the vegetable gums can solidify. For best results when slicing this bread, use a designated serrated bread knife and clean the gummy dough off the blade after every three slices. This bread is best stored covered in a cool dark place or pre-sliced and stored in a plastic freezer bag in the freezer. This recipe makes one loaf of 100 Percent Rye Bread.
User reviews

vajiya3892
#1 Reviewer
View all my reviews (57)
nice cookies! will try to make them
Was this review helpful to you?

Tombombadil3
Top 1000 Reviewer
View all my reviews (1)
Delish!
I am a long time bread baker, and this Rye recipe was excellent. I followed the recipe exactly as written. So easy, love that I didn't need my mixer. Taste's like my German grandmothers rye. Used King Arthur's Pumpernickel flour, and am smitten with simple bread!
Was this review helpful to you?

Nina
Love a good rye this was great. I just have a hard time with starter.
Was this review helpful to you?

baskin115
Top 50 Reviewer
View all my reviews (6)
Great Bread
My wife is going to love this bread. She is a big fan of this type of bread.
Was this review helpful to you?

anna
Amazing!
This was so easy to make and delicious, thank you! I used honey instead of molasses and dark muscavado sugar for flavour. I don't bake bread often but I'll be making a lot more of this.
Was this review helpful to you?

Gabor
Cups???
Looks good, the only reason I don't try this recipe is the lack of proper measurements...

"US food website Serious Eats – which has seen the light and offers both cup and weight measures in its recipes – once asked 10 people to measure a cup of plain flour into a bowl. Depending on the scooping method, how it was packed and whether they tipped every last bit out, that cup of flour weighed anything between 113g and 170g."

It is the 21st century, people. Buy a kitchen scale, it does not cost the Earth!


Was this review helpful to you?

Syn3rgy
View all my reviews (1)
Awesome Rye Bread
I gave this recipe a try, substituting the molasses with honey, and used some instant coffee instead of espresso powder. Man, the bread came out incredibly well!

One of the best recipes I have used, great job.
Was this review helpful to you?

Dan Drager
thanks for this!
Amazing recipe. Love this!
Was this review helpful to you?

This email address is being protected from spambots. You need JavaScript enabled to view it.
Top 500 Reviewer
View all my reviews (1)
Excellent pure rye
I've baked it twice, only omission is espresso powder. Still came out beautifully. Used a KitchenAid stand mixer the second time with excellent results. Just a perfect pure rye. Thank you!
Was this review helpful to you?

Mary in petoskey
I love this recipe. Making it for the second week. Perfect texture and easy.
Was this review helpful to you?

This email address is being protected from spambots. You need JavaScript enabled to view it.
Top 500 Reviewer
View all my reviews (1)
Ryelicious!!!
Having grown up baking from scratch and using handed down recipes I was excited to try this bread recipe out. We didn't make a lot of rye bread, mostly wheat. I am an O blood type and so am only using certain grains/flours which is so much better for me. When I found this recipe I had to try it. This is my third time mixing it up, baking it, and consuming it so I can say without a doubt that it is wonderful. I totally LOVE it! I have added a few things to change it up. I don't have espresso, so used my Hershey's Cocoa Special Dark 100% Cacoa with a splash of coffee. I have also incorporated 1/2 cup of flaxseed meal to the flour as well as truvia instead of the sugar. Thank you for sharing this terrific recipe!!!
Was this review helpful to you?

This email address is being protected from spambots. You need JavaScript enabled to view it.
View all my reviews (1)
Question
I buy Ezekiel bread from my local health food store. It's quite pricey.
Rye is my favorite bread. The recipe seems simple enough. Not sure if cream of tartar is allowed on my diet, will have to check. Coffee however, I know is not allowed. Could a substitution of Carob powder work?
Was this review helpful to you?

This email address is being protected from spambots. You need JavaScript enabled to view it.
View all my reviews (1)
Very nice even without sugar...
I forgot to put the sugar in and used Pomegranate molasses. On my first attempt despite having to guess how much dried yeast to use the dough looked the same as in your pics and the bread came out very nicely. It is quite a bitter rye taste but I liked it. Thank you for the recipe.
Was this review helpful to you?

MapRef41N93W
Top 1000 Reviewer
View all my reviews (1)
Real Measurements please
Can you post this with real measurements please. I'd like to remake an exact copy of what you have and not guess on what "4 cups" of rye flour is. No self respecting baker uses volume to measure flours.

Thanks
Was this review helpful to you?

Deanna
Vital Wheat Gluten
What if you added some vital wheat gluten to this recipe. Would that give it the gluten needed to get a more airy/larger loaf? I would think it would keep the rye flavor, without adding much in the way of wheat taste. I have never used vital wheat gluten, so I wouldn't know where to start as far as how much to use or how to use it.

Was this review helpful to you?
Rye bread best recipe
This is the best recipe for rye bread. The flavor is just perfect. Thanks .
Was this review helpful to you?
Fruit Juice!
I have used this and similar recipes for rye breads and have found that using apple cider works well to acidify the rye dough. I use it straight up instead of the water and it also replaces any extra sugar in the recipe. Oh, except honey. I love honey in baked goods!
Was this review helpful to you?

LIz
I baked the bread twice. The second time I only used flour, yeast, salt and sugar and the bread tasted even better and rose higher. If you like the taste of rye bread you don't need molasses or espresso powder.
Was this review helpful to you?
Well after a few modification, and a terrible sticky dough, certainly not like in the pic this bread turned to be delicious…

I did not have molasses so I used maple syrup, nor caraway replaced with fennel, and i did not want to use coffee so I use Eco coffee replacer.

I bake a lot of bread but this one is really special, off ot the shop to get some molasses!

Was this review helpful to you?

evie
I am trying to reduce my sugar intake, would it be okay if I omitted the molasses and sugar? thanks~!
Was this review helpful to you?

emil
just an idea
Hey i was just thinking maybe adding bit of potato or corn starch will help preserve the raised shape of the loaf just like gluten free recipe do,its just an idea,im going to try the recipe this week but I'm sure i will love it.
Emil
Was this review helpful to you?

Diana
Thank you so much for this easy and wonderful recipe. I've tried so many recipes for vegan 100% rye bread, but they all have failed me...
Making this I skipped cream of tartar and espresso powder. I also used crushed caraway seeds for more flavor and even put some on top of the bread before baking it, together with some poppy seeds. I didn't have molasses, so I subbed it with sugar beet syrup. The result is still amazing. Thank you!
Was this review helpful to you?

Mbaar
Very good recipe. I forgot to add the expresso powder but the bread was still wonderful. Thank you for sharing this info!
Was this review helpful to you?

Laura
How long? Where's the yeast??
You don't say when to add the yeast or how long it should be cooked. The cooking time is really confusing.
Was this review helpful to you?

Wenday
Could you make a rye-bread if I would give you a
rye flour
warm water
salt
sugar
??

The components with what it is orginally made.
Was this review helpful to you?

Rowena Elise Riecker
Amazing!
My flatmate is gluten and milk intolerant. I've spent the evening making this bread in the hopes that it will be better than the loaves we get at our local shops in Durban, South Africa. Although it was a long wait, boy was it worth it!! Amazing bread! Soft, moist and tasty - a little butter and who needed desert. I substitued raw coca powder for espresso powder and didn't use the cream of tartar. Thank you, thank you, thank you!!
Was this review helpful to you?

not a vegan, but trying t
my first bread eveer!
Wow! So yummy! Can I put extra m's for mmmm?, yummmmy! This is my first experiment in eating wheat-free, and if everything turns out this delicious my new adventure will be a joy. I only have enough money to buy what I thought were necessary ingrediants, so I skipped the caraway seeds, espresso powder, (where would I find espresso powder anyhow?) and cream of tartar and it is still a delight to eat. I also added a tiny bit more molassas because I'm a big fan of it. Its only beed half a day, and already I've eaten and given away almost half of it. I know I will be making more next weekend. Good job posting this recipe! Thanks!
Was this review helpful to you?

anyme
failed
dude the rye flour i use has little gluten in it so the dough does not come together like wheat flour. just wondering how you got the nice dough in the above pics.
Was this review helpful to you?

pat sommer
Good info but missed a vital point: those pentosans are actually encapsulating the gluten thus making them unavailable. With the addition of acid to a recipe, the pentosans 'release' the gluten to form the web of structure for a springy bread.

That's the reason we traditionally eat sour rye loaves.
Was this review helpful to you?