Vegan Everything Bagels

Mattie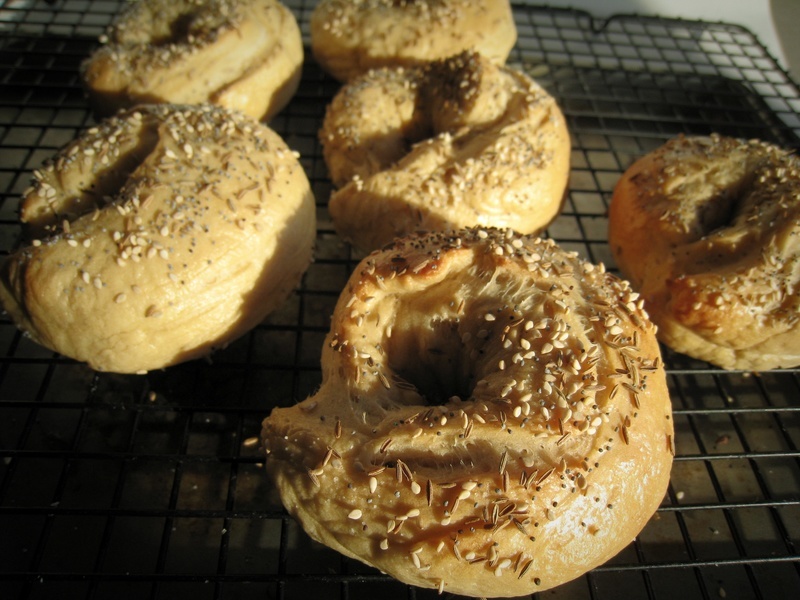 I know that one day I won't have access to my favorite bagel place on Bedford ave in Brooklyn on my way home from the bars to grab a late night snack. This Vegan Everything Bagel recipe will hopefully keep me content in those times. Enjoy these vegan bagels with Tofutti cream cheese,
Creamy Vegan Cashew Cream Cheese
, my more involved
Vegan Cashew Cream Cheese
or whatever else floats your fancy. I've designed these bagels in the authentic NY style which uses barley malt, also known as malted barley. Barley malt is highly recommended but if you don't have it just use an additional one-half Tablespoon sugar in its place. Be sure to allow ample time for this recipe- it takes about two hours. If you live further than two hours away from New York City, this recipe will be easier than flying there for the flavor.
Find more
Low-sugar recipes
on Veganbaking.net
Vegan Everything Bagel Recipe
2 ¼ teaspoons active dry yeast (¼ ounce)
1 2/3 cups warm water
4 ½ cups bread flour
1 Tablespoon sugar
1 Tablespoon barley malt syrup
2 teaspoons salt
1 ½ teaspoons onion powder
1 teaspoon garlic powder
about 3 quarts of water
2 Tablespoons sugar
sesame seeds
poppy seeds
caraway seeds
salt
1) Activate the yeast
In a medium size mixing bowl whisk together the yeast and warm water. Let it sit for about 10 minutes so the yeast activates.
2) Prepare the bread flour
In another medium mixing bowl, add the bread flour.
3) Build the dough
Add the yeast mixture and the sugar, barley malt syrup, salt, onion powder and garlic powder to the bowl containing the flour and mix with a spoon in a circular motion. When the dough becomes thick mix with your hands and knead on a clean non stick dough mat or a lightly floured surface. Knead until the dough springs back when poked with your finger, which should be after about 12 to 15 minutes of kneading. Feel free to add light dustings of flour if the dough gets too sticky to work with.
4) Allow the dough to rise
Preheat your oven to 425F (218C). Form the dough into a ball and cover it with a plastic bag or plastic wrap and let it sit for about 45 minutes.
5) Prepare the water
In a large pot, add the 3 quarts of water and the 2 Tablespoons sugar. Place over high heat until it boils then reduce heat until it simmers: you'll need it for step 7.
6) Give the dough a final knead, divide and roll into bagels
Give the dough one last knead for 2 minutes.
At this point the dough can either be used immediately or covered in plastic wrap and refrigerated for up to a few weeks. If you're using it later, make sure the dough is room temperature before removing it from the plastic wrap and forming it into shape.
Divide the dough into 10 pieces. Roll each piece into a 9 to 10 inch cylinder. Moisten the ends with water and form the cylinders into a bagel shape by overlapping the ends by about one inch. Place the bagels on a parchment covered baking sheet, cover with a clean moist towel and let them rest for about 10 minutes.
7) Add the bagels to the simmering water to create their gelatinized starch skin
Place the bagels, 5 at a time, into the pot of simmering water from step 6. Keep the bagels in the simmering water for 30 seconds, then turn and simmer for another 30 seconds. Place the bagels back on a rack for a few minutes to drain. Immediately sprinkle the bagels with sesame seeds, poppy seeds, caraway seeds, salt and transfer them to a parchment paper lined cookie sheet. After the bagels have been dusted with your desired toppings they can be carefully adjusted into their perfect round shape if necessary. Repeat this procedure for the rest of the dough.
8) Bake the bagels to perfection
Bake for about 15 minutes or until the crust is golden. When the bagels are removed from the oven, transfer them to a cooling rack cool cookie sheet so they stop cooking. This recipe makes 10 Vegan Everything Bagels.