Vegan Everything Bagels

Mattie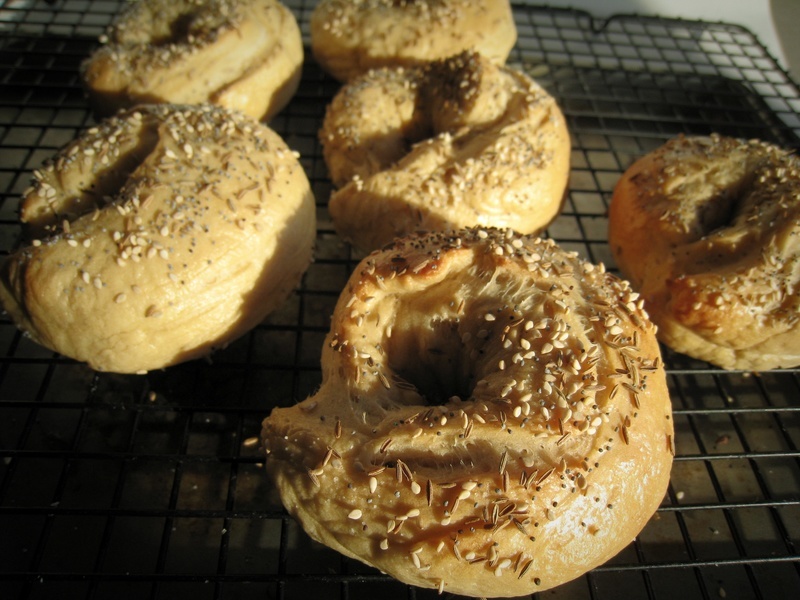 I know that one day I won't have access to my favorite bagel place on Bedford ave in Brooklyn on my way home from the bars to grab a late night snack. This Vegan Everything Bagel recipe will hopefully keep me content in those times. Enjoy these vegan bagels with Tofutti cream cheese,
Creamy Vegan Cashew Cream Cheese
, my more involved
Vegan Cashew Cream Cheese
or whatever else floats your fancy. I've designed these bagels in the authentic NY style which uses barley malt, also known as malted barley. Barley malt is highly recommended but if you don't have it just use an additional one-half Tablespoon sugar in its place. Be sure to allow ample time for this recipe- it takes about two hours. If you live further than two hours away from New York City, this recipe will be easier than flying there for the flavor.
Find more
Low-sugar recipes
on Veganbaking.net
Vegan Everything Bagel Recipe
2 ¼ teaspoons active dry yeast (¼ ounce)
1 2/3 cups warm water
4 ½ cups bread flour
1 Tablespoon sugar
1 Tablespoon barley malt syrup
2 teaspoons salt
1 ½ teaspoons onion powder
1 teaspoon garlic powder
about 3 quarts of water
2 Tablespoons sugar
sesame seeds
poppy seeds
caraway seeds
salt
1) Activate the yeast
In a medium size mixing bowl whisk together the yeast and warm water. Let it sit for about 10 minutes so the yeast activates.
2) Prepare the bread flour
In another medium mixing bowl, add the bread flour.
3) Build the dough
Add the yeast mixture and the sugar, barley malt syrup, salt, onion powder and garlic powder to the bowl containing the flour and mix with a spoon in a circular motion. When the dough becomes thick mix with your hands and knead on a clean non stick dough mat or a lightly floured surface. Knead until the dough springs back when poked with your finger, which should be after about 12 to 15 minutes of kneading. Feel free to add light dustings of flour if the dough gets too sticky to work with.
4) Allow the dough to rise
Preheat your oven to 425F (218C). Form the dough into a ball and cover it with a plastic bag or plastic wrap and let it sit for about 45 minutes.
5) Prepare the water
In a large pot, add the 3 quarts of water and the 2 Tablespoons sugar. Place over high heat until it boils then reduce heat until it simmers: you'll need it for step 7.
6) Give the dough a final knead, divide and roll into bagels
Give the dough one last knead for 2 minutes.
At this point the dough can either be used immediately or covered in plastic wrap and refrigerated for up to a few weeks. If you're using it later, make sure the dough is room temperature before removing it from the plastic wrap and forming it into shape.
Divide the dough into 10 pieces. Roll each piece into a 9 to 10 inch cylinder. Moisten the ends with water and form the cylinders into a bagel shape by overlapping the ends by about one inch. Place the bagels on a parchment covered baking sheet, cover with a clean moist towel and let them rest for about 10 minutes.
7) Add the bagels to the simmering water to create their gelatinized starch skin
Place the bagels, 5 at a time, into the pot of simmering water from step 6. Keep the bagels in the simmering water for 30 seconds, then turn and simmer for another 30 seconds. Place the bagels back on a rack for a few minutes to drain. Immediately sprinkle the bagels with sesame seeds, poppy seeds, caraway seeds, salt and transfer them to a parchment paper lined cookie sheet. After the bagels have been dusted with your desired toppings they can be carefully adjusted into their perfect round shape if necessary. Repeat this procedure for the rest of the dough.
8) Bake the bagels to perfection
Bake for about 15 minutes or until the crust is golden. When the bagels are removed from the oven, transfer them to a cooling rack cool cookie sheet so they stop cooking. This recipe makes 10 Vegan Everything Bagels.
User reviews
missing just one thing
The secret to authentic bagels is lye. It's also the secret to soft pretzels and Harold McGee came up with a solution using baked baking soda that you can find here
http://www.nytimes.com/2010/09/15/dining/15curious.html?_r=0
Was this review helpful to you?

Commiesuchka
Unreal!
I made these this morning..I live in Switzerland...or as I should say "BadBagelLand" and they turned out amazing! I wish I would have made them sooner. Instead of caraway seeds, I added cumin and it was really fine. I also put a bit of crushed garlic on the outside. We ate them for lunch with hummus, avocado and tomato. Tomorrow, tofu cream cheese, red onions and tomatoes for breakfast. I cant wait!!! Thanks!
Was this review helpful to you?

Becky
MMMMMMmmmm Delicious! I'm a new vegan in a house full of carnivores, and they all loved them! We ate them right away, and it looks like I may have converted a few, lol. It took me forever to find the barley stuff, if I use maple sryup will it taste the same??? Thanks for the help as I adjust to the new life style!!!
Was this review helpful to you?

Allison
Everything Bagels.
Is it possible to use Barley Malt Powder instead of Barley Malt? I live in Asia and Barley Malt powder is very easy for me to purchase however Barley Malt is a very different story. I read through the comments and it appears the bagels turn out fine without Barley Malt however I'm just trying to make them as authentic as possible so I thought I see about the powder. Thanks!
Was this review helpful to you?
Fantastic Bagels!
Once of the best vegan bagel recipes I've found so far. I used turbinado sugar rather than white, as I did not have any barley malt, and it worked pretty well. I was feeling lazy, and created these in breadstick shapes rather than bagels, and I can vouch that they tasted just as good in the alternate form. Thank you!
Was this review helpful to you?

BrooklynDL
Top 500 Reviewer
View all my reviews (2)
Mmmm
Just came out of the oven and are sooo good. Thanks for another awesome recipe!
Was this review helpful to you?

sash
wonderful!
these bagels are the most addictive bagels ive ever had, (especially right out of the oven) i was amazed at how easy they were to make. they are now going to be at every breakfast party i attend!
Was this review helpful to you?

ransom.cakes
Top 500 Reviewer
View all my reviews (2)
Delicious and Easy Bagel Recipe!
I just made these bagels yesterday and they are delicious! Having a bit of a love for sweet bagels, before adding the onion and garlic powder to the flour mixture, I divided the flour mixture into two bowls with equal parts in each - I then added the garlic and onion powder to one bowl, and then to the other a mixture of cinnamon and sugar - i then divided the yeast/water mixture into half and added equal parts to each bowl. I kneaded them separately and to the sweet dough I kneaded raisins in the dough when i formed them into bagel shapes.

It wasn't that complicated to do two at once, and actually it was very nice to have the sweet bagels for breakfast and a savory bagel veggie sandwich for lunch.

AWESOME recipe! THANKS!
Was this review helpful to you?

Kim
hey
Hey,

Those bagels look exceptionally good! But can you list the nutrition facts on your recipes? That would be greatly appreciated becuase I would like to make them and eat them I just don't know how many calories, fat and carbohydrates are in these.
Thanks so much!

-Kim
Was this review helpful to you?

Meredith
These bagels are wicked good
I've made these in small quantities for my family and friends to great effect. Last week, I made 140 of them for the vegan/vegetarian student cooperative I cook for. I was forced to mix whole wheat bread flour with white all purpose 50-50 because of shortages, and they still turned out beautifully. I also had no barley malt--I used malted barley syrup instead. This makes the dough VERY stiff, and requires reducing the amount of water a bit, but the bagels come out (if possible) even chewier, and the taste is essentially the same. So, to sum up, I'm giving this recipe five stars because of taste, but also because of its wonderful flexibility. Thank you!
Was this review helpful to you?
these bagels are so new york, they should be serve
i've used a couple of different supposedly nyc bagel recipes and this one is by far the most authentic. and so easy too! everyone imagines making bagels to be tantamount to concocting some mythical potion, so they're always so surprised when i produce these in a couple of hours.
i tweaked this recipe a bit to suit my tastes:
i used about 1.5 - 2 T of barley malt, because i like them just a tad sweeter.
i also put about a T of barley malt in the water to boil. i find that having that extra bit of stickiness on the bagel make the seeds stick a little better.
also, if you're looking to make these a little lighter (de-new york-ifying them, essentially) i found that using 1 2/3 warm potato water (water boiled with one peeled potato, then drained) tends to lighten them up. my texan sister always complains about the denseness of nyc bagels like she's some sort of adkins-addict, so this version always appeals to her.
mazel tov, mattie!

any suggestions on how to make the seeds stay on better? half of mine always fall off at first cut.
Was this review helpful to you?
yeast-free bagels?
i love bagels. but i would REALLY love a yeast-free bagel recipe. let's have it!
Was this review helpful to you?