Golden Vegan Corn Bread

Mattie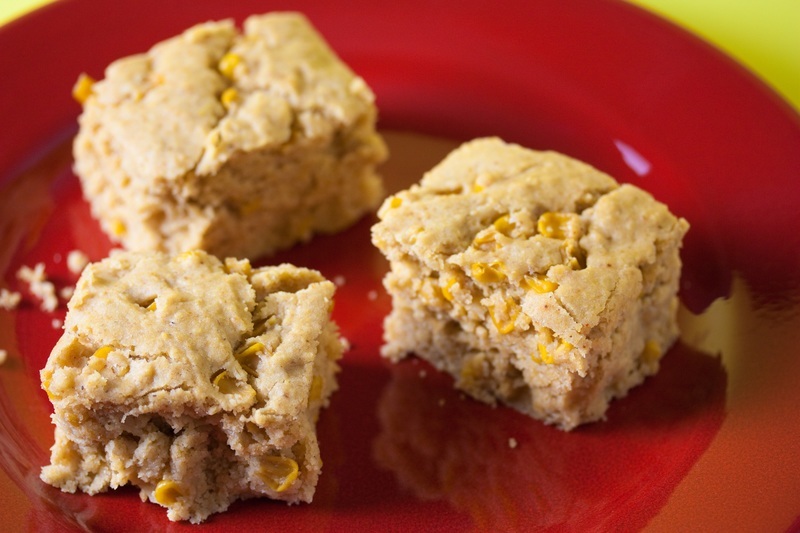 This Golden Vegan Corn Bread Recipe takes advantage of nutritional yeast flakes and a touch of maple syrup which gives it a rich, buttery flavor while corn kernels enhance its hearty texture. It's a Northern style corn bread so it features a mixture of corn flour and all-purpose flour. It's baked in a square baking pan instead of a cast iron skillet and designed to be a little sweeter and more moist than its Southern counterpart.
Find more
Savory recipes
on Veganbaking.net
Golden Vegan Corn Bread Recipe
1 cup + 2 Tablespoons non-dairy milk
2 Tablespoons
golden flax meal
1 ½ teaspoons apple cider vinegar
1 cup all-purpose flour
1 cup corn meal
½ teaspoon non-aluminum baking powder
½ teaspoon baking soda
¼ cup (½ stick, or 54 grams)
Regular Vegan Butter
or margarine, melted
¼ cup sugar
2 Tablespoons nutritional yeast flakes
1 Tablespoon maple syrup
1 teaspoon chili powder
1 ¼ teaspoons salt
½ teaspoon onion powder
⅔ cup corn kernels
1) Curdle your non-dairy milk
Preheat oven to 375F (191C). Lightly grease a square 8 x 8 inch baking dish and set aside. In a medium bowl whisk together the non-dairy milk, flax meal and apple cider vinegar. Let it sit for about 10 minutes so the mixture thickens.
2) Whisk together the dry ingredients
In a large bowl, whisk together the all-purpose flour, corn meal, baking powder and baking soda.
3) Whisk together the flavor building ingredients
In another large bowl whisk the Vegan Butter, sugar, nutritional yeast flakes, maple syrup, chili powder, salt and onion powder. Now whisk in the non-dairy milk flax mixture until smooth.
4) Mix the dough and bake the vegan cornbread to perfection
Add wet ingredients to the bowl containing the dry ingredients and mix until smooth. Stir in the corn kernels. If you're using frozen kernels, they can be defrosted in the microwave in about 30 seconds. In this case, make sure that the kernels are drained of excess water and they are at room temperature before adding them to the mixture. Pour mixture into the baking dish and bake for 25 minutes or until an inserted toothpick comes out clean.
Corn Bread Variations
Golden Corn Bread with Vegan Cheese
Omit the sugar and fold in 1 cup of vegan cheese during the same time that you fold in the corn kernels.
Golden Corn Bread with Vegan Bacon
Omit the sugar and fold in ½ cup chopped veggie bacon during the same time that you fold in the corn kernels. Store in a covered container or plastic freezer bag in the refrigerator for up to 1 week or the freezer for up to 6 months.
This recipe makes one 8 x 8 inch loaf of Golden Vegan Corn Bread.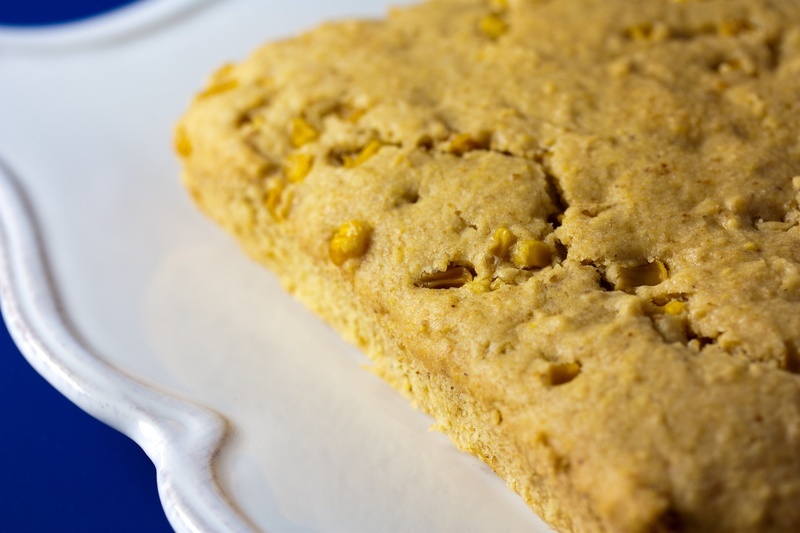 {loadposition-aal-8x8-baking-dish}