The Faces of Vegan Baking: Anita Shepherd of Electric Blue

Mattie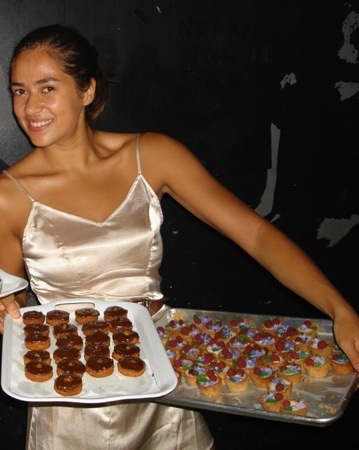 Anita Shepherd is the passionately creative vegan baker behind
Electric Blue Baking Company
. In this month's Faces of Vegan Baking interview, she shares her insights on what it takes to be a professional vegan baker, her main inspirations as well as an exciting new development for Electric Blue! Anita believes in bucking the norm and taking the time to do things right; she makes her own phyllo dough by hand in order to have the highest quality dough. If that's not dedication I don't know what is!
Mattie:
Please tell us a little bit about yourself and what you do.
Anita: I live in Brooklyn, New York and have my own little baking company called Electric Blue. My menu goes beyond been-there-done-that cupcakes & cookies to offer more unexpected treats, like baked spelt donuts, sticky date rolls, buckwheat crepes, raw vegan tarts & multiseed brioche. I also offer savory options, like quiche, pizzettas, empanadas & phyllo pies.* The aesthetic is decadent, yet health-conscious. Meeting both of those standards can get pretty labor-intensive, but unfortunately, I wouldn't have it any other way.
I am re-launching Electric Blue as a commercial bakery this month. This means that my baked goods will once again be available in local cafés and shops (my
website
will have an updated list of retailers next week). I had stopped production in the spring to work two irresistible chef jobs, and to kick-off Smorgasburg.
Smorgasburg is the weekly food market put on by Brooklyn Flea, fantastically perched on the Williamsburg waterfront every Saturday from 9am to 6pm. It's kind of a circus. The opening weekend in June attracted over 10,000 visitors. We were just featured in the
NY Times
$25 & under dining section, the
Wall St Journal
,
Village Voice
, & the
NY Magazine
cheap eats issue. I spend Thursday and Friday prepping, and all day Saturday working at the booth. Just like the rest of the food world, it is a ton of work with plenty of fun sprinkled in.
I'm one of a few vegan vendors, and the only vendor that brings something completely different every Saturday: two baked specialties, one sweet & one savory. So far, that includes empanadas, donuts, sausage rolls, caramel apples & pizza. I'm considering the slogan; "Always different, always vegan." One thing I did not anticipate was how important it is to have a "gimmick." So many of the vendors come with these impressive banners, logos, displays…even uniforms. Smorgasburg has definitely forced me to step up my game. Good food is just half the battle.
This week I am doing a collaboration with another vendor called Rob & Anna's (say it two times fast). They make the most incredibly delicious banana soft serve that contains only frozen bananas, and comes with your choice of amazing homemade sauces and toppings. To celebrate national ice cream month, we have created a vegan brownie sundae with my banana brownies and their soft serve and toppings! At my booth, I will also have spicy vegan sausage rolls.
(*I have recently gotten into making homemade phyllo. Despite the extra effort needed to make the dough, it is so much more pliable and easy to work with than the frozen, store-bought kind that always falls apart.)
Mattie: Please tell us about Electric Blue Baking Company. What was your primary motivation and influence for starting it?
Anita: In my free time, I catered parties for friends & baked muffins out of my home kitchen for a local café. In 2007, I had some recipes published in Bon Appetit. That gave me the confidence to quit my desk job and leap into the food world.
My first pastry job was working for Pichet Ong at Batch Bakery. I walked in one day and recognized him from the same issue of Bon Appetit I was in, where he was profiled alongside Will Goldfarb and Sam Mason, two other innovative pastry chefs. I handed him my resume over the counter and started gushing about what a fan I was. His reply was "When can you start?"
Another influence was Cody Utzman. He has built a small empire here in Brooklyn—including a sandwich shop/bakery, a Mexican street-food restaurant, and a French café. All of his menus are inspired by his travels, by what local ingredients are in season, and the demands of the locals. A good portion of each menu is vegan, and incredibly tasty. One of the reasons he hired me as a baker was that I could do both traditional and vegan baking. Over time, I started losing interest in non-vegan baking and eventually decided to go fully vegan myself. It seemed natural. It was the kind of food I enjoyed eating most, and that made me feel good physically.
I was still baking and catering in my free time, and decided that it only made sense to feed people the same kind of food I wanted to eat. My baking company went vegan about 3 months after I did.
Earlier this year, I had the opportunity to work with Neal Harden, my favorite vegan chef. I got to build a pastry menu to compliment his seasonal, vegetable-driven & sometimes raw menu. So that quickly took me from being just a baker to a full-blown pastry chef. For the first time I got to make plated desserts with many components, a big departure from the humble & rustic muffins that gave me my start.
My goal is to open a teahouse and vegan bakery. There are so many limitations on what I can make, the way that food is presented, and the message I can get across to customers by selling it to a middleman. Having my own location would open up so many possibilities. But I would continue building the wholesale side of my business. It would be nice for people everywhere to have decadent treats they can enjoy and not feel bad about—both physically and ethically.
Mattie: What is your favorite product that your bakery sells? Why?
Anita: The donuts. They are addictively delicious. I can sit down and eat six of them in a row. But unlike other donuts, I don't feel gross after snacking because they are baked, very light, & not-too-sweet. They are made with ingredients like organic spelt flour, kubocha squash puree & homemade coconut butter. The flavors can be adapted to the seasons and holidays. In the summer I do one with strawberry rhubarb glaze and shredded coconut, or in the winter, pumpkin chai spice with chocolate drizzle and pistachios.
Mattie: What else sets your products apart?
Anita: Everything I make is soy-free. I overdosed on soy as a newfound vegan. Soy nuggets, burgers, cheese, butter, yogurt, milk and tofu scramble just made the transition from meat & dairy so easy. The truth is that the easy choice was a mindless one. As a result of my habit, I developed an intolerance to it. My body just said "enough" and stopped digesting soy. I would turn into a human balloon and get stabbing pains in my stomach. No amount of digestive aids would help.
Since then, I have learned that the secret to being vegan is variety. I also learned to trade many of those processed foods for homemade. Cashew ricotta, coconut butter and macadamia milk are some of my favorites, and are used as ingredients in many of my baked goods.
Mattie: What is your favorite part of owning and operating a vegan business?
Anita: The clientele!
I graduated with a Biology degree and was going to continue onto grad school. After a tour I realized that most of my time would be spent by myself in a lab. I'm one of those people who needs human interaction to survive, and realized it was not for me. One of the reasons I initially got into food was the social aspect of parties and catering. I made food out of love for the people around me. To make them happy.
After all the long, hot hours spent baking labor-intensive food for not a lot of money, it's natural to think "Why am I doing this!? It's crazy!" But when you see a person enjoy it, all those doubts melt away. When profits are small, the people are what keep me going.
I get almost as much amusement from anti-vegans. This past weekend, there was a group of girls who walked by my booth. One of them said "Vegan?! I want BACON!" As loud as she could. Other people will see and smell something I make and excitedly come over to order one. As soon as they see the word "Vegan," they change their mind and walk away. Some say they'd prefer "the real thing." My philosophy is that ani-veganism is like homophobia. Those that are the most insecure in their "meathood" are the worst offenders.
Mattie: What is your favorite kitchen tool?
Anita: My turntable. I cannot cook without music. I listen to a lot of 80's pop, punk and new wave, 70s classic rock, funk, disco and soul, world music, & my Dad's old jazz albums when I'm up late baking. There is flour all over them! My husband is a musician and has a band called Navegante. If I'm not up late baking I am probably front & center on the dance floor at one of their shows.
Mattie: What was the most valuable resource that helped you in starting your bakery?
Anita: My mother. She taught me how to make something out of nothing and to never give up. She came to this country to attend college with $4 in her pocket and somehow managed to become a published scientist and community activist who helps immigrant families who start out just like she did. Even though she was initially disappointed that I did not follow in her footsteps & pursue science, she has encouraged me at every crucial step. At 66 years young she is now in her first year of Grad School studying bioethics at the University of Pennsylvania. Total inspiration!
Mattie: What was the hardest part of starting your bakery?
Anita: The lack of profit in small-scale food production. You have to kiss goodbye to weekly mani-pedis or having any fingernails at all. New clothes. New shoes. Travel. Dinners out. All of my resources go into my business. If you are starting from scratch, like me, you will never make it past the beginning stages if you can't live simply.
Mattie: If you had the choice to start your business all over again, what would you do differently and why?
Anita: If I could do-over school I would have studied business and not biology. More often, I find myself struggling to negotiate my cut of a sale and not as much analyzing the absorption rate of stomata on my basil leaves. Otherwise, I wouldn't change anything about the history of Electric Blue. Every mistake is a learning experience.
Mattie: What advice would you give people who are thinking of starting their own business that caters to vegans and vegetarians?
Anita: 1- Think of something you crave on a regular basis that you can't find anywhere. Chances are, you're not alone!
2- Don't limit yourself to vegan training. You'll learn more "out of the box", creative, innovative cuisine by working for chefs that share your personality traits more than your eating style. Food is like fashion. There are looks, techniques and ingredients that go in and out of style. I feel as though some vegans have trapped themselves in the past by isolating themselves. What I want to do is stay on the forefront of what is going on in the food world, and create my own, vegan interpretation of that for everyone to enjoy.
3- Be open-minded. The majority of my customers eat meat. I would not be able to appeal to them if my ego or politics came before my food.
Mattie: How much time did it take for your business to get from the idea stage to being open for business?
Anita: I'm not much of a planner, but I'm learning. Things just happened—in small steps. Vegan baking is not a get-rich-quick scheme. It is a very slow-building process. If I waited for my idea to be perfect, to have plans laid out for every brick of my dream bakery, I would still be sitting behind a desk somewhere.
When your resources are limited, you just have to kind of dive in and do what you can. I have literally put together menus for food I've never made before while typing an email to a customer. I have paid for packaging with pennies and nickels. I created my website overnight with a janky cut-and-paste application that has two layout options and won't work on a Mac. In the words of Tim Gunn, you just "make it work." If the end result is something beautiful, you move on to the next round. So far, I'm still in the game.
Mattie: What is your favorite baking ingredient right now? Why?
Anita: Spelt flour. It adds moisture & a nice nutty flavor to baked goods, and has more nutritional value than white flour, which makes it more satisfying. I am pretty hooked on it and put it in nearly everything.
Mattie: What kind of changes would you like to see in the current vegan baking world?
Anita: More diversity. Cupcakes and brownies are covered. I would love to be the first vegan baker to make a St. Honore cake*, but secretly wish someone else will beat me to it. Also, we need to demand better ingredients. There are still vegan bakers out there who use hydrogenated shortening and bleached flour. For me, as a chef, you cannot stand by food that is processed like that. I don't care how ethical your food may seem. If I feel sick after eating it, where are the ethics in that?
*(A crush-worthy French dessert comprised of glazed, custard-filled choux pastry puffs, held together with flavored whipped cream. Sometimes topped with seasonal berries, caramel or nuts.)
Mattie: How can we find out more about Electric Blue Baking Company?


Mattie: Thanks so much for taking part in this interview Anita! A St. Honore cake will hopefully be forthcoming!