Vegan Gingerbread Pecan Biscotti

Mattie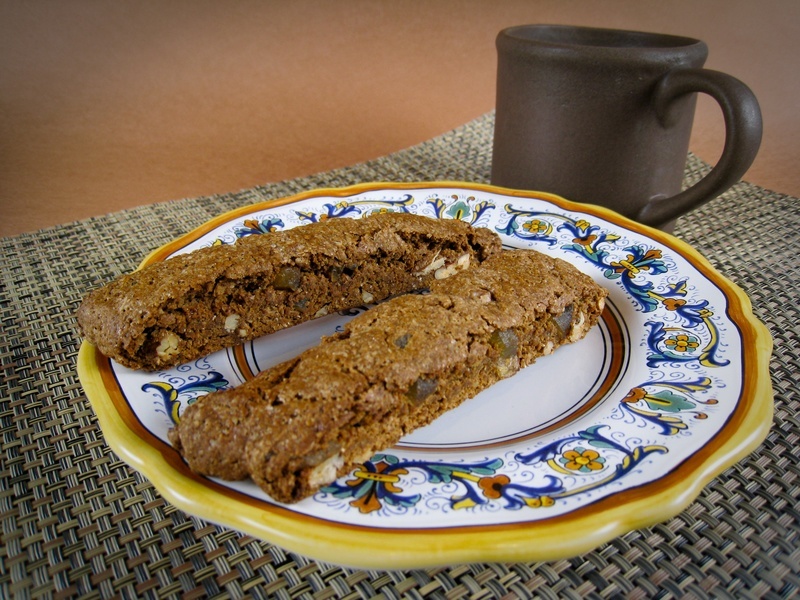 This Vegan Gingerbread Pecan Biscotti recipe showcases the winning combination of candied ginger, pecans, molasses and just the right amount of spices like cinnamon, cloves and nutmeg. The result is a vegan biscotti armed with a deep, complex flavor with a spicy finish that helps kick out those winter blues.
Find more
Gingerbread recipes
on Veganbaking.net
Vegan Gingerbread Pecan Biscotti Recipe
1/3 cup, 1 Tablespoon water
2 Tablespoons
golden flax meal
1 cup, 2 Tablespoons all-purpose flour
½ cup whole wheat flour
½ cup white sugar
2 teaspoons ground cinnamon
1 ½ teaspoons ground ginger
1 ½ teaspoons baking powder
1 teaspoon ground cloves
¼ teaspoon ground nutmeg
¼ teaspoon salt
3 Tablespoons (40 grams)
Regular Vegan Butter
or stick margarine, melted
½ cup pecans, cut into ¼ inch pieces
¼ cup candied ginger, cut into ¼ inch pieces
2 Tablespoons molasses
1 teaspoon vanilla extract
1) Prepare your flax mixture
Preheat the oven to 375F (190C). Line a cookie sheet with parchment paper. In a large mixing bowl whisk together the water and flax meal. Set aside for about 10 minutes so the mixture thickens.
2) Whisk together the flavor building ingredients then cut in the Vegan Butter
In a large bowl, whisk together the all-purpose flour, whole wheat flour, sugar, cinnamon, ground ginger, baking powder, cloves, nutmeg and salt. Cut in the melted Vegan Butter until the dough resembles a grainy texture.
3) Add the pecans and ginger
Stir in the pecan pieces and the candied ginger pieces.
Learn how to make crystallized ginger
.
4) Build the biscotti dough
Add the molasses and vanilla to the bowl containing the flax meal mixture and whisk until well incorporated. Add this mixture to the bowl containing the flour in Step 2 and mix until just incorporated. Use your hands to mix the dough at this point but don't knead or over mix it. The dough will be very loose and dry but resist the urge to add water.
5) Shape the dough
Shape the dough into a log about 10 inches long and place it on cookie sheet. Pat it down to flatten the dough to ½ inch thickness.
6) Bake the vegan biscotti to perfection
Bake for 30 minutes. When cool enough to touch, cut into 1 inch thick diagonal slices. Place sliced biscotti on cookie sheet, and bake an additional 5 to 7 minutes on each side, or until it's almost rock hard. There will be a little moisture still left in the biscotti that will evaporate out while they're cooling.
This recipe makes about 10 to 12 pieces of Vegan Gingerbread Pecan Biscotti.