Quick Applesauce

Mattie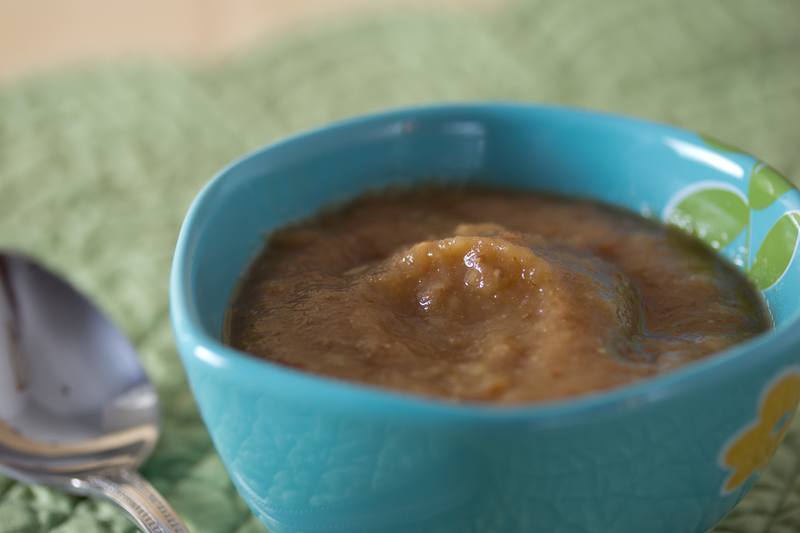 Have you ever gone apple picking and brought back pounds of fresh apples with high aspirations only to watch helplessly as your prized stock slowly breaks down as you're just too busy to commit to making all the
Apple Pies
,
Apple Turnovers
,
Apple Cider Doughnuts
and
Apple Strudel
? This happened to me recently and as I was opening the compost bin of shame my friend Dan mentioned, "you know, my Mom uses the soft apples for apple sauce and it comes out awesome!" This sounded really interesting to me but I still didn't have time. So why not combine these soft apples with this lack of time and make a quick and easy applesauce?
This applesauce can feature any type of apples you can get your hands on: gravenstein, winesap, granny smith, gala and these apples can be fresh or soft to the point of obviously not rotten. It uses a touch of maple syrup for richness, flax meal thicken it just a bit to improve smoothness and mouthfeel and lemon juice to lightly brighten it all. The result is an applesauce that tastes like you didn't make it in mere minutes. Still don't have time to eat it? You can can it and even turn it into Holiday gifts- just don't tell your friends this was from a cache of apples you were about to mindlessly chuck into the compost bin. Feel free to scale up this recipe according to how many apples you have.
Find out which
apple varieties are best for baking
.
Quick Applesauce Recipe
4 medium size apples
½ cup maple syrup
Slice the apples into quarters or eighths and cut out the stems and seeds. Feel free to leave the skins on; remember, we're doing this quick and easy style and the skins are coming along for the ride because they're not going to negatively impact texture and flavor. Add the apples, maple syrup, flax meal and lemon juice to a food processor or blender and process until smooth. This recipe makes about 4 cups of Quick Applesauce.