Vegan Strawberry Rhubarb Pie

Mattie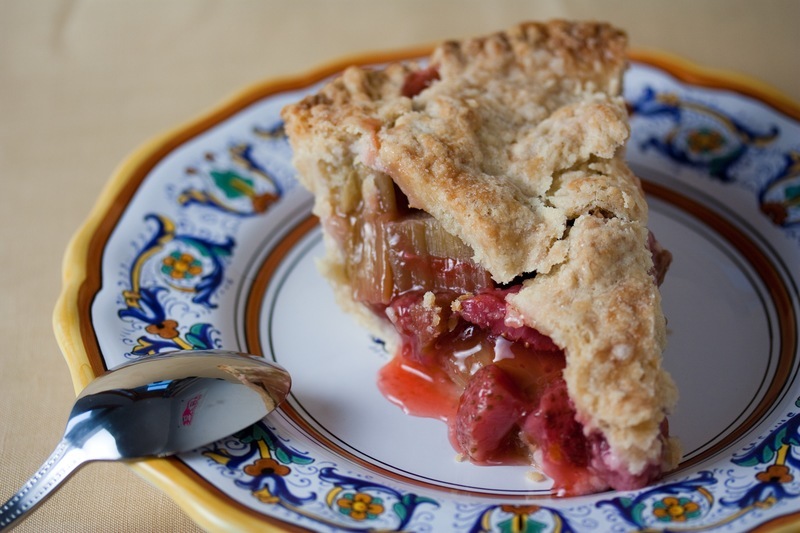 Strawberry and rhubarb's sweet and tart flavors are married with a hint of orange zest in this Vegan Strawberry Rhubarb Pie recipe. Strawberry and rhubarb together in a flaky pie crust is probably the most effective way to ring in the spring and summer months via flavor alone. Both of these fruits let go of lots of water during baking which can make things on the soupy side. A generous amount of arrowroot flour and a longer baking time at a slightly lower temperature than usual solves this issue and gives the pie a chance to bake to its juicy perfection. It's like a summer vacation in your mouth.
Find more
Strawberry recipes
on Veganbaking.net
Vegan Strawberry Rhubarb Pie Recipe
1 Preparation of
Flaky Vegan Pie Crust
1 ½ pounds rhubarb, cut into 1 inch pieces (5 to 6 cups)
1 ½ pounds strawberries, hulled and quartered (about 5 cups)
1 cup sugar
5 Tablespoons arrowroot flour
2 teaspoons orange zest (about 2 teaspoons)
½ teaspoon vanilla extract
pinch salt
1 teaspoon sugar
1) Prepare your pie crust
Prepare a 9 inch pie crust. Don't roll out the dough yet. Remove it from the refrigerator but keep it in plastic wrap so it stays moist. If you're using a store bought crust make sure it's thawed and in a plastic bag.
2) Prepare your strawberry rhubarb pie filling
Preheat your oven to 375F (191C) with a rimmed baking sheet on the lowest rack. Wash the strawberries and rhubarb, chop and toss together in a medium mixing bowl. In another medium bowl whisk together the sugar, arrowroot flour, orange zest, vanilla extract and salt. Add the sugar mixture to the bowl containing the strawberries and rhubarb and toss until well combined.
3) If using a homemade crust, place it in your pie plate
If you're using a home made pie crust, prepare it in the pie plate and roll out the top layer in between two sheets of parchment paper.
4) Transfer the pie filling to the pie and secure the top crust
Transfer the pie filling to the pie shell. Don't be afraid to pile it into a huge mound; the fruit will cook down considerably during baking. Using a pastry brush dampened with water, moisten the outer diameter of the pie crust to allow the top crust to form a good bond when it's placed over it. Cover the pie with pie crust and cut the excess top and bottom crusts until 1 inch is protruding beyond the pie plate. Now work your way around perimeter of the pie while gently pressing the top layer of crust onto the lower layer. Work your way around the perimeter again and flip the 1 inch of protruding crust under itself as you go around. Using the end of a fork, work your way around the crust one last time, pressing its end along the perimeter of the crust horizontally to form a visually appealing crimp.
5) Bake to perfection
Cut 8 slits into the top crust and dust it with the 1 teaspoon of sugar. Place the pie in the oven on the rimmed baking sheet. This baking sheet serves three purposes: 1) it will catch any spill-over before it ends up on the floor of your oven. 2) it allows heat to be drawn to the bottom of the pie, accelerating its baking and reducing its tendency to become soggy. 3) The baking sheet allows the pie to easily be removed from the oven after baking. Bake for about 1 hour, 10 minutes or until the crust is golden, making sure to rotate the pie 180 degrees halfway through the baking duration. Cool the pie on a wire rack for 3 to 4 hours before serving.
Covered with plastic wrap, the pie will keep in the fridge for up to one week. This recipe makes one Vegan Strawberry Rhubarb Pie.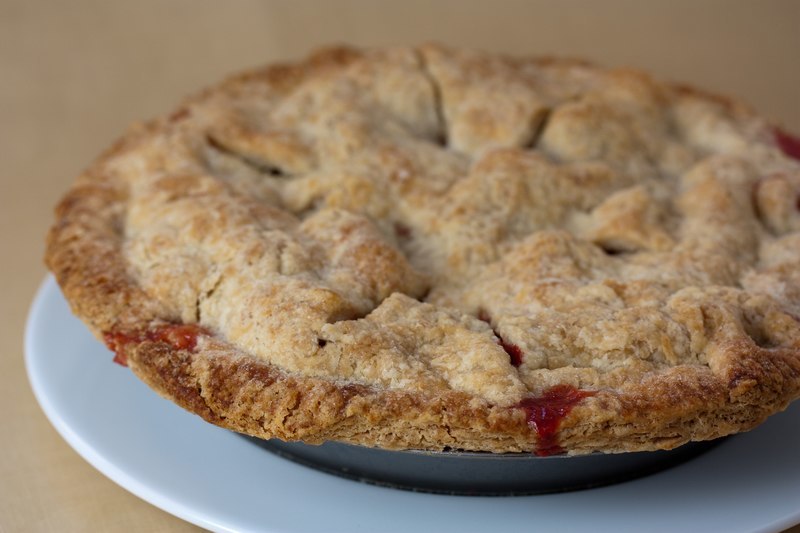 User reviews
Wonderful Flavor- Use Scissors
I really liked this pie. I have been vegan for 6 years and it's been many years since I've had much pie let a lone a Strawberry Rhubarb Pie! I may have went a bit overboard "eyeballing" the orange zest but it's a perfect sweet pie and I highly suggest you try this. It was the first pie I've made and it was really pretty easy! I used fresh strawberries and thawed out Rhubarb. They cooked just fine together. Not too soggy. The size of the fruits in the instructions were perfect. I would suggest using Kitchen Scissors to cut the Rhubarb. I tried a knife and then a pair of scissors and discovered that is the way to go!
Was this review helpful to you?

Janice
The filling it to die for!
I used my own pie crust recipe, but did the filling as presented. My guests couldn't get enough of this pie...especially the vegan couple!
Was this review helpful to you?

Amy Dunmore
Absolutely Amazing
I just made the Strawberry Rhubarb Pie. Never having cooked rhubarb before, your beginning paragraph gave me more confidence in this recipe. It's absolutely delicious. You have a new fan.
Was this review helpful to you?

Lucus
perfect
I made this pie for the Fourth of July weekend and it was perfect. the only thing different was i used tapioca flour instead of arrowroot. I love how tangy and sweet everything was.
Was this review helpful to you?