Vegan Peanut Butter Chocolate Banana Pie

Mattie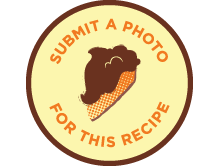 This Vegan Peanut Butter Chocolate Banana Pie recipe combines probably the three best flavor combinations in the entire dessert world. These three prominent flavors are then brought together in this vegan pie with brown rice syrup, non-dairy milk and a touch of salt. Use
Flaky Pie Crust
for best results.
Vegan Peanut Butter Chocolate Banana Pie Recipe
½ cup + 1 Tablespoon peanut butter, smooth unsalted
¼ cup + 3 Tablespoons water
2 Tablespoons amber agave syrup
½ teaspoon salt
1 ¼ cups semi-sweet chocolate chips
6 Tablespoons non-dairy milk

5 bananas, sliced into ½ inch pieces

9 inch pie crust (pre-baked if you're using a homemade pie crust)
1) Whisk together the peanut butter and other flavor building ingredients
Preheat your oven to 350F (177C). In a medium sized bowl, whisk together the peanut butter, water, agave syrup and salt. Set aside.
2) Prepare the chocolate mixture
Place chocolate chips in a medium saucepan and melt over low heat while whisking constantly. Once melted, whisk in the non-dairy milk.
3) Assemble the vegan pie and bake to perfection
Arrange the banana slices in the pie crust flat-side-down. Drizzle with the peanut butter mixture followed by the chocolate mixture then bake for 30 minutes.
4) Allow the pie to cool before serving
Allow the pie to cool on a wire rack before serving. Drizzle your slice with chocolate sauce, caramel sauce or serve with ice cream. This pie keeps for up to one week in the refrigerator or 6 months in the freezer. This recipe makes one 9 inch Vegan Peanut Butter Chocolate Banana Pie