Celebration Vegan Pumpkin Pie

Mattie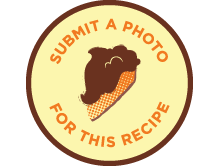 This Celebration Vegan Pumpkin Pie recipe features barley malt syrup to considerably push pumpkin flavors forward. Cinnamon, ginger, cloves and a touch of lemon juice are also effective flavor enhancers in this easy to make vegan pie.
Flaky Pie Crust
is recommended.
Celebration Vegan Pumpkin Pie Recipe
9 inch pie crust (pre-baked if you're using a homemade pie crust)

16 oz pumpkin purée
6 oz firm tofu
¾ cup sugar
¼ cup vegetable oil
¼ cup barley malt syrup
¼ cup arrowrot flour or tapioca flour
1 teaspoon cinnamon
1 teaspoon lemon juice
½ teaspoon ginger
¼ teaspoon clove

Preheat your oven to 350F (177C). Add all the ingredients to a food processor or blender and process until smooth. Pour the filling nto the pie crust and bake for one hour. To store, cover the pie with plastic wrap and keep it in the refrigerator for up to 1 week. This recipe makes one 9 inch Celebration Vegan Pumpkin Pie.


User reviews

moonglum
View all my reviews (1)
What kind of Tofu?
Hi, just a quick question: Is this tofu here the of the silken variety (like the japanese-style Morinu)? Or that standard type, or chinese-style that comes in the tub, packed in water (like Na-soya or Panda)? The former has more of a Jell-o consistency, while the latter is more crumbly.

Which did you have in mind here?

Thanks!
Was this review helpful to you?

Lizzy W
BEST vegan pumpkin pie I have ever had!
I made this pie for thanksgiving for non vegans and got rave reviews. It was firm and delicious. I used tapioca flour for my recipe and would have added a touch more sugar. But it was so so good I can't wait to make it again.
Was this review helpful to you?

Rebecca
GREAT pie!
Just made a variation of this and it turned out great! I used half hubbard squash and half carnival squash for the pumpkin. I cut out 1/2 cup of the sugar since carnival squash is sweeter than pumpkin and I used brown rice syrup instead of barley malt syrup. I also used cornstarch instead of arrowroot/tapioca flour since I don't have either.

It is so tasty! And I used your flaky pie crust that I made with oil! I can't wait to serve this to my friends!
Was this review helpful to you?