Celebration Vegan Pumpkin Pie

Mattie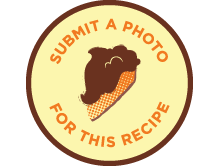 This Celebration Vegan Pumpkin Pie recipe features barley malt syrup to considerably push pumpkin flavors forward. Cinnamon, ginger, cloves and a touch of lemon juice are also effective flavor enhancers in this easy to make vegan pie.
Flaky Pie Crust
is recommended.
Celebration Vegan Pumpkin Pie Recipe
9 inch pie crust (pre-baked if you're using a homemade pie crust)

16 oz pumpkin purée
6 oz firm tofu
¾ cup sugar
¼ cup vegetable oil
¼ cup barley malt syrup
¼ cup arrowrot flour or tapioca flour
1 teaspoon cinnamon
1 teaspoon lemon juice
½ teaspoon ginger
¼ teaspoon clove

Preheat your oven to 350F (177C). Add all the ingredients to a food processor or blender and process until smooth. Pour the filling nto the pie crust and bake for one hour. To store, cover the pie with plastic wrap and keep it in the refrigerator for up to 1 week. This recipe makes one 9 inch Celebration Vegan Pumpkin Pie.