Vegan Kimchi Puff Pastry with Shiitake Mushrooms and Pine Nuts

Mattie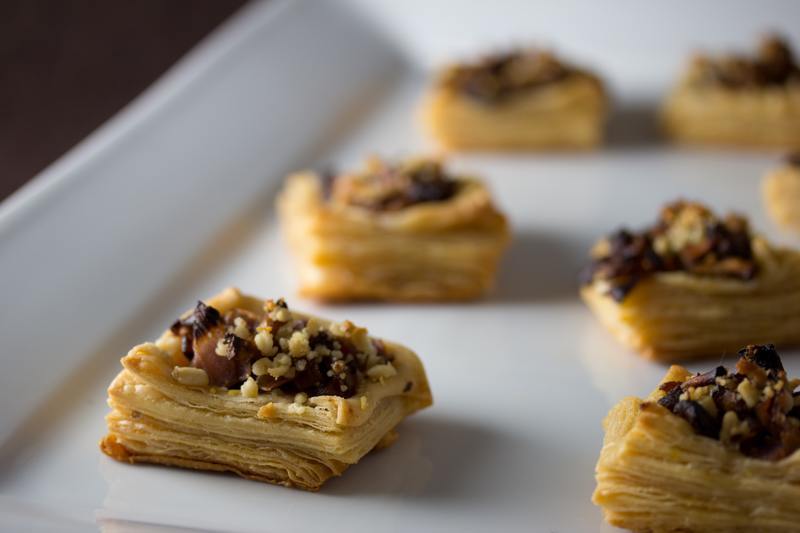 I'm a huge fan of
kimchi
because it adds a fascinating crunch and a savory spicy flavor to whatever you pair it with. It seems as if kimchi is one of those foods that becomes more than the sum of its parts after it ferments to perfection. Napa cabbage provides the crunch but also is rich in glutamates, the compounds that are responsible for savory favors, otherwise known as
umami
. There had to be a reason why napa cabbage is always part of kimchi!
Combining puff pastry, kimchi and Vegan Butter
Recently I incorporated kimchi into vegan butter for an increased depth of flavor. The kimchi flavor was less apparent but the butter had a complex flavor unlike anything I've tasted. What if I made a puff pastry out of
Kimchi Vegan Butter
that was designed to deliver a one-two punch of flaky butteriness and savory flavors that even the most die hard meat eaters would love? The result is Vegan Kimchi Puff Pastry with Shiitake Mushrooms and Toasted Pine Nuts. This recipe may look a little daunting but it's easy if you split it into several nights and refrigerate it as you go. I usually make the Kimchi Vegan Butter and mushrooms one night, prepare the puff pastry and give it a turn or two on the second night and prepare and bake them on the third night.
While we're at it, where'd I put those shiitake mushrooms and pine nuts?
In addition to the kimchi puff pastry I opted for shiitake mushrooms because they contain more glutamates than any other mushroom. Pine nuts sprinkled on top toast to perfection while baking which adds one more layer of richness. This hors d'oeuvre holds its own at parties where you don't want people to take one bite and figure "this must be the food item that the vegan brought." They'll be coming back for seconds and it'll be your little secret. Find out
How to Make Vegan Kimchi
yourself if you want to really pull out all the stops.
Find more
Savory recipes
on Veganbaking.net
Vegan Kimchi Puff Pastry with Shiitake Mushrooms and Pine Nuts Recipe
2 cups (430 grams)
Kimchi Vegan Butter
, This is two batches of the Kimchi Vegan Butter recipe. You'll have ¼ cup left over to use for other food projects (ie: toast)
4 cups shittake mushrooms, chopped into ¼ inch pieces
½ cup onion, chopped into ¼ inch pieces
2 teaspoons shiro miso
4 cloves garlic, minced
2 Tablespoon rice wine vinegar
¾ teaspoons umeboshi plum vinegar (optional)
¼ chopped pine nuts
1) Prepare the Vegan Butter
Prepare the Kimchi Vegan Butter.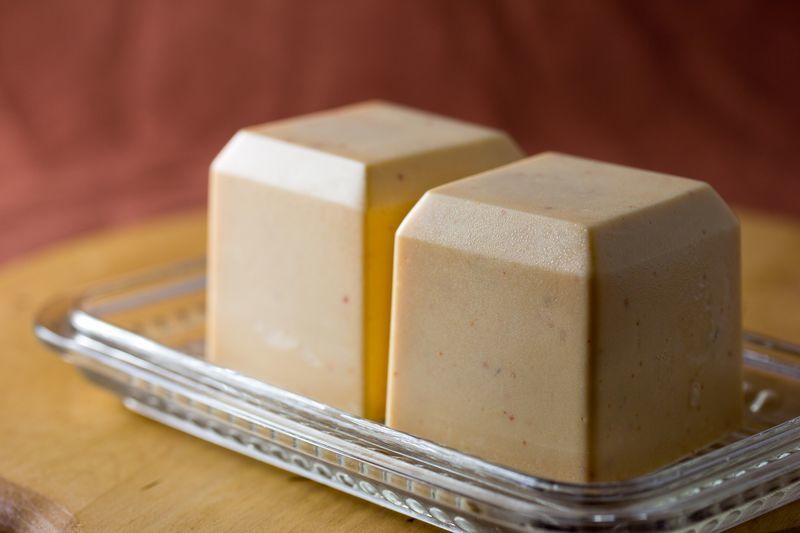 2) Prepare the puff pastry
3) Prepare the shiitake mushrooms
Add the vegetable oil to a skillet placed over medium heat and heat until hot. Add the mushrooms, onions, miso and saute for 5 minutes while stirring frequently. Add the garlic and saute for another 4 minutes. Stir in the rice wine vinegar and umeboshi plum vinegar to deglaze and saute for 1 more minute. Remove the ingredients from heat and place them in an airtight container in the refrigerator.
4) Cut the puff pastry to size
Preheat your oven to 375F (191C). Roll puff pastry to 15 x 15 inches. Cut the puff pastry with a dough cutter or pizza cutter so it's in 3 inch squares. You should have 4 cuts in each direction.
5) Place the puff pastry squares on your baking sheets
Place 7 to 8 squares on each baking sheet, taking care to lay the dough on the side that was previously facing up. Flipping the dough on it's other side ensures that the best side of the dough is on the outside and the pastries look as good as possible. When you're done with one sheet, place it in the refrigerator while you work on the next one. If your puff pastry dough starts to melt and become gooey at any point in preparation, place it in the freezer for about a half hour so the fats re-solidify.
6) Place the mushroom filling on the puff pastry squares, followed by pine nuts
Remove one of the baking sheets from the refrigerator. Place 2 Tablespoons of filling in the middle of one of the dough squares and top them with a dusting of pine nuts.
7) Bake your kimchi puff pastry to perfection
Bake for 30 to 35 minutes or until they're golden, making sure to rotate the baking sheets 180 degrees halfway throughout the baking duration. It's normal for some fat to ooze out during baking. After they're removed from the oven, use a spatula to transfer them to a cooling rack. Serve warm. If you're serving these pastries after they have cooled, place them in a 400F (204C) oven for about 15 minutes to re-crisp them before serving. Re-crisping puff pastry before serving is really important. If you don't re-crisp them they'll taste mushy and all that work preparing your puff pastry won't be appreciated.
Kimchi Puff Pastry with Shiitake Mushrooms and Pine Nuts will keep in an air tight container at room temperature for about 1 week. This recipe makes 15 pieces of Vegan Kimchi Puff Pastry with Shiitake Mushrooms and Pine Nuts.