Vegan Churros

Mattie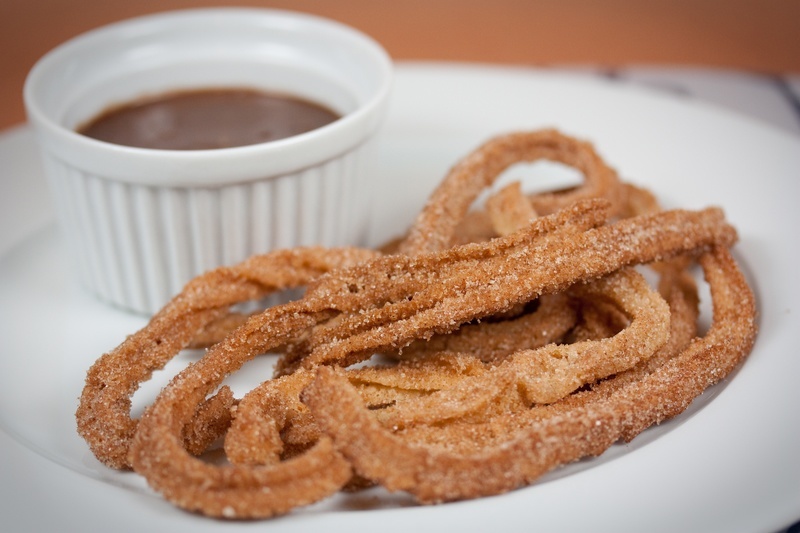 Churros are so good and such a rare treat that it's always a sign of good luck to actually find them. Traditionally they're made with eggs so vegan churros are an even more rare find. This Vegan Churro recipe features sugar and cinnamon for
churriffic
flavor and flax as the primary binder. It's important to use the biggest pastry bag star tip you can find and to go easy on the frying until they're just barely golden brown so they're not too crisp. A candy thermometer is crucial for best results. Enjoy these churros with Churro Chocolate Sauce that's enhanced with the creaminess of non-dairy milk and just a pinch of cayenne.
Find more
Chocolate recipes
on Veganbaking.net
Vegan Churro Recipe
For the Churros
2 Tablespoons
golden flax meal
6 Tablespoons water
vegetable oil such as refined canola, refined corn, refined safflower, refined sunflower, refined soy or peanut oil
1/3 cup sugar
1 teaspoon cinnamon
1 cup water
1/3 cup (72 grams)
Regular Vegan Butter
or stick margarine
2 Tablespoons brown sugar
½ teaspoon salt
1 cup all-purpose flour
½ teaspoon vanilla extract
For the Chocolate Sauce
4 oz dark chocolate, chopped
1 cup non-dairy milk
1 cup non-dairy milk
¼ cup sugar
1 Tablespoon arrowroot flour or tapioca flour
1/8 teaspoon cayenne powder
1) Prepare your flax meal mixture
In a small bowl, whisk together the flax meal and the water. Let sit for about 10 minutes so the mixture thickens.
2) Prepare the frying oil and cinnamon sugar
Fill a 10 to 12 inch frying pan or stock pot with 1 ½ to 2 inches of vegetable oil and heat it to 360F (182C). In a large bowl, whisk together the ¼ cup sugar and cinnamon and transfer it to a plate.
3) Prepare a roux
In medium saucepan whisk together the water, Vegan Butter, brown sugar, salt and bring to a boil. Turn the heat to low and stir in the flour until it turns into a ball of dough. Remove from heat.
4) Mix the flax mixture and vanilla extract into the roux
Add the flax meal water mixture and the vanilla extract to the medium sauce pan and stir with a wooden spoon until it incorporates itself into the ball of dough.
5) Pipe the vegan churro dough into the hot oil
Fill a pastry bag with the churro dough and attach the largest star tip that you have. Make sure the temperature of the oil has stabilized at 360F (182C) and you no longer have to adjust the heat as often.
Squeeze a five inch long piece of dough out into the hot oil. You can use your finger to release the dough from the star tip. Squeeze out about 4 pieces of dough at a time, being careful not to burn yourself on the hot oil. Cook them about 1 minute, turn them over, then cook an additional minute or until barely golden brown. It's important to use the biggest star tip you can find and to cook them until they're barely golden brown. The smaller diameter they are and the darker they get, the crispier they get.
Remove the churros with a slotted spoon or carefully with tongs and place them on a plate covered with a few paper towels so the excess oil can drain off.
6) Coat each churro in the cinnamon sugar
Roll each churro into the bowl with the sugar and cinnamon until well coated. Enjoy them dunked in Churro Chocolate Sauce below.
7) Prepare the Chocolate Sauce by melting the chocolate
Place the chocolate and one cup of the non-dairy milk in a small saucepan and stir over low heat until the chocolate has melted.
8) Whisk the rest of the ingredients into the chocolate mixture
In a medium mixing bowl, whisk together the other cup of non-dairy milk with the sugar, arrowroot flour or tapioca flour and cayenne powder. Add this mixture to the chocolate mixture from Step 1. Place on low heat, whisking constantly for about 5 minutes or until the chocolate is thickened. Pour and serve in small bowls or ramekins for dunking the churros. The churros should be served warm and dunked into the chocolate sauce for every bite.
This recipe makes about 24, 4 inch long Vegan Churros.
User reviews

vajiya3892
#1 Reviewer
View all my reviews (57)
Excellent and healthy snack! Awesome
Was this review helpful to you?

Lucy Dyer
Good Snacking
This is an excellent recipe for good snacking. I would probably love to try this soon but I have a quick question, where can I buy vegan butter? Is it available in Costco or Walmart? Anyway, if you're looking for certified, well-experienced fence builders, I suggest you check the link below. Thanks!
Was this review helpful to you?

Felicity
How would they go with pure coconut oil instead of your 'butter' recipe or margarine?
Was this review helpful to you?

Nithya
Very very good
I just made these. They came out lovely; crisp on the outside and soft on the inside. I'm wondering though if the 160F temperature is right. My candy thermometer might be faulty, but it was registering temperatures around 230 F when I dropped my dough in, and only then did it fry up properly. The oil (sunflower) was smoking lightly at the time. The sugar in the batter made it brown quickly.
Also, I felt the chocolate sauce, while delicious, was rather unnecessary. The dredging of cinnamon sugar was enough for me and the sauce seemed extraneous. Still, it will be wonderful to make chocolate milk with so I certainly don't regret making it.
Thank you for providing such an easy, delicious recipe.
Was this review helpful to you?

hoopz!
best churros ever!
Made these churros for a vegan potluck and a Batch for my family. The dough was great, crunchy yet a little chewy, which i really liked. I also didnt make the choco syrup, but used a great agave syrup. I didnt have a pastry bag so i just used a large ziplock baggy. all in all, 2 thumbs up. ENJOY!
Was this review helpful to you?