Vegan Ginger Snap Cookie Ice Cream

Mattie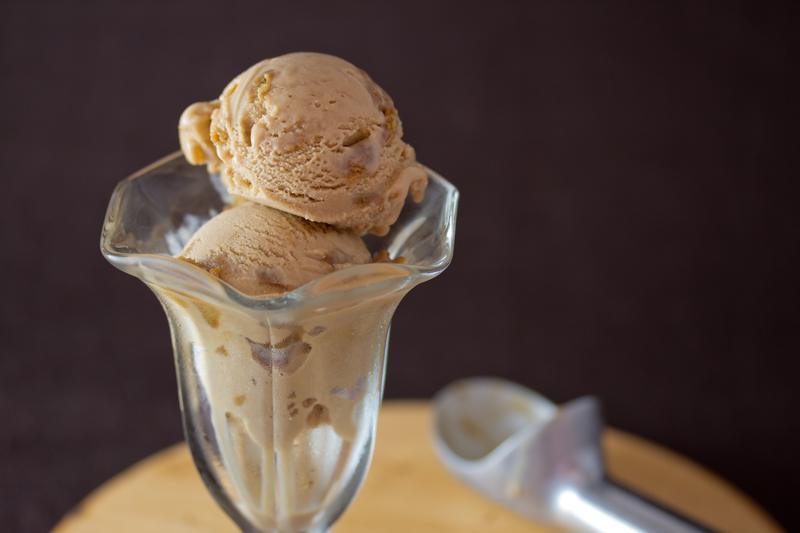 Trying cake batter ice cream recently I was intrigued of the concept of blending two completely different types of desserts. I loved how the ice cream takes on the unexpected flavor of cake batter but still has the consistency of ice cream. What could I get away with in an attempt to blend flavors and textures that would contrast but also compliment each other? I have a flavor experience burned in my memory from some point in my life where I had vanilla ice cream oozing over a ginger snap cookie. I realized that this was what I must try. Should I grind the ginger snaps and steep them in non-dairy milk or just blend them in the ice cream recipe before processing in the ice cream maker? Would I still need to add the same ratios of ingredients as my Vanilla Ice Cream recipe?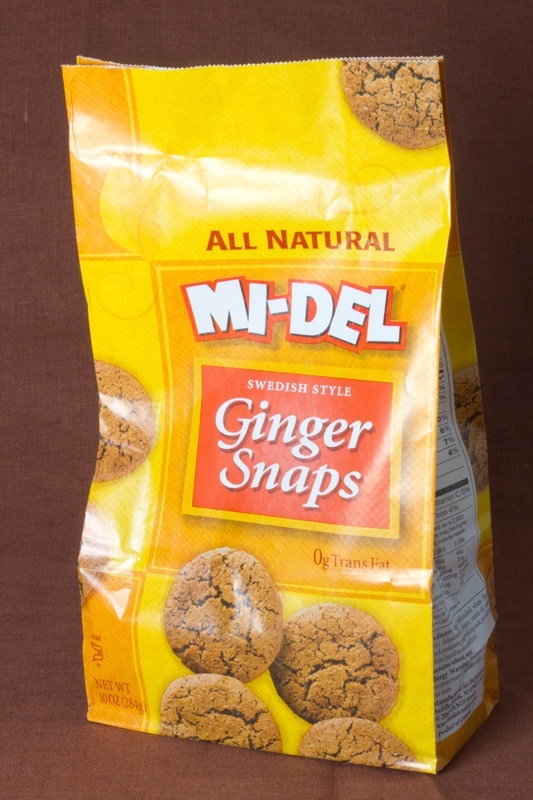 Infusing cookies into vegan ice cream
I tried steeping various amounts of Mi-Del brand ginger snaps in warmed ice cream mixture for 30 minutes after pureeing them in a food processor then attempting to strain the liquids out by pouring it over a cheesecloth-lined collander placed over a mixing bowl. The mixture thickened and I was unable to drain off the excess. Then I realized that this could be a good thing. Would it benefit the ice cream to just leave them in? Since the starch in the wheat flour of the cookies was holding onto the moisture I could probably get away with reducing or eliminating the xanthan gum. Xanthan gum is a good idea to use in vegan ice creams like my
Vegan Vanilla Ice Cream
so the fats are emulsified, air bubbles are held in place an ice crystals are inhibited from growing and making the mixture stiff and icy.
If I processed the mixture with the cookies wouldn't I develop the gluten in the cookies, thus making the mixture excessively gummy? Further testing proved that this wouldn't be a problem as long as I kept processing around 30 seconds or less. This is because gluten bonds form the most during inital baking. Once the bonds are formed the gluten is unable to form further major bonds if it's broken down and made into a dough or batter again because the proteins are denatured. Processing the cookies into the mixture allowed the consistency and performance of the ice cream to remain intact so the xanthan gum could be eliminated from the recipe.
Fine tuning the ginger flavor
After trying different ratios of cookies I found that a 10 ounce bag with ¾ cup of the cookies chopped yielded a assertive ginger flavor with chunks of ginger cookie in every bite. If you're sensitive to ginger you may want to reduce the overall weight of the cookies in the recipe to 8 ounces.
Feel free to take this concept and apply it to things other than ginger snaps. With some trial and error you could come up with flavor variations like Corn Bread Ice Cream, Banana Bread Ice Cream, Shortbread Cookie Ice Cream or even Cinnamon Toast Crunch Cereal Ice Cream.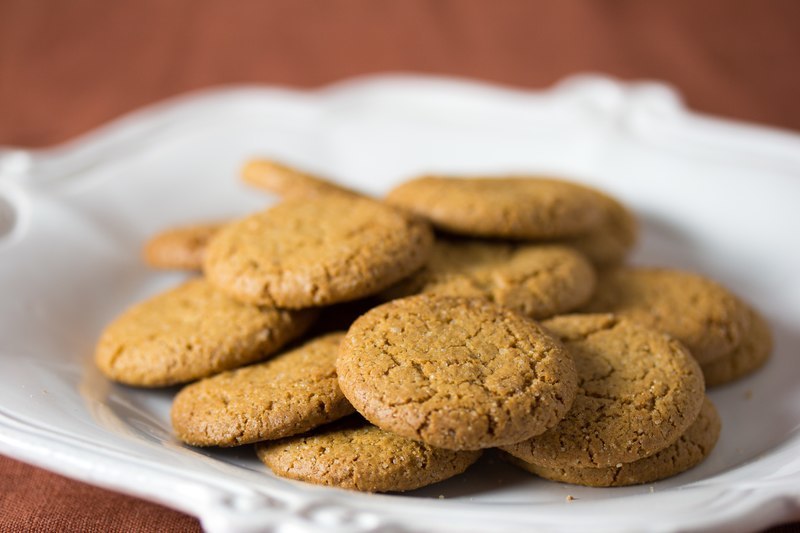 Find more
Ginger recipes
on Veganbaking.net
Vegan Ginger Snap Cookie Ice Cream Recipe
10 ounces ginger snap cookies (I used Mi-Del brand)
2 ½ cups non-dairy milk
½ teaspoon apple cider vinegar
¼ cup white sugar
¼ cup corn syrup
1) Chop the cookies and curdle the non-dairy milk
Chop ¾ cups ginger snap cookies into ¼ inch chunks. Place them in an airtight container and store them in the freezer to make them cold. In a small bowl whisk together the non-dairy milk and apple cider vinegar. Set aside for at least 10 minutes while the mixture curdles. Soy or almond milk is recommended because their proteins curdle most effectively. Since we're using such a small amount of apple cider vinegar the non-dairy milk won't curdle noticeably but the overall depth of flavor of the ice cream will be increased.
2) Set aside your oil and sugar
Place the vegetable oil, sugar and corn syrup in a food processor and set aside.
3) Process all of the ingredients until smooth
In a small saucepan heat the non-dairy milk just before it starts to boil. Remove from heat and place in the food processor. Add the remainder of the cookies and process for 30 seconds. Transfer the mixture to a covered heat-proof container and place it in the refrigerator until cool, about 4 hours.
4) Process the vegan ice cream in an ice cream maker then stir in the cookie chunks
Process the mixture in an ice cream maker for 30 minutes. While the mixture is processing, chill your ice cream container in the freezer. This will ensure that the ice cream is as cold as possible as it goes into the freezer to harden. Transfer the ice cream to the container and stir in the ¾ cup of ginger snap cookie chunks. Pack the ice cream down to make sure there are as few air pockets as possible. Chill for at least four hours. This recipe makes about 1 quart of Vegan Ginger Snap Cookie Ice Cream.
User reviews
Here it is. Try it! Unbelievably good.
http://seitanismymotor.com/2010/05/speculoos-spread-ice-cream/
Was this review helpful to you?
Have you checked out Mihl's recipe for specaloos icecream on "Seitan is my motor" website? I made that with ground up specaloos instead of ginger snaps and it was absolutely fantastic. I'm guessing this will be too...
Was this review helpful to you?

Melanie
I'm confused with steps 2 and 3. You say to put the apple cider vinegar/milk in the food processor but in the next step you say to boil it, then put it in the food processor.
Was this review helpful to you?