Vegan Hazelnut Coffee Ice Cream

Mattie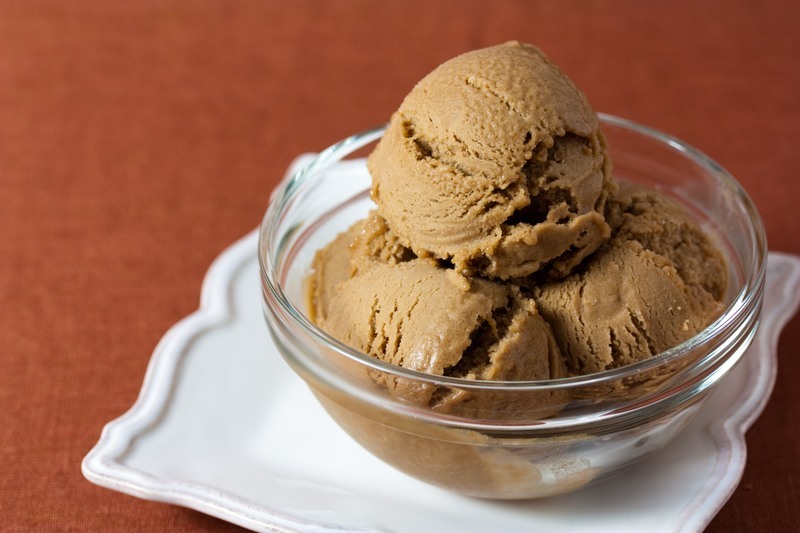 This Vegan Hazelnut Coffee Ice Cream recipe takes advantage of hazelnuts, also known as filberts for its base and to enhance coffee flavors. Early trials of this vegan ice cream used toasted hazelnuts which brought out slightly deeper hazelnut flavors but left minuscule granules in the ice cream which affected creaminess. If you have a VitaMix, go ahead and toast them. If you have a regular blender leave the hazelnuts untoasted so creaminess isn't affected. The ice cream will be delightful either way, especially when topped with
Vegan Double Chocolate Sauce
.
Find more
Hazelnut recipes
on Veganbaking.net
Vegan Hazelnut Coffee Ice Cream Recipe
1 ¼ cups water
1 cup freshly ground coffee beans
1 cup hazelnuts, skinned
1 ¼ cup water
1 cup + 2 Tablespoons sugar
3 Tablespoons
vegetable oil
2 Tablespoons arrowroot flour or tapioca flour
1/8 teaspoon guar gum
1 pinch salt
1 teaspoon apple cider vinegar
1 teaspoon vanilla extract
1) Prepare the coffee
Make coffee from the water and ground coffee beans via your preferred method and set aside. The French Press method is recommended.
2) Prepare the hazelnuts
Skin the hazelnuts
if you haven't done so already.
3) Soften the hazelnuts
In a medium saucepan add the hazelnuts and water. Bring the mixture to a simmer, covered for 15 minutes so the hazelnuts soften.
4) Whisk together the base ingredients over heat, then cool
Add the sugar, vegetable oil, arrowroot powder, guar gum and salt. Bring the mixture back to a simmer then remove from heat while whisking constantly to ensure the sugar is completely dissolved. Whisk in the coffee. Transfer to a covered container and place in the refrigerator to cool for about two hours.
5) Blend the ice cream mixture
Transfer the mixture to a blender and add the vanilla extract and apple cider vinegar. Whip the mixture for 3 minutes.
6) Process in an ice cream maker
Mix in an ice cream maker for about 30 minutes.
7) Harden the vegan ice cream
Transfer to a covered container and put it in the freezer for 3 hours. Enjoy. This recipe makes about 1 quart of Vegan Hazelnut Coffee Ice Cream.